No plan except to do about 30, and I set off without a route in mind at about 4:15pm. I decided to go up through Coleorton and up Top Brand, then swing a left toward Melbourne, then busk it from there.
When I got to Stanton by Bridge, just south of Swarkestone Bridge, I took a left along a road signposted to the centre of the village, on a whim. I'd seen the signpost many times and thought I'd see where it would take me. Unfortunately the road into the village degenerated into a very bumpy, gravelly and uneven path. I expect the villagers quite like it that way; stops people driving through it. I thought of turning back but bloody-mindedness kept me going. The road improved slightly and I came to a junction. I took a left and realised I was on the road between Swarkestone and Ticknall, one I usually avoid because it's bumpy and hilly. But it wasn't as bad as the road through Stanton and I kept going to Ticknall.
From Ticknall I came home my usual way through Ashby, except that I had to take a detour round the centre which had been closed off to traffic and taken over by the annual fair, known as Ashby Statutes.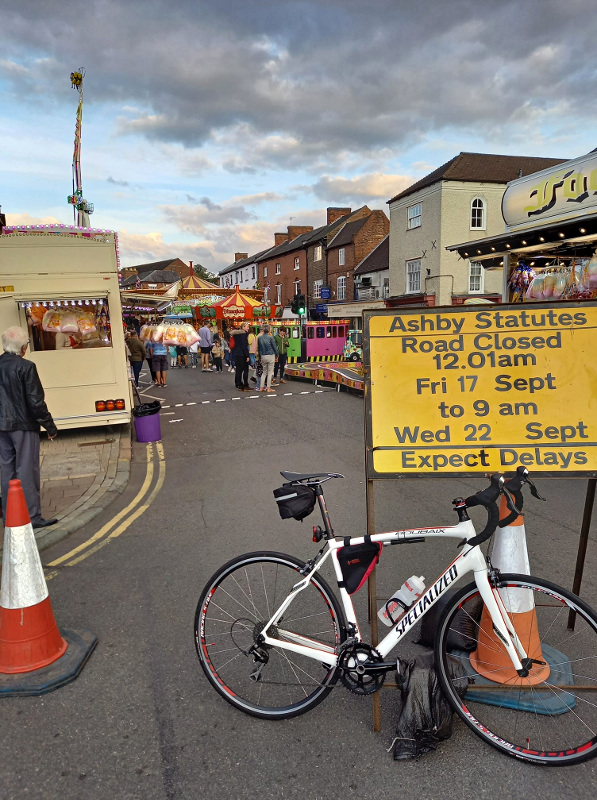 I was carefully navigating through some cones back into the traffic when a young lad on a mountain bike overtook me at about 20mph, about three inches to my right. Not what you want when you're clipped in. I swore loudly and at least he had the decency to shout "sorry!". Got to say though I admire the skill evident in being able to navigate a 1.5 foot gap between an old bloke on a bike and a traffic cone at that speed. Fair play.
https://www.strava.com/activities/5975965216
29.81 miles.