Lovely weather again, apart from the wind (again). Blowing directly from the west. I had two ideas for a Fondo today – the first was to do one of the old westbound routes, Abbots Bromley and back – and the other was to go up over Swarkestone Bridge, then west along the Beloved A Road. It's not easy to get 31 miles out of that so I knew I'd have to improvise a bit at the remote end.
I took the Beloved A Road option, because the fridge was a bit short of cycling supplies. There's a very serviceable petrol station with a decent shop near Hilton.
So I battled the headwind to the petrol station, got myself a nice selection of snacks including an Ice Cream Bounty – then continued on to Foston, where I found a bench and consumed them.
I'd only done 24 miles at this point and I couldn't go any further without going on the A50 which is never a good idea on a bike, so I turned to come back. Shortly afterwards I saw a left turn named Hay Lane. I wasn't sure if I'd been along there before so I thought I'd explore for a bit. The road surface was a bit scrappy here and there. At Alkmorton I saw a familiar sign for a farm "honesty shop" and a bit later on, a tractor business with an odd Christmas Tree installation on the roof. I'd definitely seen these before so I assumed I must have done this road at least once. However I'd taken a different route there previously, along a parallel road as it turns out.
My hope was that I'd be able to find some other way back home by exploring, rather than coming back the same way. And happily, that's what happened.
Just found my write-up of the last time I'd been along this way, here – complete with a pic of the odd Christmas Tree structure atop the building at Alkmonton.
On that occasion I came back the same way, but this time I plotted a course to Derby along a road called Long Lane. I definitely hadn't been along there before. This was terrific fun. It was a decent but quiet road with lovely views, I had a tailwind now and I felt like I was having a bit of an adventure.
I continued on and into the outer reaches of Derby – Mickleover and Littleover, then onto the ring road. Obviously this was pretty urban but I didn't mind weaving through the traffic. It was really nice to be back in Derby.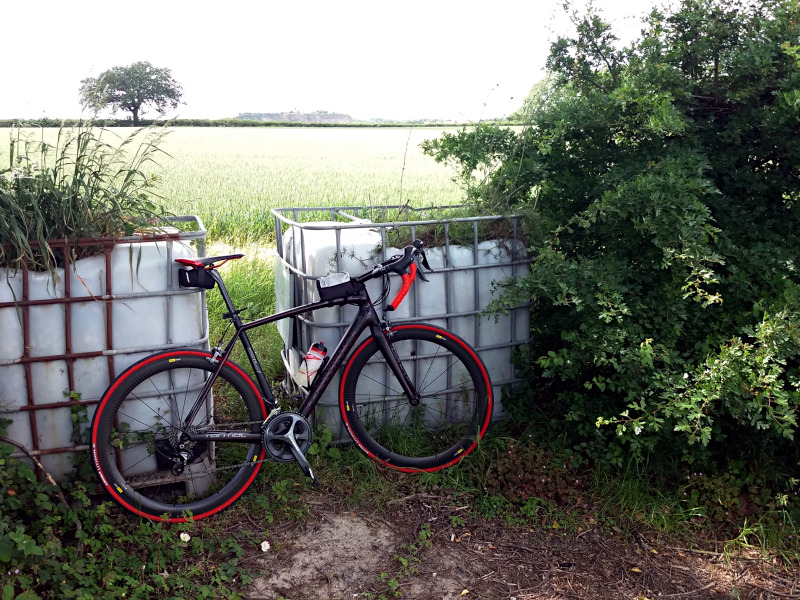 I turned off along Moor Lane to visit the old Rolls-Royce Leisure Association. I used go shooting there every Friday evening. I went right into the car park. I hadn't been there since 1994. There are a lot of new buildings now but it's still recognisably the same place. Really strange to think that I hadn't been there for all that time and to think of everything that's happened since, yet as I turned out of the main gate and onto Moor Lane, it felt like no time had passed at all.
I continued along the ring road until Allenton, then came down through Chellaston and back onto Swarkestone Bridge. I wouldn't have done 100km if I came home the usual way, so I went over to Isley Walton and came home from there. The fields on my left, and occasionally on my right between Melbourne and Walton had been repurposed as car parks for the Download festival, and some of the young revellers were out and about. I counted three Motorhead t-shirts and it did occur to me that none of their wearers could have been born when I bought the raucous trio's first record in 1977.
My four-miles-to-go landmark at Coleorton (a public footpath sign) told me that I was still going to be short of a Fondo, so I went half a mile or so in the direction of Ibstock before coming home. Back on 62.76 miles.
Listened to 6 Music, and the Grand Prix coverage on 5 Live, then Northern Ireland vs Cyprus. Quite an enjoyable game to listen to even though both sides were dire. I'm really surprised to have got about nine hours from the cheap rechargeable AAAs in my DAB over two rides, because I'd left them discharged for years. I only charged them up and gave them a go to confirm that they'd had it. But clearly they haven't.
Possibly the most enjoyable ride this year. 62.76 miles and that's 303 this month. That was the 13th Fondo of 2022.