A dry, sunny day with a light wind. I'd been looking forward to doing an eastbound fondo again for a while; I hadn't done one this year. The wind was actually forecast to change direction later in the day so that I'd have a headwind both ways, annoyingly. But I hoped it would be sufficiently light to put up with.
I set off just after 10:00. Would have been a few minutes sooner except that, for some reason, the mirror on the X needed adjustment. I hadn't been out on it since November; of course I could have checked it yesterday but I didn't. So I spent five minutes looking for the correct Allen key.
The headwind wasn't too irritating on the way out. I arrived at the bench at Eastwell at 13:00 exactly. I'm actually on call at the moment. Usually I wouldn't risk a "proper" fondo in which, at the furthermost point I'm a 31 mile bike ride from home. But it's been very quiet recently. I was so relaxed about the prospect of getting a call that rather than turning for home as soon as I reached Eastwell, I had lunch there. A cheese & onion pasty on the bench, anyway.
Sure enough about 25 minutes after I set off in a homeward direction, I was definitely riding into a headwind again. But it wasn't too bad and it seemed to die down a bit an hour later.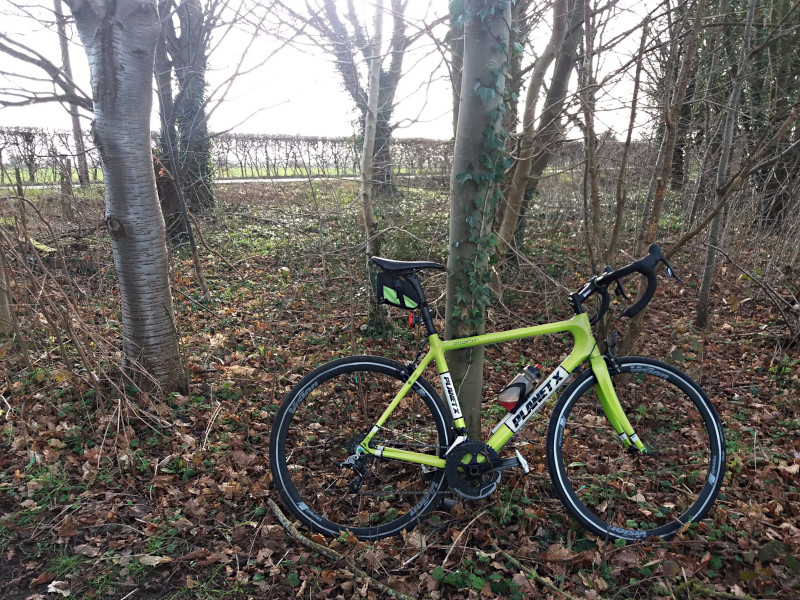 With 17 miles to go, I refuelled at Prestwold Park with two Christmas Cake slices that I had left over from the festivities in December. It definitely makes a big difference to get a sugar dose on the way home. The uphill stretch of Ashby Road just west of Zouch can be a drag but today it was a breeze.
Lovely ride. Cold when I set off (about 1C) but comfortable later. Sunny the whole way round. Back on 63.45 miles.
I passed through Nottinghamshire, so that's another neighbouring county box ticked for 2022.
Started a new Reacher novel, One Shot. The one the first film was based on. Good stuff so far. Then I listened to Forest vs Leeds. I've started to believe that Forest will stay up.