Windy. Not the best afternoon for a run out after work, but beggars can't be choosers. I have a conflicting appointment tomorrow and it's going to rain on Saturday.
So I wheeled out the X and set off at about 3:35pm. I was struggling into the wind before I'd got 50 metres from the garage, which I think is a first. I'd decided on a Twycross Bypasser, and I chose to do the version with an extension to the west that takes in Warton before rejoining the usual route at Pinwall.
Conditions were tolerable enough early on when the sun was out, but when the clouds rolled over the temperature dropped dramatically and it was awful out there in the cold wind. My fingertips were freezing, even though I was wearing a thoroughly creditable pair of cycling gloves. And yet three years ago exactly, on 6th May 2018, 'er indoors and I went on a cycle ride and we were sweltering in the heat. I expect I documented it here. I know this because a pic from that memorable journey came up in my Facebook feed this morning.
To make matters worse, the rain started to come down about 6 miles from home. Misery. But it stopped with about a mile to go and the sun came out so I took this snap.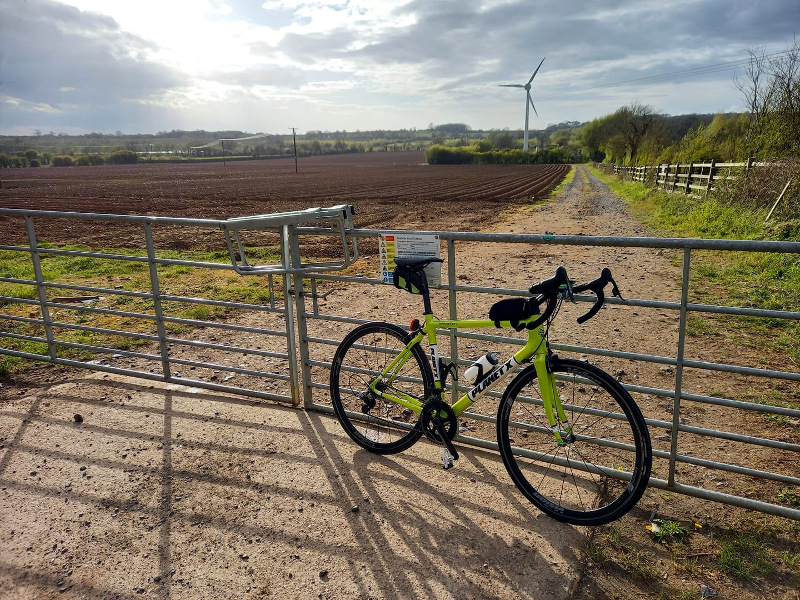 Passed a few polling stations on the way including one at a church, which strikes me as a good way to deter rational people from taking part in our democracy. Fortunately, I didn't have to visit anything sillier than a leisure centre when I went to vote myself.
Back on 30.15 miles. Glad to have done them but I can't say I would have if I'd known what it was going to be like out there.