Unexpected rain this morning but by the time I was able to leave work – unusually early – conditions were warm, dry and sunny. A pretty stiff wind coming from the west, though. I felt like going up and west along the Beloved A Road. The August Fondo, perhaps.
The trouble with the Upper West route, as I now know it, is that you start to run out of options after 25 miles. On this occasion I took a right after Sudbury, then a left along a minor road – just making it up as I went along, really. The road started to degenerate into one of those single track roads with lots of dips and bumps with a build-up of gravel down the middle, but it wasn't too bad.
I stopped at a farm after about 28 miles and was about to turn back, but I thought I'd press on over the next little hill to see if the road improved. It did! A bit twisty with some sharp climbs and scary downhill descents, but the surface improved a lot. Really lovely cycling territory with some brilliant views to the west, and very quiet. I will definitely do that stretch again, but probably on the Tricross.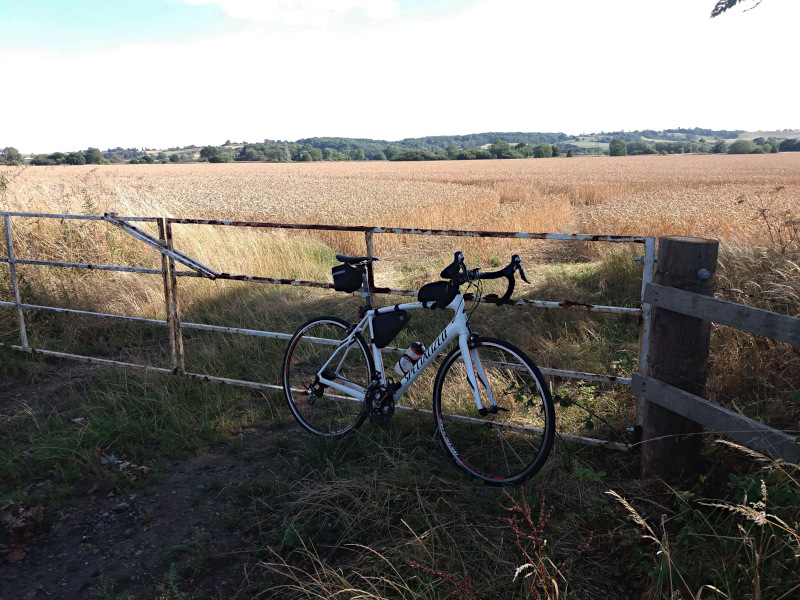 I continued until I'd done half a fondo and was going to turn back but I saw a sign to Sudbury along a right turn, so in a spirit of adventure I took that. I thought it might be a slighter shorter way and rob me of the full fondo mileage, but in fact it turned out to be exactly the same distance. A slightly busier stretch of road but better for a road bike. I think I'll base a fondo route on the way back, ie the last 31 miles of this ride.
Same way back from Sudbury.
Lots of ladies out in shorts. Not to be sexist or objectifying or anything, but I saw a phenomenal specimen in Melbourne on the way back. Tall, athletically slim and fit but curvy, long brown hair, about 30 and wearing tight black shorts that only covered half her bum. I nearly fell off the bike.
The headwind over the first half was a pain, but of course I enjoyed the tailwind on the way back. Conditions stayed more than warm enough for the whole ride and I was back on the dot of sunset.
Really a terrific run out, possibly my most enjoyable normal-distance fondo of the year so far. It was a breeze as well, despite the up and down twisty bits. Felt more like 40 miles than 62.29.