Lovely cycling weather today. A light wind coming from the east would normally have suggested a Fondo over in that direction, but since I did one only two weeks ago I didn't really feel like it. Also I'm away next weekend, so spending all day on a bike wouldn't have gone down well. I decided to do about 40.
I had two ideas to do something a bit unusual. The first was to head off in the direction of a TV transmitter that's visible in the distance from the road between Norton and Orton which is part of the "Twycross Bypasser" route. I decided to do that. I thought it would be fun to see if I could get there without consulting a map. But as I approached Orton and it came into view in the distance, I decided that it was probably a bit too distant for the distance I wanted to do today. I headed in that rough direction for a bit anyway, and continued on westward rather than taking the left for Sheepy. I've only ever done that stretch a couple of times and I'm not sure why really, because it's delightful along there. Beautifully quiet and easy to tack on to a Twycross Bypasser.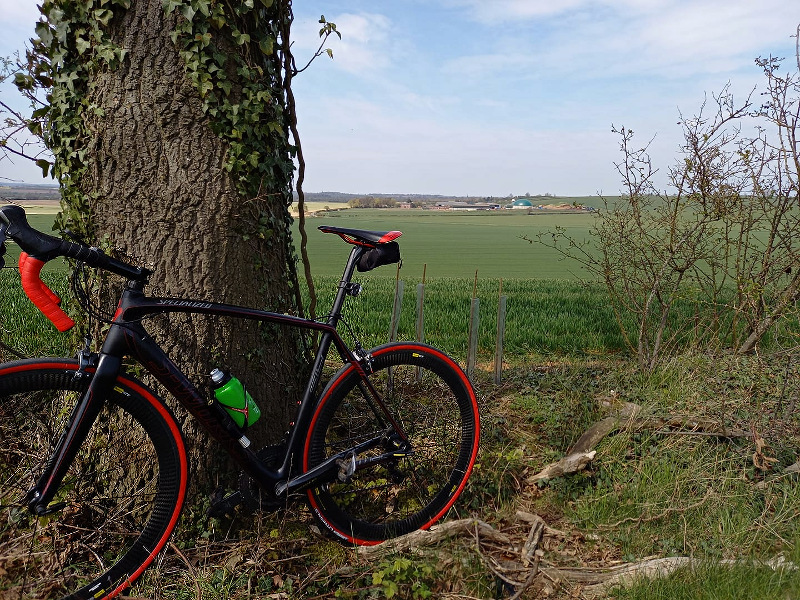 I'm still not sure where the transmitter is and I decided to leave it for today. Perhaps I'll try it some other time. But for today I decided to embark upon Plan B, which was to do part of the "Dad's Army" route. I call it that because on the only occasion I've done it before, I spent most of the ride listening to old Dad's Army radio shows. So I took a left along a road called Kisses Barn Lane thinking it would take me to Sheepy or thereabouts, but in fact it turned out to be a shortcut to the road I wanted (the B5000). So I rolled along that for a bit, enjoying the sunshine and the ambience of the countryside in spring, then I decided to go exploring for a bit. I followed a sign to a place called Baddesley Ensor. Unfortunately this mostly involved climbing up a hill for about a mile, before I decided I'd had enough and turned back to roll downhill to rejoin the time-honoured Twycrosser route.
I was surprised to see that the pub at Ratcliffe Culey was closed. Quite a spacious beer garden, but all the benches stacked under a shelter and no-one at home. I wondered if it had gone bust, but I've just checked their Facebook page and they intend to open on 17th May. I'd say they've missed out on a fair amount of business this weekend.
Back through Bosworth, Barton, Odstone, Burgoland, Swepstone and Ibstock. Really a very nice run out in delightful weather, glad to have done something a bit different. Back on 42.41 miles. Next time I'm out on a bike I'll most likely be out and about in Teesside.