I wanted to do about 40 miles today, though as I observed in my previous post, I wasn't sure the weather would permit it.
Cold and foggy when I withdrew the Boardman from the garage at about 0930, but I hoped the fog would lift. I headed out East again, following the Belvoir Castle / Lincolnshire route. Pretty much my default route for a longer trip these days. It has the advantage of being pleasant and decently surfaced, and I've memorised the route. It has a cracking pub stop 18 miles from home, as well.
This time I went out through Coleorton rather than through Coalville.
After about 10 miles, with a film of frosty mist forming on my glasses, gloves and clothing, I decided I'd turn back for home after about 15, to clock up 30 miles. But by the time I'd reached the 15 mile point the sun came out, and the temperature climbed a degree or two. The fog was still persisting but I hoped the sun would burn it off. It did seem to thin out slightly and a few miles later I did emerge into bright sunshine. I decided to press on and do at least 50 miles. A few miles later I'd decided to keep going until Eastwell, and rack up another Fondo.
Unfortunately a few miles from Eastwell I ran into more fog. I could actually see it in the distance a few miles ahead, smothering the landscape like a ground level cloud, which I suppose is exactly what it was. I kept on anyway and turned back in the middle of the village.
Must admit I didn't feel particularly safe cycling in those conditions and I didn't think my rear light was making a lot of difference. I was disconcerted to see a cyclist emerge from the fog about 35 feet in front of me, coming the other way. I'd had no idea he was there at all until then. Didn't really fancy materialising in similar circumstances in front of an overtaking car.
Sadly, the patches of bright sunshine and clear conditions that I was looking forward to reacquainting myself with on the way back had somehow vanished, but it wasn't consistent thick fog all the way. Conditions varied from pea-souper to vaguely misty. At times it was literally like riding into and out of a cloud.
Stopped to take the following pic a few miles after turning back and as I did so, an old bird on a bike pedalled past with the words "it's right thick up 'ere, in't it?" I do use the term "old bird" with a degree of humility as she could well have been my own age. She wasn't wrong. As I set off I thought of overtaking her and riding a few metres in front, so that she'd absorb the impact from a vehicle coming up behind us. But she was going a bit too slow for that.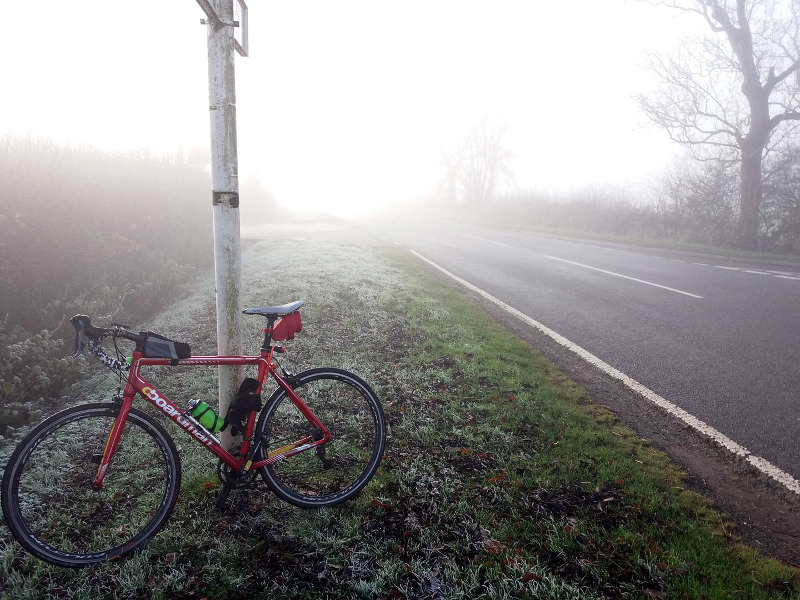 I stopped at my favourite pit stop 18 miles from home, the Greyhound pub at Burton on the Wolds, and ate inside this time. As I ordered my customary ciabatta at the bar, I found that my powers of speech had been degraded. My voice didn't seem to be obeying my brain and my speech came out slurred and slow, as if I had a mild case of cerebral palsy. I was more than slightly concerned by this but I seemed to be able at least to think straight.
I was fine a few minutes later when I exchanged a few friendly words with one of the bar staff. When I got home I mentioned this to 'er indoors and she laughed, saying that she'd had the same experience a few times when her face had been exposed to low temperatures for a prolonged period. I'd never experienced it before myself. Or heard of it.
Another thing I'd never heard of – a "fog bow", near Six Hills. A sort of thick rainbow, but fuzzy white, and appearing much closer – the end of it appeared to be in the field I was cycling past. Wikipedia confirmed for me that these are a thing: https://en.wikipedia.org/wiki/Fog_bow
It occurred to me as I entered the Greyhound that I'd done 46 miles without a snack of any kind; not even a bite out of an oat bar. Not sure I've ever done that. I'd only had a couple of slices of toast and coffee for breakfast, as well. Didn't even feel particularly hungry. Odd.
The temperature seemed to drop a bit after I left there and I was a bit uncomfortable from that point, but still in good spirits. Quite happy to have got in another Fondo. Probably haven't had a triple-Fondo November before. I was actually pleased when the daylight dimmed a bit from 3:30pm or so, because that made my rear light a bit more conspicuous and I felt safer.
Because my glasses got covered in moisture from the fog fairly quickly I had to ride most of the way without them on but apart from not being able to see my watch, that was OK. I could make out the distance on the bike computer.

Home a few minutes after sunset.
The roads were a bit wet here and there but no road-wide puddles or running water, apart from the section near Cotes that always seems to be like that. I assaulted the bike with GT85 again on my return. Bit annoying as I only lubed it yesterday.
Was quite pleased with how well my knees did; they're still slightly ruined but they coped fine with 64.65 miles. My sense is that they'd do 85 or 90 at the moment without too much bother, but I can't imagine I'll be testing that theory in the next month or two.
https://www.strava.com/activities/2902079331
That's it for November then, 416 miles. 3901 this year. I thought that might be my only 400+ mile November, but apparently I did 524 in Nov 2017.