A long, mid-afternoon lunch break once again. But this time rather than embarking upon another Twycrosser, I headed over toward Belton through Coalville. From there, over toward Donington, from where I nostalgically came (most of) the old way home from the office.
Sunny and dry, but cold and blowy. Nice ride out though, apart from The Void, which is the name I have borrowed for a section of the route home from Donington that takes you along a boring, uphill section of the A453. There is a Star Trek: Voyager episode in which the crew become depressed and demotivated, due to travelling through an expanse of space which they name The Void, empty of stars and a black nothingness for millions of light years. Admittedly the A453 Void is only about a mile long. I decided to capture it for posterity (below).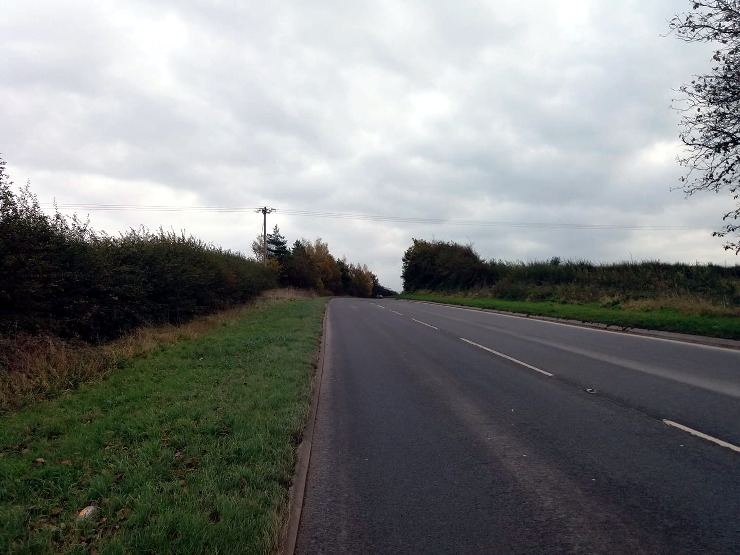 I took the X. Although the roads were dry, they were liberally covered with large chunks of mud, here and there. On the short stretch of the A512 that takes you into Gracedieu Lane the surface was absolutely covered in a slippery-smooth layer of flattened mud. Was actually worried I'd start to slide on it.
My right knee has been hurting this last couple of days but the ride hasn't made it much worse.
Must have stopped Strava recording on the phone when I took the pic, as the track ends abruptly at the same point. I can't be bothered stitching on a synthesised section of track for Strava and there was nothing particularly interesting about it; just the usual way home down Top Brand and through Coleorton. So I have measured the remaining section of the ride using a route planner, and the whole ride comes to 23.19 miles. That agrees closely with my bike computer, so it's good enough for the spreadsheet. Strava will just have to stay wrong.
That's almost certainly it for October; a pleasing total of 459 miles. Hoping I'll get a mild, dry Saturday or Sunday sometime soon so I can do an 80 miler, though my knee will have to recover a bit first. But it will.
3485 done this year.