No cycling for over a week, mostly because I've been in Hartlepool. But I'm back now and today looked an ideal day for the October Fondo – warmish, dry, light winds. I decided to do Eastwell and back; not by default, but because I'd noticed some interesting scenery in the distance from Clawson Lane last time, and wanted to have another look. I didn't fancy hauling a pair of binoculars over 60-odd miles but I did take my Soviet Army surplus monocular with me. It was a Christmas gift from my mum in the mid '90s.
Stopped at the garage at Burton on the Wolds on the way east to get some food, since the fridge was nearly empty and I'd only brought an oat bar with me.
Had a good look when I got to Clawson Lane at the mystery installation, quite some distance to the north. Looks like a power station or large industrial concern of some sort. I made a careful note of the position and the approximate angle from my direction of travel (I hadn't brought a compass) and I will nerd out over a map later. I removed my tights shortly afterwards, as I was getting warm. Bare legs on October 9th – I think that may be a personal record.
Lots of other cyclists out in large groups today.
Got to the crossroads at Eastwell and was about to do a U turn, when I decided to take a left to Harby, and come back west a different way. After all – today was probably the last warmish weather Fondo opportunity of the year, and I felt I owed myself a bit of an adventure. This alternative way back runs roughly parallel to the usual route. I hadn't done it for years. It also involves a long, steep descent which is a lot of fun. In fact, I didn't quite come the same way I've done in the past so some of the ride was brand new; on the whole a bit less enjoyable in itself than the usual way back through Six Hills, but nice to do something different. I rejoined familiar territory at Wymeswold, where I took this pic.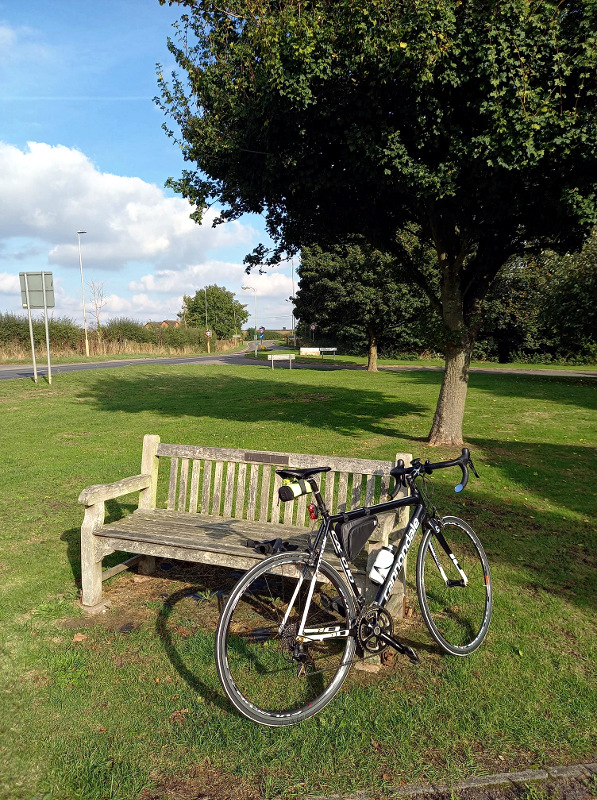 Got through a couple more chapters of the Reacher audiobook, then Gilles Peterson on 6 Music. Gilles can be hit and miss but he played a blinder this week.
I did have a hint of the right knee pain that I had last time I operated a bicycle, but it was much diminished and seemed to wear off a bit after 30 miles.
Good run out, 63.05 miles and that's 4027 this year. I've also done 24 Fondos in 2021 now, which was my target (based on an average of 2 per month). But I'll still aim to do at least one in each of the remaining two months, of course.