Didn't think I'd be riding a bike today, but by 2:30pm or so I thought the roads had probably dried up sufficiently from this morning's downpour.
Set off intending to do about 44, which would leave me less than 700 to do in the remaining two months of the year. The wind was coming from the west as usual so I decided to do the Beloved A Road South Of Derby. However for a change, I went up through Coalville and Belton to Isley Walton rather than going through Coleorton and Melbourne.
Unfortunately although the sun had shone brightly I ran into pelting rain after Isley, but it only lasted 20 minutes. I was happy to see clear skies ahead of me after Swarkestone Bridge, especially as I was pedalling into a headwind. The roads were soaking after that though, but oh well. There's no point having too many bikes if you're not prepared to get at least one of them wet and gunky.
I was enjoying myself quite a bit after the rain stopped. Lovely sunset. And it was pretty mild. So I pressed on to Foston not long after stopping to pick up some fuel at a garage. Stopped and ate the cheese sandwich I'd just bought at a farm gate, then turned back.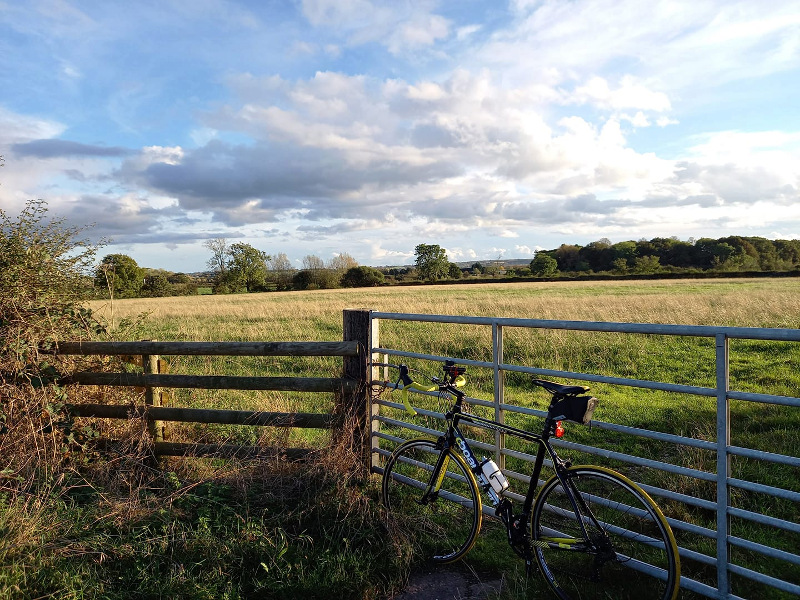 I've developed a habit of eating boiled sweets on bike rides – I allow myself one every 12 miles – however I'd forgotten to bring some with me, so I bought some cherry drops at the garage as well. Lovely.
As I munched my sandwich, I noticed a formation of ducks, in the usual V shape, flying to the south. But one of the ducks – the lead one I think, not sure – broke away from the rest and turned to the north on its own. It flee right over me, on its own. Not long after this, near Willington I noticed two massive formations of ducks, heading north this time, there must have been more than 100 of them.
Dark by the time I'd got back over Swosser Bridge. Had to clean up the bike when I got back, but really a very satisfying run out. 48.71 miles. 377 this month and that's a wrap for October. 4317 done this year.
So I'll aim for 342 in each of the remaining two months. The weather will be worse in December no doubt, but I have more days off work that month.