Today was forecast to be the warmest day of the year so far by quite some distance, so I took the afternoon off for a longish ride. I planned a route that would take in a bit of Lincolnshire then descend through Rutland, to tick off the remaining two neighbouring counties for 2021.
The idea was to follow the route I've taken to Norfolk a couple of times as far as South Witham, just into Lincolnshire – then pursue a route I haven't done before, right through Rutland to join my usual route to that county and back at the other end.
I started work at 06:50 this morning so I could leave early and I was away before 1100. Lovely day. I'd got the clothing strategy about right with bare legs and a long sleeve top under a short-sleeve top and a long sleeve jersey. I had to take off the bottom layer and stuff it in my backpack at about midday when I started to feel too warm and was comfortable after that.
I'd uploaded the part of the route from Asfordby across to South Witham then back through Rutland to Asfordby to my eTrex, but I thought I'd probably find my way to South Witham without any trouble and didn't bother turning it on until I realised I'd missed a turn. But I found my way to Wymondham and the route proper easily enough. I was interested to see that a pub near Wymondham was doing a roaring trade on takeaways, and people were using the tables and chairs in the beer garden. It looked very much like an open pub. I suppose they weren't selling alcohol to take away, though.
Normally a visit to Rutland involves pedalling half a mile at most over the border then heading home but today's ride took in eleven miles of England's smallest county. It really was beautiful in the warm sun; idyllic villages and scenery and very quiet. This, more than anything is why I own a bike (or several). It's alright doing loops of Twycross and Sheepy Magna and I do enjoy that usually, but exploring new places a decent distance from home in glorious weather is a joy.
To be fair the stretch of East Leicestershire east of Saxby is rather nice as well. Nice and flat. It's just a shame you have to climb a bunch of hills east of Melton Mowbray to get there.
I stopped at a sort of roadside cabin advertising food and drink near Great Dalby and strolled in, expecting to be greeted by a shop assistant but it was an unmanned farm shop with service provided only by vending machines. There wasn't a great deal of choice unfortunately – I'd hoped for a cheese sandwich, some chocolate and a bottle of water or orange juice but one vending machine provided only milk (dispensing it directly into litre bottles) and the other only had cake and milkshakes in glass bottles. I bought what I thought was a piece of chocolate cake and a milkshake. The milkshake was really just gloopy pink coloured and very sweet milk and the cake was a strange confection made of chocolate, crushed digestive biscuit and bits of mints and sweets. I consumed all of the gloopy milk and about half of the chocolate mint object at a bench just outside. Wasn't sure what to do with the glass bottle but I didn't want to bin it so I just left it on the table. Hopefully someone will recycle it.
Took this pic at the Lincolnshire / Rutland border. I didn't see a Lincolnshire sign today.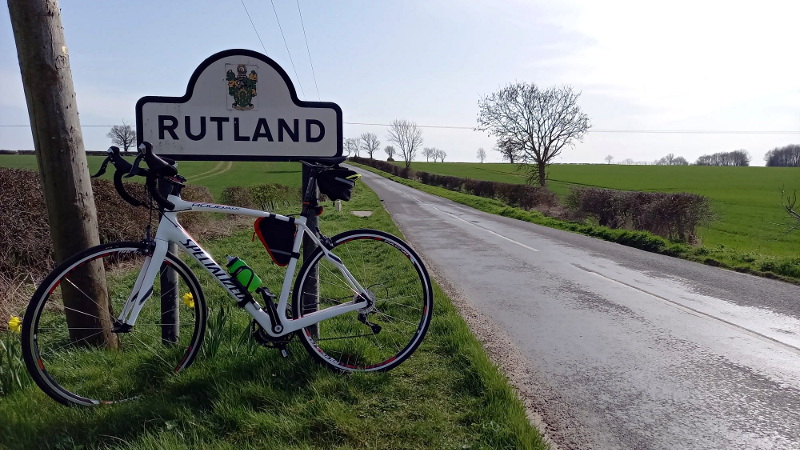 I raised the saddle a few mm before setting off and the riding position is spot on now, I think. It was a nice smooth ride; it doesn't feel as sharp and agile as the Cannondale or the S Works but it was really comfy. Until the last 30 miles or so by which time I was pretty saddle sore. I think it needs a new saddle, this one definitely doesn't suit my bum.
I listened to 5 Live until they interviewed the girl who read the poem at Biden's inauguration and I started to get annoyed. In itself it wouldn't be so bad but I know they would never bother with an artist who had tried to capture the values of the other side, unless perhaps they were BAME or LGBT and it just seemed to be so emblematic of the one-sided left wing liberal groupthink at the BBC now.
So I switched to 6 Music, but within ten minutes of tuning in to Lesley Anne Hobbs' show, I was listening to an artist extolling the virtues of taking power from the police, to give it to the "neighbourhoods they terrorise", ending "all forms of imperialism" and taxing the rich "until they're impoverished".
The BBC is something like a running sewer of stupid ideas, now. So I decided to start the next Reacher audiobook. While hitching a ride out of a small Texas town where he's just chinned a police officer who picked a fight, Reacher is picked up by an attractive woman in an expensive car. She needs his help with something. It's pretty undemanding stuff but it's well written for what it is, and it does draw you in. Just the thing for a bike ride.
Anyway – back on 86.66 miles. 425 done this month, well over target. And 1020 done this year which tells me I'm on course to do 4,000 in 2021. That was the sixth Fondo of the year so I'm on course for my target of 24 over the year, as well.