Not a bad day for cycling – dry, low winds, mild and I was not on call. I intended to do at least a Fondo today but woke up early, got up early and decided to do a 100-miler.
The wind was coming from the west and slated to grow a bit stronger over the course of the day, so a westward trip was decided upon. I thought I'd take the Wales route (or one of them) for 50 miles then come back. I really should have taken the eTrex but I thought I could probably wing it, and I didn't bother mounting it on the handlebars.
I took the X.
Things went fine until I got to Kings Bromley then took a road signposted to Alrewas – which I hadn't come to yet, and which I thought was on the route. But I'd already bypassed it several miles previously, so I ended up homeward bound, without actually intending to. I thought it was odd that I'd passed the works at Orgreave (not the one made famous in the Miners' Strike) on the wrong side of the road.
Anyway I did a U turn when I realised what I'd done, and continued on my merry way. I'd done a pointless 8 miles but at least they were flat. And the aim of the exercise was to do 100 miles, not go anywhere in particular – so I wasn't bothered.
I decided to take the A513 to Stafford rather than continue on the A51 on the intended route – just to do something a bit different. This was a bit hilly unfortunately, but otherwise pleasant. I arrived at the outskirts of Stafford having done about 44 miles. I had a pleasant lunch sitting on a surprisingly comfortable crash barrier at the edge of some little industrial property then went exploring suburban Stafford a bit, then decided to turn back. The further I went into Stafford, the further I was descending a hill and I didn't want to bother climbing it. I decided to make up the miles by exploring somewhere else on the way back, maybe near Abbots Bromley or Barton under-Needwood, where it's nice and flat.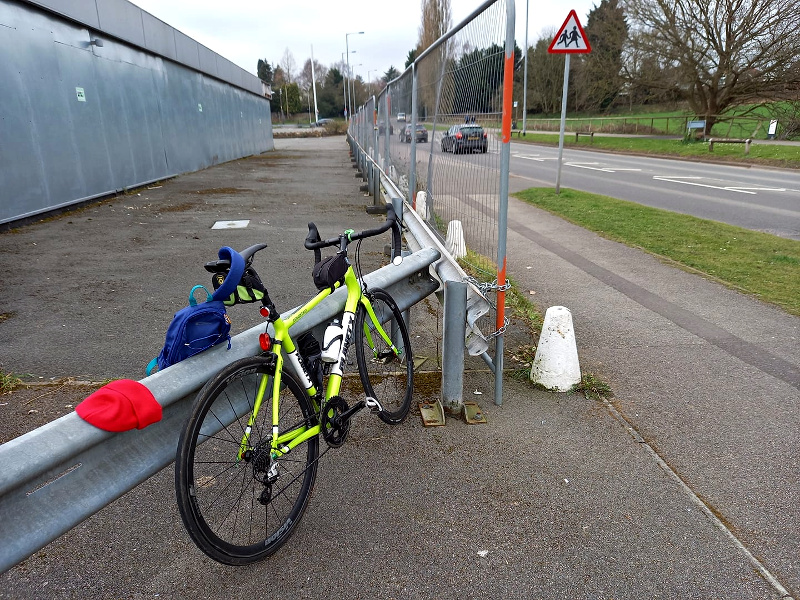 As it happened though I took a preposterous wrong turn near Handsacre. I recovered several miles later after consulting Google Maps by taking a road through Hamstall Ridware to Yoxall. This was unfortunate as it was strewn with mud, stones and grit for miles, but – I got away with it.
I hoped that this error would have added enough distance to save me messing around, but it hadn't and I ended up tacking on a Twycrosser at the end of the ride.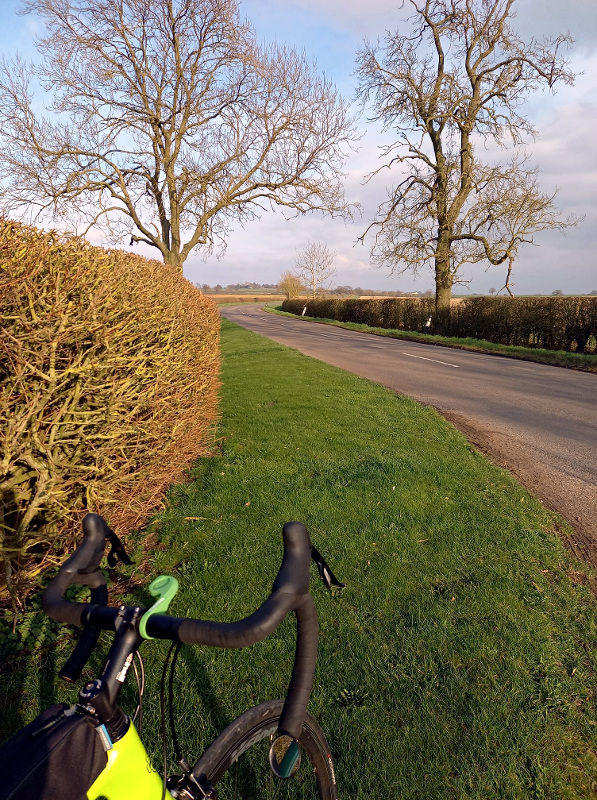 I made the mistake of letting a queue of cars behind me overtake me past some roadworks controlled by traffic lights when the lights went green near Milford. This ultimately delayed my own transit past the roadworks, to the point that the lights had already gone green at the other end before I'd emerged and I found myself dodging oncoming motor vehicles in a single lane of traffic demarcated by traffic cones. I won't do that again.
Good run out, I don't go over that way often. Nice to do some new roads, even as a consequence of navigational errors. But I'll take the eTrex next time.
100.41 miles, the first 100-miler of the year and a handy shot in the arm for the March campaign, which has been a bit thin. 264 done this month. Another 41 to target.