I wanted to do about 34, dutifully extending my default distance by a couple of miles per physio instructions. But I had a slight headache induced by drinking about a half bottle of Merlot last night, and it was worsened during the day by stress induced by having to do a critical and scary job while being interrupted. Most of my days aren't like that, fortunately.
Anyway, predictably I didn't plan it. I just set off on a long Twycross and hoped I'd be able to extend it a bit. At least the weather was nice – sunny, not too windy and almost warm. Beautiful. I did the same Twycross variation as of late that goes through Witherley, but with the important difference that I took Atterton Lane across to Fenn Lanes, instead of taking my life in my hands on the A5 for a mile.
Not sure if I'd ever been along Atterton Lane before but it was lovely – a well-surfaced and quiet single track lane, relatively untroubled by mud.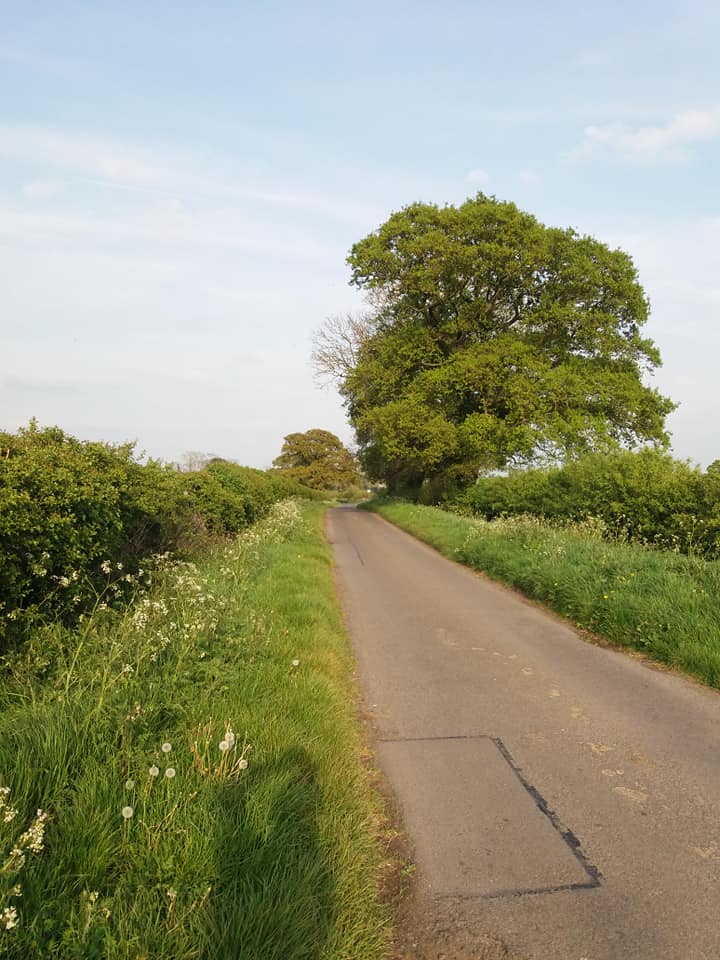 At Sheepy, I was surprised to see a 1970s style NYPD patrol car, complete with all the appropriate paint and stickers. It can't be legal to drive around in a car with POLICE emblazoned on the bonnet, can it? A couple of miles further up, I was equally surprised to see a black & white US sheriff's car, with SHERIFF in a large yellow font. Again, in really good nick and very authentic looking with lights on the roof and everything. Couldn't help wondering if rural Leicestershire was doubling for upstate New York in a budget film production. Or maybe there's a local club for owners of replica law enforcement vehicles.
Saw a few vintage sports cars as well, including a lovely GT40 in sky blue. I've never been a fan of cars really but I'd always recognise one of those; I had a Scalextric one as a kid. I suppose the GT40 might have been a replica as well, a kit maybe. All of them stank of petrol fumes as they burbled past.
So nice to be able to do routes that take in my favourite benches at Sutton Cheney again. I stopped at the second one. A couple of years ago when it was brand new it was a glowing woody brown colour, but it's weathered light grey now, like Rory Gallagher's Strat. By this time I was starting to feel a bit cream crackered, and I resorted to the gel that I'd brought with me as an emergency measure. An orange one. It wasn't that bad actually, despite being three months past its use by date. This and a bit of a rest perked me up for a bit but only for seven or eight miles. By this time I was determined to simply come home by the easiest route, and that's pretty much what I did, so I finished up on 32.43 miles.
https://www.strava.com/activities/2331312716
That takes me to a pleasing 325 miles this month. A bit surprised actually to have done only 26 more than last month, but I suppose I did have a weekend away. Anyway it's 56 over target all the same, and the highest monthly total for 12 months.
Lots of cute lambs hopping around in the fields including a couple of mainly black ones with white patches that looked like miniature Fresian cows. I also saw a couple of rabbits.
In other news – had my MRI scan today at Loughborough's National Centre for Sport and Exercise Medicine – on the campus at the Uni, and a really impressive and modern facility. It just involved lying still while looking at my reflection in the ceiling. There are worse ways to spend 20 minutes.
I had thought, naively, that I'd be sticking my leg into a small scanner the size of a washing machine, but nope – I was inserted chest deep into a big scanner on a tray, a bit like Virgil Tracy heading down to Thunderbird 2. Or a coffin rolling into a furnace, if you want to be morbid.
Results in a few weeks I hope.
I'm not sure I can be arsed to do 30+ after work regularly, even though it seems a real luxury to have nice weather and the sun up until 8:30pm. I'm going to have to just do the longer ones at the weekend and days off.
I feel knackered now. Going to bed. Hope I'm not coming down with something.