Really a rather nice day for cycling, dry and sunny with a moderate wind coming from the west. The wind was supposed to pick up in the afternoon.
I planned something a bit different. The idea was to go up through Coleorton, Melbourne, up over Swarkestone Bridge and west along the Beloved A Road as usual, but to come back a different way – down through Tutbury, then through Burton on Trent, which I've never done on a bike before. Then to Ashby, and back the usual way from there.
The route looked pretty simple, so I didn't bother committing it to the eTrex or a GPX app. I should have done though, because I took a wrong turn out of Tutbury which took me some way out of my way. Quite hilly round there, fun to be exploring new territory though. I managed to navigate my way to Burton without difficulty with the aid of Google Maps, but I came a different way through the town than I'd intended. Slightly scary – dual carriageways and multi-lane roundabouts aplenty. But a lovely view coming over the river.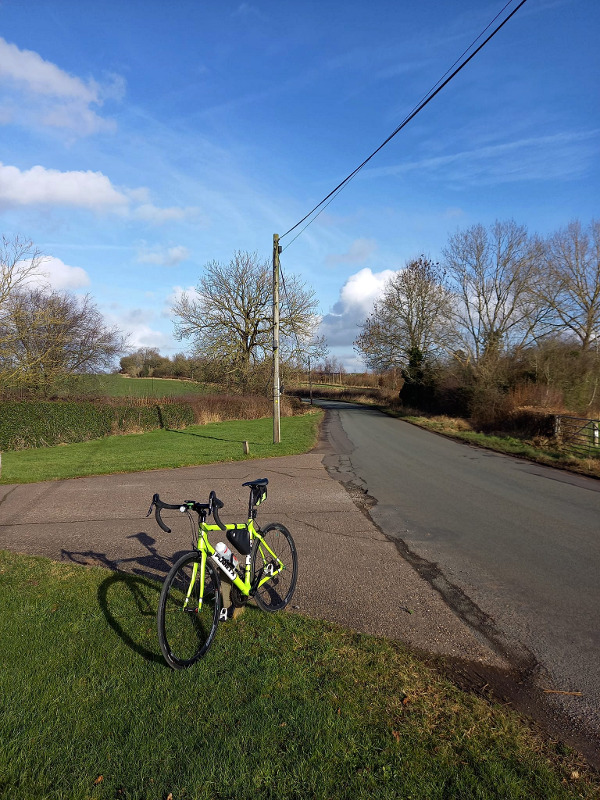 I followed directions to Moira, from where I knew I'd find Ashby easily enough.
The wind didn't really seem to pick up in the afternoon. I didn't notice the tailwind at all.
Listened to the Australian Open singles final on 5 Live – absolute classic, although I didn't catch all of it. I also listened to a fascinating programme on 6 Music in which Tom Ravenscroft and Damon Albarn looked through some of Tom's dad's massive record collection (Tom's dad being John Peel of course). Tuned back to 5 Live in time to hear Medvedev giving what was a pretty gracious and good-humoured runner's up speech in the circumstances. He was two sets up to love, but he lost.
Really a fun run out despite the hills and the conspicuously urban content through Burton. Still hoping to try the route I intended soon.
Back on 45.36 miles, which takes this month's total to 416. Seems a lot for a January, not quite sure how that happened. I suppose the weather must have been kinder than usual.