Seemed like a nice enough day, although the roads were wet. Sunny, not too cold. Had a Sunday dinner booked at a hostelry near Shepshed in the afternoon but I set off at about 10:20 hoping to do about 30 or so.
I didn't really fancy another Twycrosser or Bypasser. I thought I'd go up to Long Whatton then loop westward and come back down Top Brand. However – when I got to Long Whatton I realised I wasn't too far from the Nottinghamshire border, so I thought I'd head that way and tick off another neighbouring county box for 2022. Over the A6 and through Normanton on Soar, the usual eastbound route. But I turned for Hoton and Wymeswold to reunite myself with the Lost Road, then I came home along the traditional way from there, through Rempstone. That particular route east of Zouch has fallen into disuse now, but it made a pleasant change today.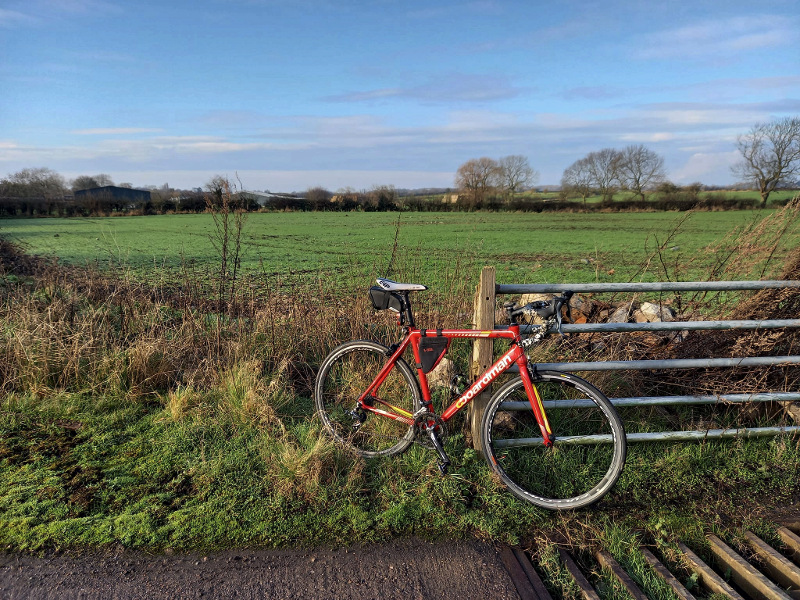 Unfortunately conditions started to go a bit gloomy as I re-entered Leicestershire. Then a light drizzle. Then rain. But it stopped for the last half hour.
Listened to Cerys Matthews for a bit – she did play some belters, I must say – then the last few chapters of Colonel Sun. About 48 years since the last time I read it. Really very good. In some respects it hasn't aged well – in the chauvinism and the ethnic slurs especially. But in its day I think Fleming would have been proud of it. It has a really disturbing torture scene, and the eponymous Colonel Sun Liang-tan must be one of the most sinister villians in any 007 story.
Back on 36.80 miles, an enjoyable outing.