A dry afternoon, didn't leave work quite as early as I'd have liked but I thought I'd get another 30 or so in. For a change I thought I'd do 15 miles or so along the route to Wales, then come back the same way – a bit of the "lower westbound" route, in other words.
That all went very well until I found myself approaching Coton in the Elms, at which point I realised I must have missed a turn. But I'd already done 12 miles at this point so I wasn't bothered really. I just followed a road sign to Walton, and kept on keepin' on.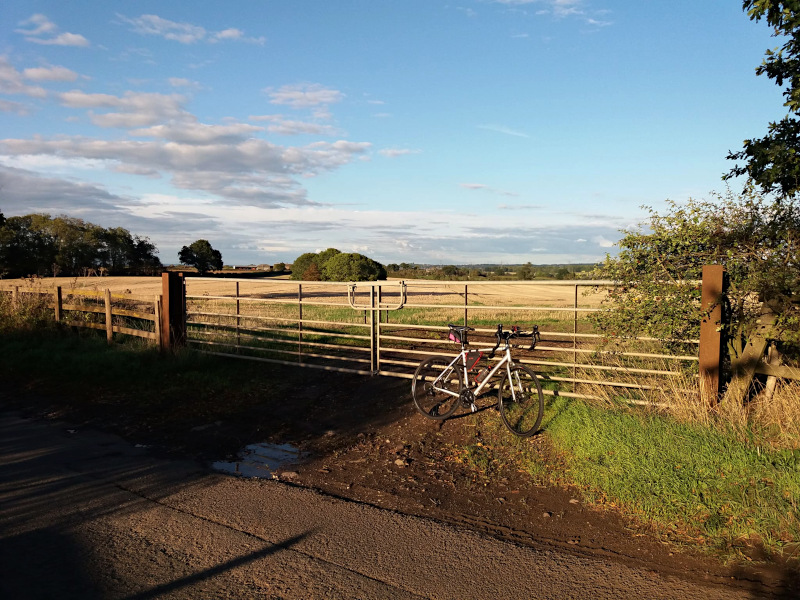 The thought did occur to me that I was in entirely new territory here, on a road that I'd never done before. I got as far as a queue of traffic for the narrow bridge over the Trent at Walton, then I decided to come back rather than wait to cross the bridge. I thought that trying to find the same way back by remembering the turns might be a bit of a challenge but it wasn't, and I realised that I hadn't been on a new bit of road at all.
Beautiful out there in the early evening sunshine. Glorious. I should do that route more often. For some reason I only really go that way on much longer rides, usually. It just feels out of my comfort zone, out of my sense of territory to go over that way. Daft really.
Anyway – back on 32.03 miles, which brings this month's total to 273 miles, and that's probably it for September. My target was 350 miles, and this is the first time ever that I've failed to hit a monthly target.
A cruel and unusual set of circumstances combined to defeat me. A holiday to Portugal and Spain at the beginning of the month. A dose of COVID took me out for a few days. A kidney stone wrote off one weekend. I had to go to visit relatives last weekend. And finally, it's a 30-day month. I reckon that the absence of any one of these five factors would have seen me scrape through to 350 miles, but anyway as a damage limitation exercise, I'm pretty happy to have managed 78% of the target. 4130 done this year.