Took the afternoon off with the intention of doing a bike ride. I particularly wanted to do a fondo today, because I hadn't been out on a bike at all so far this month. A ride distance of 62 miles would see me on course to do about 300 this month, which is the target.
Rather cold out there, only about 4 degrees C, but the weather forecast promised mainly dry conditions. I wanted to do a ride I've done a couple of times in the past in which I do my usual route up over Swarkestone Bridge and west along the Beloved A Road, then north along Ashbourne Road.
However I got confused at the remote end – I hadn't planned it properly or checked the route beforehand, I just assumed I'd remember – and I took a wrong turn which led me eventually along a little road called Aston Lane, which degenerated eventually into gravel and potholes. I consulted Google Maps though and saw that I'd be able to take a right turn to Foston a bit further along. I did that. I'd effectively looped back in a homeward direction. If I took the usual way back from Foston I'd end up on quite a bit less than the requisite fondo distance so I took an excursion up along Woodyard Lane toward Alkmonton, which I've done before a few times. Nice to do that again.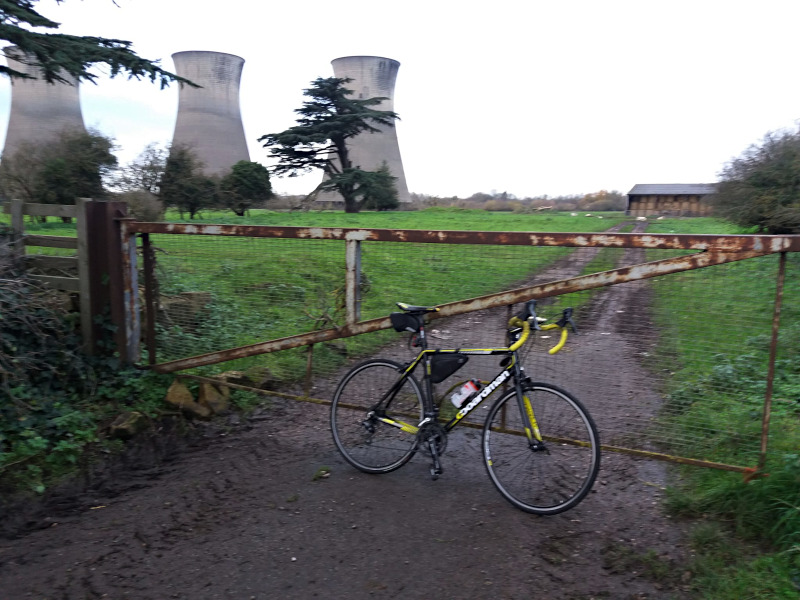 Getting quite dark by this time, but I had highly adequate lights.
I checked my projected ride distance at my twenty-miles-to-go point at Hatton and was surprised to see that I was only due to do 60 miles. So I did a detour to Isley Walton and down Top Brand after Melbourne. Saved me from Bastard Hill if nothing else.
I listened to the last few hours of my Reacher audiobook, The Enemy. The way the plot is tied together when Reacher solves the conspiracy that's the basis of the story is frankly over-complicated but there's a very interesting and affecting thread about Reacher's French mother, who dies in this story. He attends her funeral in Paris in the last part of the book, and I cast my mind back to my own mum's funeral in Whitley Bay. Then minutes later, at the very end of the recording, I heard "If you've enjoyed this recording, please write to us at Isis House, King's Drive, Whitley Bay". Really odd, not least because I assumed it was an American production (it's certainly an American voice actor who does the narration).
One of my rear brake pads squeaks like a train whistle when I put the brakes on.
Anyway .. back on 62.73 miles. Glad to have the full set of monthly fondos for 2022, which was one of my goals at the beginning of the year, as it always is.