A cold morning but no rain forecast, light winds, it was sunny and I wasn't on call – all of which added up to an irresistible case for doing the January Fondo.
As I ate breakfast I had a quick look through my Twitter feed. My MP, the redoubtable Andrew Bridgen, was urging people to "stay local with your exercise". Two of my fellow constituents were given £200 fixed penalty notices after driving five miles to take a walk at Foremark Reservoir, just a few miles from here.
I set off at 10:24, a bit later than I wanted really. But I got up later than I expected, I couldn't find my cycling glasses (ended up using an old pair of varifocals) and I had to lube the Tricross before I set off, having neglected to do that yesterday.
The plan was to go up through Coleorton, over Swarkestone Bridge and west along the trusty, flat A road, keep going until I'd done a bit more than 31 miles, then turn back and come back the same way. However I don't usually go much further west than Hilton or (less often) Hatton, and this route called upon me to remember a couple of turns before pedalling through a village called Marchington. As it happened though I missed a turn near Sudbury. Didn't realise I'd done this until I found myself running out of proper road and having to take a cycle path adjacent to the A50. But I wasn't overly bothered as I'd done about 30 miles by this time anyway, so I just needed to keep on for another mile and come back the same way.
The cycle path joined a proper road going into Uttoxeter. I'd done 31 miles now so I decided to turn back at the next roundabout.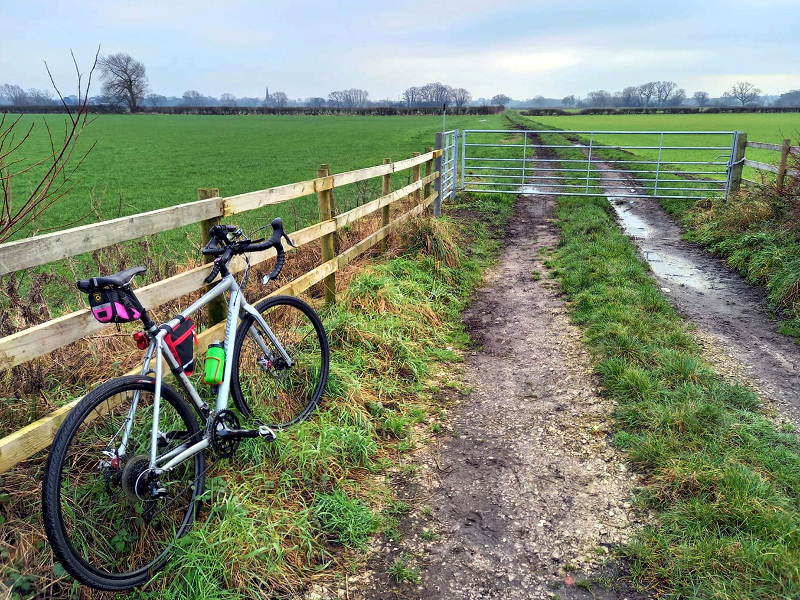 However, the next roundabout had a sign to Marchington – so I thought I'd follow that, and come back the way I'd originally intended. A bit of an adventure. I did that. A bit hilly but really a lot of fun doing impromptu navigation on hitherto undiscovered roads.
I had to use the phone a few times to find my way through Marchington itself, but after that it was pretty much plain sailing. Sunny and pleasant for the first few hours, but about an hour before sunset a damp murk descended and the roads were a bit wet. I thought I might be back after dark and I was, so I'd brought lights.
No pub stops of course and I didn't use any shops. I took a backpack with plenty of food in it including a very sticky cinnamon bun that I bought at Tesco yesterday.
Back on 64.39 miles. Really a nice bit of exercise. Ticked another 'neighbouring counties' box as well, Staffordshire.