I wanted to do 20 or 30. A Twycross Bypasser seemed the obvious choice; not far from home and mostly discreet quiet roads. Not really the right climate for a long ride, meteorologically or indeed socially.
After the brief teaser of spring we had last week, the cold, windy weather is back again. Back on with the tights, the helmet cover and three layers on top. But the roads were dry so I took the X.
I could feel the wind pushing me along a bit going SW down through Snarestone and Norton, so I knew I'd have a spot of bother pushing back on the second half of the ride, up through Sibson, Congerstone, Shackerstone and Heather. And so it proved; a fairly brutal cold headwind.
A few joggers and other cyclists about. The B-roads and lesser country lanes don't feel much different, but the two mile stretch along the A444 seemed eerily quiet.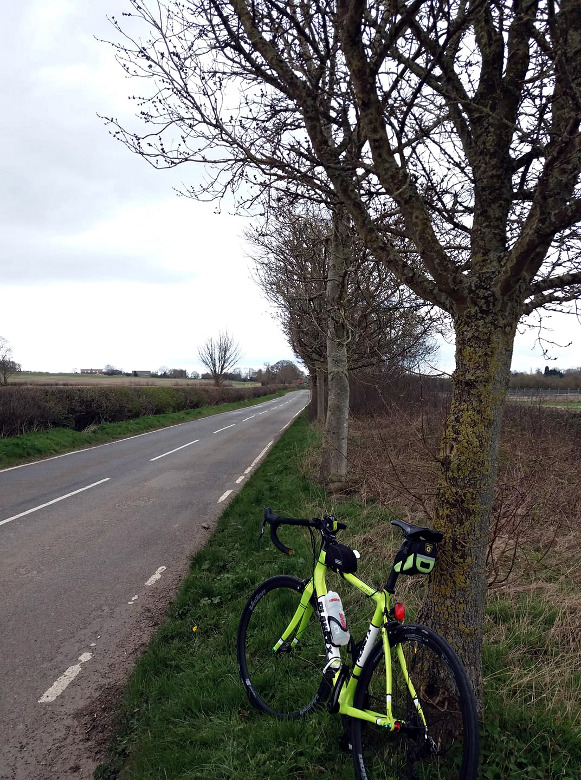 The stretch between Shackerstone and Heather is covered with chunks of dried mud and stones at the moment; bloody annoying. The owners are supposed to clear up after their vehicles but they never do, at least not round here.
The sun did come out for brief periods. Which was nice.
Improbably, a discarded underwear sighting about a mile from home, along Heather Lane. White, skimpy and lacy with a little gold bow. I observed this from an appropriate distance, of course.
https://www.strava.com/activities/3228989457
29.06 miles, 476.65 this month; might make it to 500 in March.