Thinking ahead to a time when I'll be able to do 70+ miles again, I had a look at my usual route to Melton Mowbray and back, with a view to changing it around a bit. I did find a really promising detour for the A6006 stretch between Zouch and Six Hills, which can be a bit of a drag sometimes.
So although I wasn't going to go all the way to Melton today I was quite keen to try it out. I thought I'd go as far as Asfordby, then turn back – which would give me roughly the same distance I did on Friday night, a bit less than 55 miles.
I took the X again. I gave the Cannondale a bit of a clean yesterday and GT85-ed out the chain, and hadn't lubed it. Must do that tomorrow.
Despite having got back from a gig at about 12:25AM last night, or this morning if you're going to be pedantic – I arose at about 06:55 this morning. I actually misread the clock next to my bed. I thought it was 07:55. I'd actually made toast and coffee before I realised what I'd done there, but I stayed up, took my time over breakfast and set off at about 08:30.
Lovely and quiet at that time on a Sunday morning, barely any traffic. I actually missed the turn for the new part of the route, but only by a couple of hundred yards. When I turned back I was disappointed to find myself battling a headwind, which didn't bode well for the return part of the journey. The new part actually adds a couple of miles to the route and a little bit of elevation as well, but it's much nicer. Quiet, very leafy. Lots of gentle ups and downs which all add up of course, but it avoids a brutal climb just after Normanton. I did have to consult Google Maps a couple of times, though.
Rejoined the usual route at Six Hills and made my usual way from there to Asfordby. Asfordby is a dismal little town really but it does have a serviceable co-op and a thoroughly decent bench outside its parish hall. I secured the bike to some railings using my new ultra lightweight bike lock (not a lock at all really, more like a steel-reinforced plastic tie with a little two-prong tool to unfasten it) and procured a sandwich.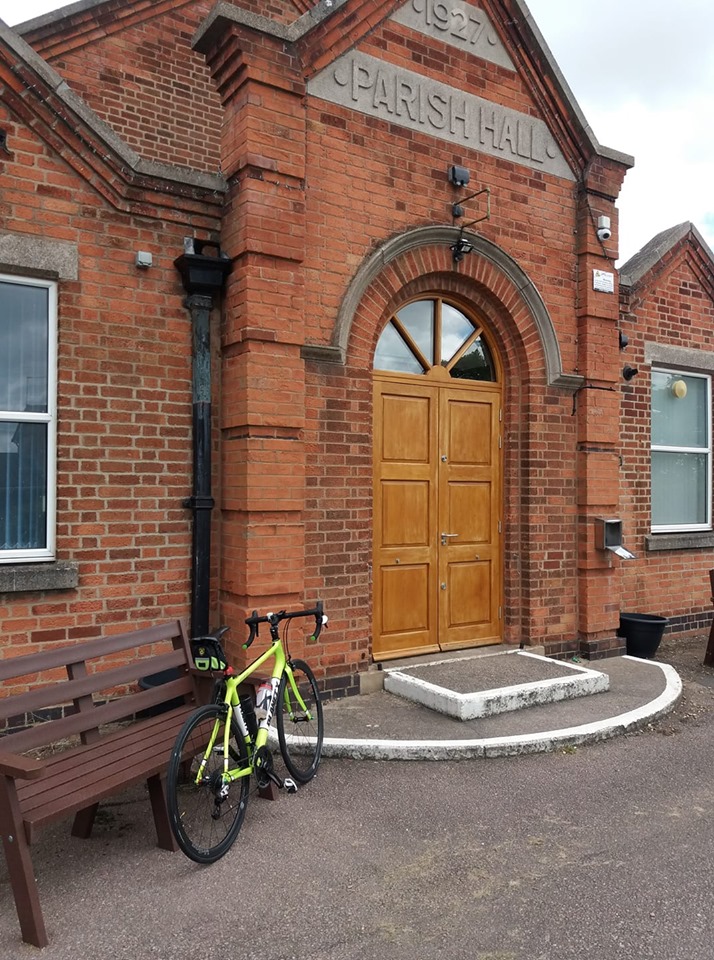 Suitably rested and refuelled, I started on the way back home. I think I'd done about 27.5 by this time. Sadly though, eight miles later I turned left at the Big Lane crossroads when I should have turned right. I only realised I'd done this when approaching Seagrave, a village I knew I'd never been through before. I'd just come down a long hill and I just couldn't face climbing it again, so I plotted a new course from there, to take me back on track via Sileby and Barrow upon Soar. I was of course a bit apprehensive about this, as it meant I'd be adding three or four miles but my knees seemed to be doing really well so I pressed on.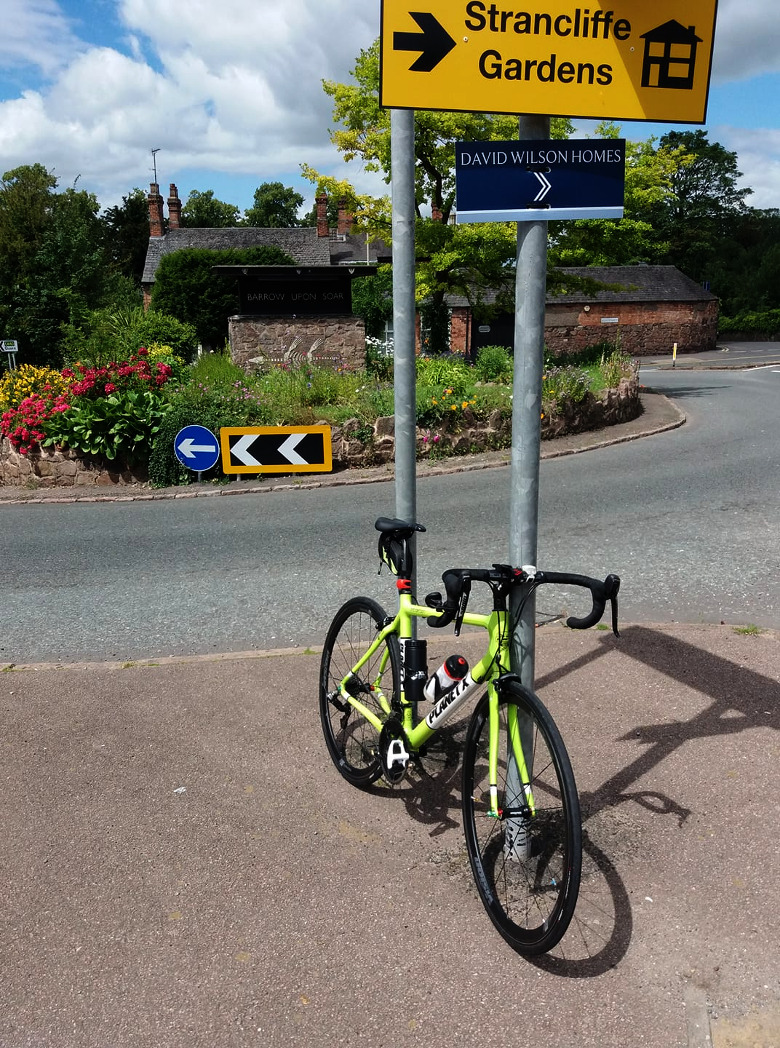 Looking at the track now, I didn't really take the most efficient route to get back on track. But map reading while straddling a bike using a phone in bright sunlight is not ideal.
As I approached Normanton and Zouch it occurred to me that I probably wasn't far off doing a Fondo – and I might get close to the requisite distance by adding a brief excursion over to Sutton Bonington and back from there; a decidedly flat bit of road. So I did that.
Stopped at Belton for a rest a few miles later and did some stretching exercises.
Decided to come back home from there through Griffydam and Peggs Green rather than Thringstone as I didn't fancy the climb along Talbot Street. I'd punctured the front tyre on the same bike last time I came home that way, which also put me off a bit.
I couldn't remember whether a Fondo was 62 or 63 miles, so I did a slight warm down in the immediate vicinity of home to push the distance up a bit. Home on 63.39 (I've knocked 0.02 off for clogging around the shop and walking the bike to benches etc). I wasn't at all proud of myself for overclocking my intended mileage and my right knee had started to feel a bit strained. But I doubt the 'warm down' or the Sutton Bonington stretch did any significant harm. And anyway, I think I've got away with it.
So that's a rather pleasing 504 miles for June, 212 more than the target and the highest monthly tally since August 2017.
1861 so far this year.
I was a bit too cool intermittently for the first half of the ride, but fine when the sun was out. I wore a long sleeved top. Got a bit of sunburn on my wrists. My leg tanlines are looking pretty good, although I compromised them yesterday by wearing rugby shorts on a lounger in the garden.
The headwind on the way back was indeed a bit of a nuisance. But despite having got up stupidly early after a long night, I felt pretty fresh the whole ride.
I threw out a pair of cycling shorts last week because they'd started to wear out – they actually had a couple of holes in them. So I wore new ones for this trip, newly acquired from Amazon. Best ones I've ever had; they're really lightweight, the fit is perfect and they have a little zipper pocket on the back that's handy for a debit card, garage key or emergency tenner. They're a bit drab though, black with red pinstripes. The old ones had big yellow flashes. I'm convinced that more colourful clothing and frame paint is conducive to better morale while riding, and that's why I like to take the X on longer distances.