Wasn't able to leave work as early as I wanted yesterday but it's light until after 10pm at the moment so I wanted to do a longish one. I set off at about 5:20pm on the X.
Lovely sunny, warm weather. For some reason I couldn't find my long-sleeved non-winter cycling jersey anywhere so I just put a short-sleeved one on and hoped it wouldn't be too cool later. It was.
I wanted to something a bit more adventurous than the time-honoured Twycross variation. I'd originally thought of going eastward over to Grimston, a nice easy one that wouldn't require any map-assisted navigation. But the prospect of rush hour traffic through Coalville and Thringstone put me off, and I decided to go westward instead. The plan was to do the old Wales / Stafford route for about 25 miles, then turn back the same way.
And that's what I did, taking the nice quiet road to Appleby Magna, then over the A42 and into Warwickshire and Staffordshire through No Man's Heath and Clifton Campville. Would be a lovely route if not for the momentum-sapping, lumpy state of the road for a few miles either side of Clifton Campville but I'd factored that in, and decided to wear it. After that there's a really nice long, scenic flat stretch which although an A road feels decently safe and quiet. Got to Handsacre on 24.4 miles and decided to keep on for a bit since I was enjoying myself, pedalling along at a leisurely speed and listening to the women's football on 5 Live. Stopped at Hill Ridware where I took the following pic: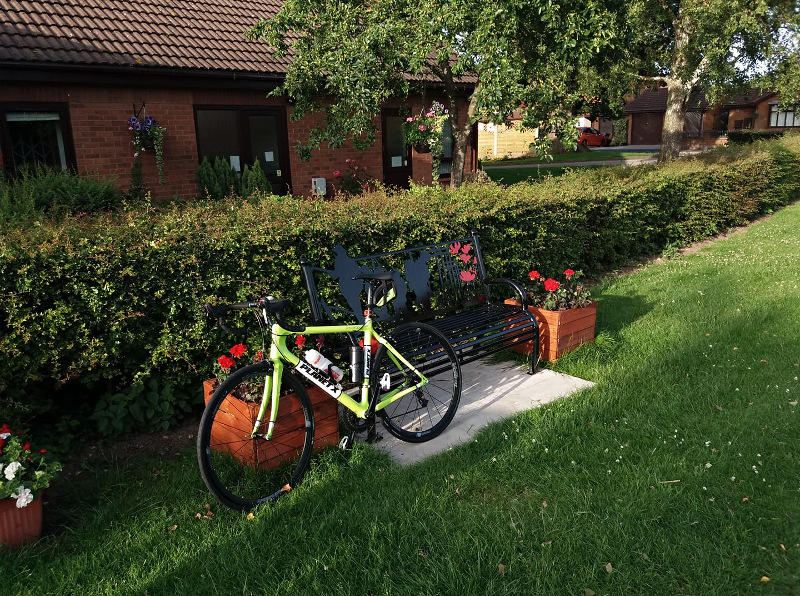 Kept on keeping on for another few miles. I was convinced that I was on a road I'd never propelled myself along before, although I wasn't particularly bothered, until I came to a pub that I recognised, called the Bull and Spectacles. I decided to turn back at that point, concerned that it would be a bit late (and dark, and cold) by the time I got back. I'd done a bit more than 27 miles.
I took a wrong turn at Alrewas, about 8 miles later. But I realised I'd done that within a few hundred yards, so I wasn't bothered. Parked the bike against some railings next to the Trent & Mersey Canal and consulted Google Maps, before backtracking to the route proper.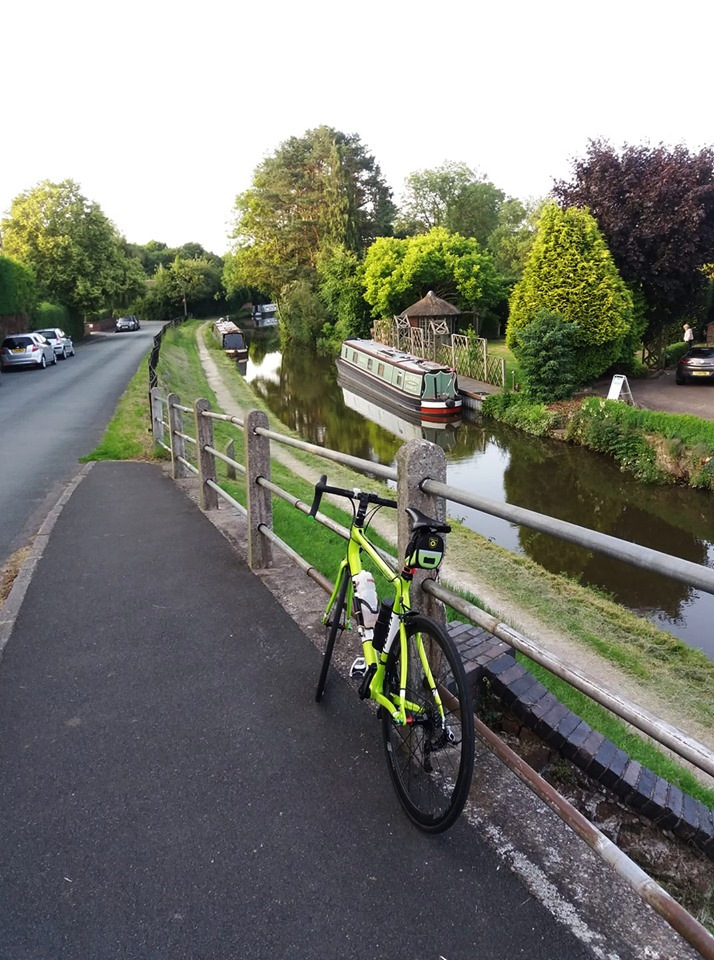 It was still daylight at 10pm, albeit the sun had gone down of course. I'd put my little LED lights on by then. Home at about 10:30pm, when it was still quite light enough to see the road ahead and the landscape. Although I'd been warm and comfortable for most of the ride, I was uncomfortably cold by this time.
https://www.strava.com/activities/2488202229
54.74 miles which gives me 440 this month. More tomorrow.
I'd thought that I'd done a 52 mile ride a week or so ago and that I'd extended my distance by about 2 miles, like I'm supposed to. But in fact it was 50.24 miles. However my knees feel OK today and I've clearly got away with it. Just a couple of months ago, 25 mile rides were hurting them more than this.
In any case – I'm not sure that extending ride distances by two miles a week is the best strategy at this point. If it makes sense when you're doing distances of about 20 miles, maybe three or four mile increments would be better when you can do 50 miles. And if I'm going to get back to doing 80 miles reasonably regularly as I hope, I sort of doubt that I'll be doing 56, 58, 60, 62 .. all the way to 74, 76, 78, 80.
But perhaps I should. I'll see how it goes.