I went bike shopping this morning, at Halfords. A few post-Christmas bargains there, but I didn't buy one. I was quite tempted by a Voodoo Limba, a budget "gravel bike" that I thought would do quite nicely as an additional winter road bike. But in the end even at £288 I didn't think it was worth it. This particular one was in the clearance sale – possibly because it had a broken bell (which I'd have taken off anyway) and a missing bar end plug (which I'd have replaced with a mirror). Normally they're upwards of £400.
Halfords advertise a "free bike build" on their website, as if you'd normally walk into a bike shop and come out with boxes of parts. But the quality of their bike building leaves something to be desired – whoever had put the stem on this one had managed to get the handlebars crooked, so that you'd have to ride with your right hand a few mm further back to keep the front wheel straight. Any easy fix of course and I'd probably have flipped the stem anyway, but it does show how shoddy they are.
In the end it was the wheels that put me off. They looked a bit cheap, and having front and rear disk brakes, presumably not that easy to replace. Disk brakes are, for me personally, a solution to a problem that doesn't exist. They add unnecessary complication (and indeed weight) for no discernible advantage with respect to my own cycling behaviour.
Anyway I came home empty-handed and an hour or two later, decided I'd have another run out. I assessed that the roads were dry enough today to allow a run out on the Planet X, which made me feel a bit better about my limited winter bike options. I withdrew it from the garage at about 1:25pm.
Didn't take a proper front light with me but I only wanted to do about 30, a medium-long Twycrosser. And it was a pretty standard Twycross run through Sheepy and Ratcliffe until I got to the turn off for Upton on the A444. I took that, then a right onto Stoke Rd to reach Fenn Lanes. Haven't done that for a long time.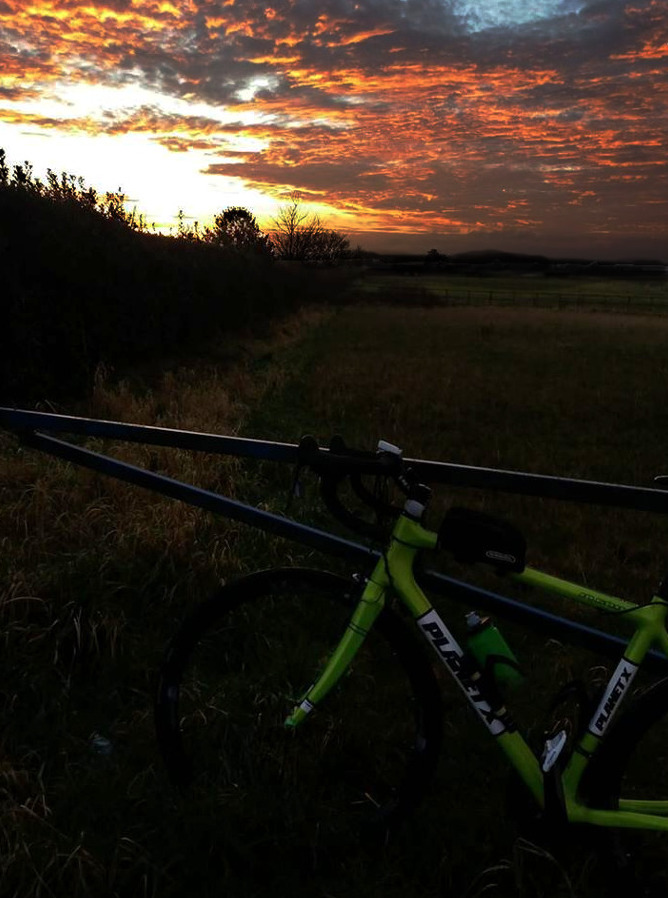 Conditions were starting to get a bit dim by the time I reached Cadeby and I didn't fancy doing the often-muddy stretch along Sutton Lane on the X, so I kept going until I came to the A477, which runs parallel northwards to the road I'd normally take through Bosworth and up through the villages. Although I had a few options to take a left from the A477 and onto the usual route, I didn't take any of them. I decided the better-surfaced A road would be a better option to get home quicker after sunset on a bike only equipped with flashy blinkers. I've never done that before; come home all the way past Bosworth on 9 miles of A477. Not a lot of fun but it wasn't too scary and I was confident my rear light would keep me visible from behind.
Back just in time, I'd say. Dark by the time I was rolling the bike into the garage.
34.77 miles, and that's 375 this month.