Not at work today. The roads were wet from overnight precipitation as usual but it wasn't due to rain today, so I thought I'd do 30 or 40 on the Boardman. A moderate wind was coming from the west and I wanted to do something different for a change so I headed westward, through Measham, Netherseal, Coton in the Elms. I don't go over that way often so it was a nice change.
I hadn't bothered to bring the eTrex so I was navigating from memory but didn't take any wrong turns. By the time I got to Walton on Trent I was weighing up the feasibility of pressing on all the way to Stafford Bingley Hall for a sentimental pilgrimage, but I decided against that firstly because I didn't have a debit card or cash on me so my refuelling options were limited to a mini pork pie and oat bar, secondly because I assessed that it would be considerably colder after sunset – and thirdly, because I'd have to navigate using my phone.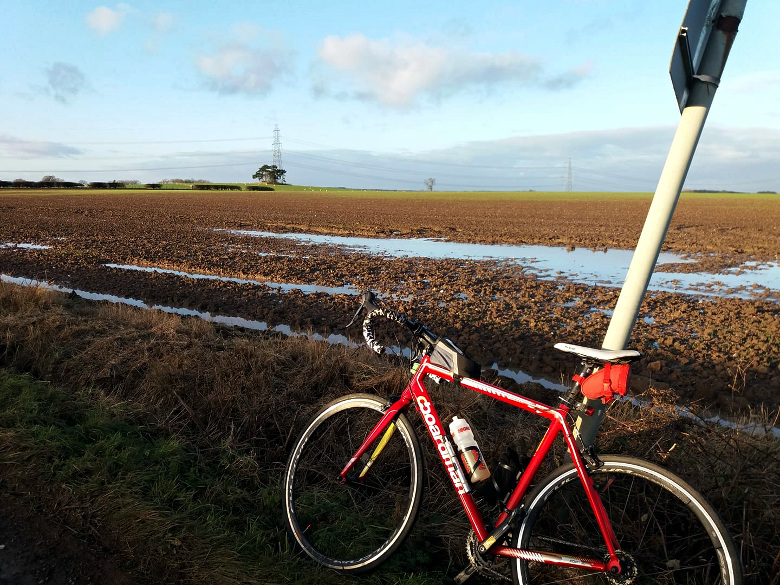 Conditions were intermittently sunny and relatively mild. Had to pedal through a few shallow rivers running across the road. The route between Coton and Walton is quite muddy and gritty at the moment. I'll go through Rosliston next time.
Got as far as a roundabout south-west of Yoxall. Went straight over it but the road there degenerated into a very crappy little track quite quickly, so I turned around. Had a bit of a look further up into Yoxall then came back homeward the same way.
I'd done my best to memorise the turns on the way out and this strategy worked quite well; no mistakes. Once back east of Measham and on familiar territory I took a different way home through Packington and along Alton Hill.
Very nice run out. Only 44.56 miles but it felt like a bit of an adventure. I always feel a bit out of my comfort zone a bit when I go out west, not sure why really. Perhaps it's just familiarity but I feel a lot further from home 20 miles west of where I live than 20 miles south. Something to do with territorial psychology.
My right knee felt a bit sore after I got back but nothing overly concerning. It had done 110 miles over the previous 54 hours and I'm happy with the way it coped. The knee situation does seem to be improving, still. I wouldn't say I've turned a corner but I'm on a long bend.
Anyway – that's 301 this month and 4202 this year. Would be really nice if I could do another 184 before the end of the month because that would take me to 20,000 miles over the last five years exactly. But I doubt that family commitments and weather conditions in the rest of 2019 will allow that.