I got up early this morning, with the intention of doing a longish ride. It had rained heavily overnight but no more rain was expected until this evening. I knew the roads would be wet and that it would be cold, but I'd decided to tolerate it.
When I actually looked out of the front door though I decided that I wasn't going to tolerate it, after all. Just too cold and dank. I went back to bed.
By 11-ish though conditions had brightened up a bit. I mounted the Boardman at about 11:08. The wind was blowing from the south today, meaning that I wouldn't face a headwind on the way back if I ventured out east. So I did that; the usual route over to Belvoir Castle.
I thought I'd do 50 or so; maybe even a Fondo although I knew that would mean riding in the dark for at least the last few miles. By the time I'd got to Six Hills I'd more or less decided to do the required 62.14 for the December Fondo.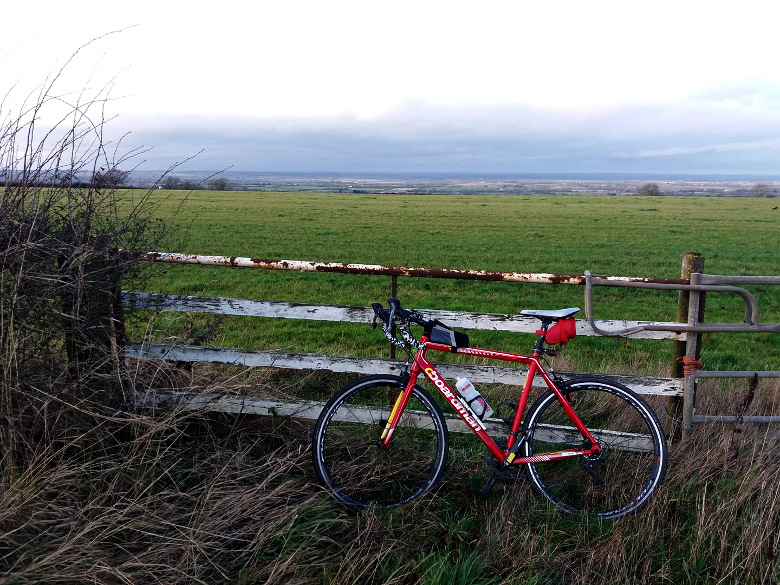 Just after 23 miles, with about 8 to do before turning back for home I took a left turn on a whim. I thought I'd do 8 along wherever that led me, then come back. I reached a T junction after a couple of miles though. Turned right and reached another T junction, on the A406 at a place called Upper Broughton. This had been a pleasant detour along a well-surfaced, not too hilly, post-apocalyptically quiet road – but I wasn't going to get 8 miles out of it so decided to turn back for the main route at this point. I did the maths, continued on the main road out east for another 5 miles or so (a bit more than I needed for a Fondo) and turned for home near Long Clawson.
I'd been thinking of stopping at the Greyhound at Burton on the Wolds as usual for a late lunch and possibly a beer, but decided to press on and make the most of the remaining 40 minutes of light. The sun set at 15:52 round these parts today, as indeed it does tomorrow. The earliest sunsets of 2019.
Stopped to put a head torch on about 4 miles from home, and a minute later the rain, threatened for about 7pm, turned up early. It was coming down quite fast. Not a lot of fun pedalling in the cold and dark with your clothing starting to saturate and cold rain lashing off your face. But as I always say – I choose to do these things not because they are easy. But because I am hard. And at least it was only 4 miles!
Back on 65.67 miles. I was slightly concerned that my Garmin watch was going to run out of juice over the last 15 miles when it was on a single bar on the battery indicator, but it didn't.
I trialled some new cycling socks on this ride. Very comfy and bigger than the ones I bought in a sale from Halfords a few years ago. I thought I'd ordered a pack of three pairs from Amazon, but six pairs turned up. I suppose I must have ordered them twice accidentally.
Quite a lot of standing water and the fields near the rivers still look waterlogged. The River Soar at Zouch has spilled over its banks and formed a sort of lake on the Nottinghamshire border. Had to pedal through water about an inch deep near Cotes, and got sprayed by an oncoming car.
https://www.strava.com/activities/2947513667
That takes me through my target for 2019 of 4100 miles. 4157 this year, 256 this month. Still more to do.