Colder today, but dry for a change. No moisture on the roads at all. And sunny. So I left work early and took the X out. Didn't want to go far, but didn't want to do a Twycrosser or Bypasser, just not in that mood.
I went up through Belton to Isley Walton, thinking of going west to Melbourne then up over Swarkestone Bridge. But when I got to Melbs I decided to sort of follow my nose and see where it took me The Derbyshire village with a well-known Australian namesake has a confusing road system and I never know quite where I'll end up when I take a random road out. I found myself approaching Wilson. Came back down through Breedon and Lount.
Took the following pic at 4:51pm, 23 minutes after sunset. Nice to have a bit of daylight left at that time. In Cornwall though, the sun would still have been up. In Hartlepool it would have been dark.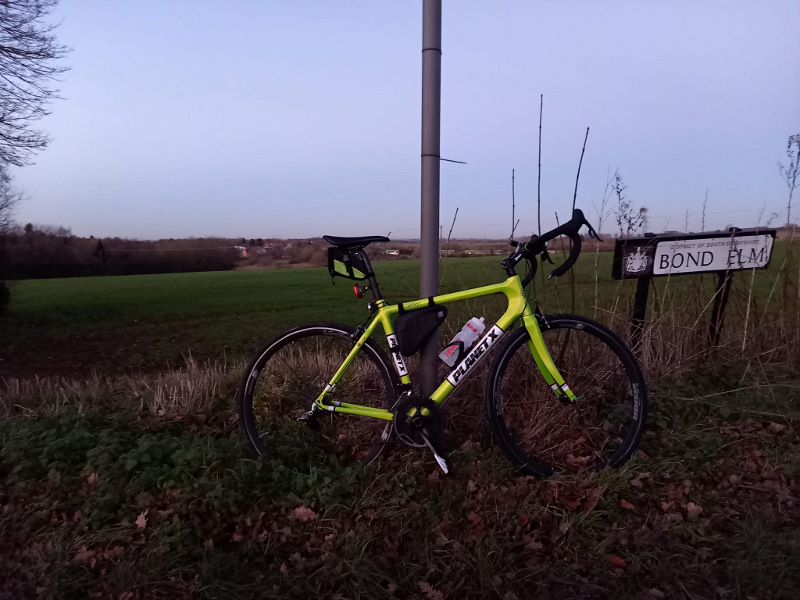 Yesterday on a Retail Therapy Whim I bought an Energizer [sic] LED torch at Tesco for £12. It makes a brilliant (literally hehe) front light. You can't focus the front beam, it's fixed – but it's very bright. It's robust, well made, and lightweight. Superb. The only thing I don't like about it is that it's rechargeable, but you can't take the battery out so no taking a spare with you. Apart from that, one of the best torches I've ever had.
Super view of Orion out there, although I only noticed it as I was opening the garage door to put the bike away.
Back on 23.20 miles, felt like more than that but oh well .. very nice run out. 242 this month which is only 2 miles less than Jan 2021. But I'm not competing with last year.