Managed to get out of work not long after 3:30pm. A bit of light rain expected over after sunset but the roads weren't too wet so I took the Boardman for a spin. Set off with a half-hearted intention of doing a Twycrosser but by the time I reached the end of the road, I'd decided to head south, down toward Stoney Stanton – though I didn't expect to go that far. The vague intention was to do about 12 miles, then come back the same way.
Would usually have a (knee) recovery day but the weather looks awful for the foreseeable future so I grabbed a chance. I only did about 18 yesterday so no big deal to do 20-odd today.
I got as far as Kirkby Mallory, then turned back. Very nice change to do that route again. By the time I turned for home it was getting dark, but I was well equipped with lights including a head torch.
Took this pic before sunset, along Kirkby Lane: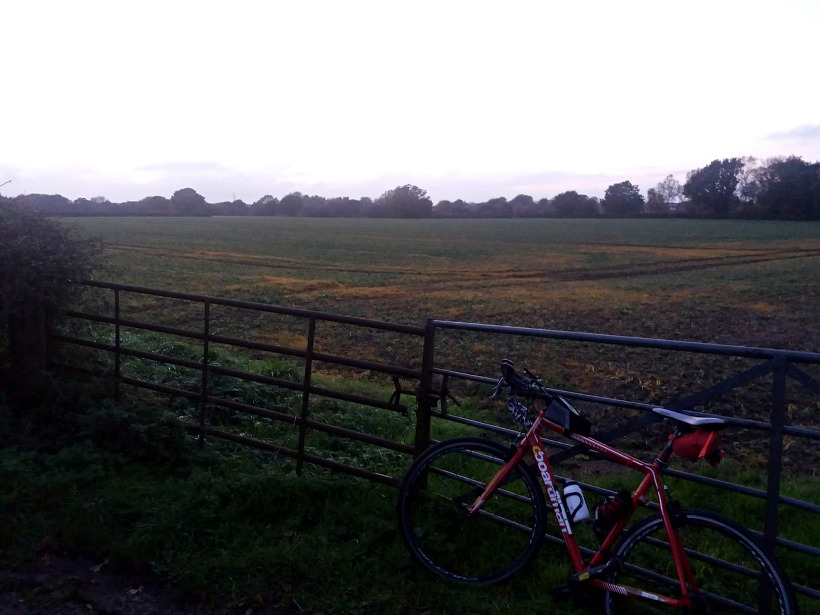 From Newbold I decided, on one of those whims to which I am prone, to take the road to Bosworth and come back the usual way from there, rather than back through Bagworth and Ellistown. Very dark along there. Had to use the brakes where I wouldn't normally on downhill stretches, just to maintain proper visibility of the road.
The front light + head torch works well enough though except when you have an idiot in a motor vehicle blind you with full beam. On this occasion I was confronted, along Heather Lane, by a 4×4 of some sort with an array of front lights, arranged in rectangular fashion, that would have put the floodlights at Old Trafford to shame. The worst part isn't when you actually have the light in your face. It's the moment when the offending vehicle has passed, and your night vision is shot for a second so all you can see, until you recover, is an inky blackness while you're (possibly) hurtling down a hill on a curve, as I was in this case. Bloody scary.
The threatened rain didn't materialise, but I did have to contend with a bit of fog over the last couple of miles. I had 5 Live on on the way back, listening intently to the results for the election of Speaker of the House of Commons as each round came in. I was delighted and relieved to see Harriet Harman do so badly. She would have betrayed her country at a snap of her foreign masters' fingers.
Anyway, despite its perils I like a ride out in the dark. Bit of an adventure.
https://www.strava.com/activities/2841114142
28.89 miles which takes me to 42 this month.