Spent the weekend up in Hartlepool, where it rained rather a lot (and it did here in the East Midlands as well, to be fair). But this morning, the sun was out and the roads had mostly dried out, so despite a moderate hangover induced by consuming too much Drambuie last night, I extracted Boardman II from its hangar (my mum's garage) and put it to work on a run out to the Transporter Bridge and back, before driving home at lunchtime.
Yes, Drambuie. It's remarkably moreish.
Nice to be re-acquainted with my other Boardman. It does feel a bit different from the red one. And it is indeed different in a few respects – a different stem, different wheels (the stock Mavics), different seat post and a carbon front fork – not counting handlebar tape and the colour scheme – but it does feel a little bit more agile. Might just be the route, to be fair. The route out of the town and round the coast is very flat.
I was annoyed with myself for not having remembered to bring a mirror up for it. I need to bring an Allen key with me next time as well, the seat is just a shade too low.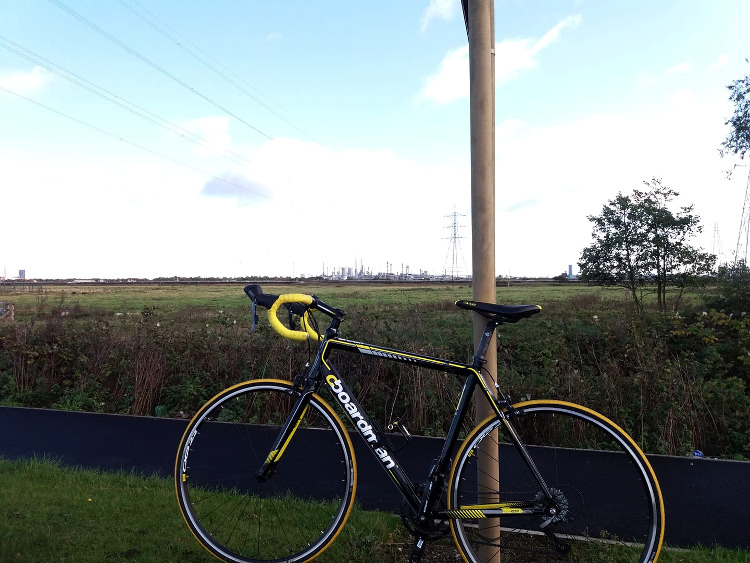 Very pleasant pedalling along next to the sea at Seaton Carew in bright sunshine, before turning inland along Tees Road to Port Clarence and the Transporter Bridge. Wasn't too cold.
The road takes you through a wildlife reserve over the last mile or so to the bridge, and there were quite a few twitchers out with their tripods and telephoto lenses. I didn't see any notable wildlife myself, just Canada geese and a few other unremarkable species of water bird. Personally I find the industrial landscape along there more interesting – the various chemical works and oil refineries, and the enormous concrete cuboid that is Hartlepool Nuclear Power Station.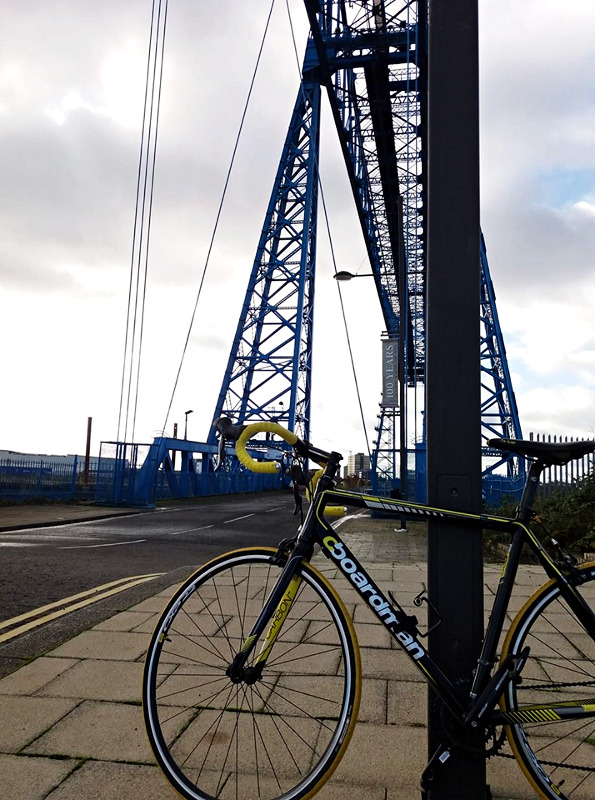 Wanting to extend my ride a bit, I took a left along Seal Sands Road toward Cowpen Bewley on the way back, but turned back to Tees Road after a couple of miles. Came back home a slightly different way, coming along Clifton Avenue. In my late teens I often used to walk home from the town centre that way, sometimes clutching a long-coveted LP like Live and Dangerous or Physical Graffiti, newly acquired from one of the town's numerous record shops. The past, as they say, is a different country. They do things differently there. But Clifton Avenue remains as pretty and leafy as ever, its trees turning autumnal shades of amber and brown.
Probably the flattest 22.11 miles I've done for a long time. And that takes me to 409 miles this month and 3435 this year.