Lovely day. Unfortunately I'd booked lunch for 2pm at a local hostelry. I was determined to do 20 miles or so, and decided to do them after lunch rather than before as it was a bit cool and misty in the morning. Perhaps more hazy than misty, but anyway – afternoon seemed a better bet with temperatures slated to climb quite a bit from 1pm or so.
I hoped to be out of there by 3:15pm or so but due to their pitifully slow service – I'll be crucifying them on Tripadvisor later – I hadn't mounted the Boardman until just after 4pm. Just enough time though for a decent run out without resorting to a powerful front light.
I'd planned a route which I thought would give me a bit more than 20 miles, but it didn't, for some reason. Must have got it mixed up with another route.
I used my Soleus GPS watch to track the route. To my amazement it spontaneously started using BST time about half-way through the ride after I fiddled with the buttons. But it looks like an update to my Windows lappy has buggered up Java on it, and I haven't been able to upload the track to Strava.
My right knee was feeling a bit sore before I set off so I thought I'd try my tendon strap again. It did hold up pretty well through the ride. My left knee has started giving a bit of discomfort after 10 miles or so, which it wasn't before I did that stupid 50 miler two weeks ago.
Ah well.
Bit of an unusual route, this one. I stopped short of Twycross again to head left to Bilstone, but this time I went straight through and on to Carlton, then back up the usual way from there. I don't think I'd done that stretch of road between Bilstone and Carlton before but it was lovely – very quiet and scenic, but well-surfaced. Not muddy. I'll incorporate it into a longer Twycross route.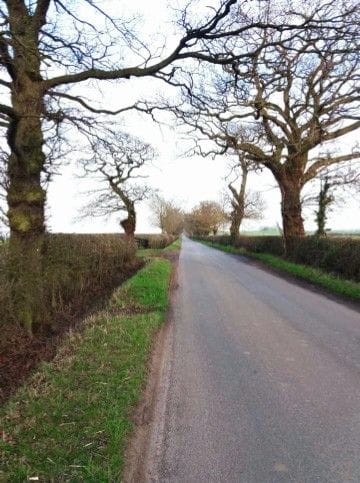 Home with the very last of the light.
Don't know if I'll be able to get the track off the watch. But 19.64, which takes me over target this month to 163 miles.
Looking at the weather, a run out on Tuesday looks on the cards. Sunset at 17:38. I'll try to finish work early.