I took the black Boardman up to my Mum's place in Hartlepool for the weekend, with a view to leaving it there for a bit. I haven't used Zwift for about a year, and it's just sat on the Kinetic trainer like a useless ornament in the garage.
It differs from the red Boardman that I more frequently use in that it still has the standard wheels, as well as the standard stem, seat post and bar tape. It also has a carbon fork, by virtue of its "special edition" status. Despite all this it's a very similar ride.
Took it out on Friday evening to do a run out to the Transporter Bridge and back. A bit blowy, especially along the coast. A very flat route. When I've done this one on the hybrid in the past I've wished I was on a road bike, but ironically the road surface is so scrubby and rough on the last stretch north of the Tees that I realised I'd probably be better off on the hybrid. I decided I'd had enough a few hundred yards short of the Transporter, and turned to come back.
Quite an interesting route this one. Takes you next to the North Sea at Seaton, and through the Seal Sands, a natural wildlife reserve. But also takes you past swathes of industrial scenery, including a nuclear power station.
https://www.strava.com/activities/2412329365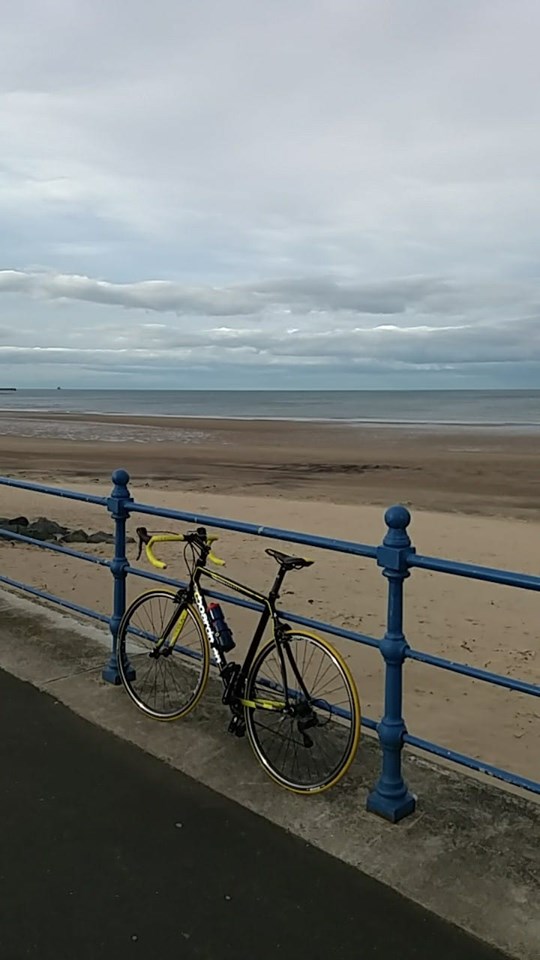 17.86 miles, which brought the May total to 370 miles (rounded up).
Yesterday evening, I kicked off the June campaign with a trip inland, past the Trimdons. The first 3.5 miles involve climbing from an elevation of 60 ft up to about 410 feet. Quite a nostalgic trip this one, as I used to do this route in the late '80s on my old Raleigh Routier. I wouldn't normally do a run out without having a day off but since the previous day's cycling was all flat, and not a long distance, I thought I'd get away with it. And I did.
Only 22.41 miles but I left it a bit late before going out, and was expected back for dinner. Next time I'm up there I'll perhaps keep on as far as Durham.
Came back a different way, through the village of Elwick. I used to frequent a pub there called the Spotted Cow, in a previous life. Beautiful view of the sea in the distance over Hartlepool, coming down the hill from there. And indeed of industrial Teesside.
22.41 miles. This month's target is 287.
https://www.strava.com/activities/2415511977
Glad to have got a bit of use out of that bike this weekend. I'd only ever used it on real roads once before.