Another pleasant evening, another ride out on a bike. The nights are getting dark earlier, so best to make the most of them.
Cloudy when I set off with a few dark clouds lurking, but I'd been promised dry weather so I took the Planet X. In fact I did get spotted with rain a few minutes after I set off, but only for about three minutes. After that the weather picked up quite nicely and the sun came out later on.
Quite blowy though, with a strong wind from the west. I had decided to go westwards, so as to come home with a tailwind. I don't like a headwind on the homeward part of a journey. I briefly considered going over toward Walton on Trent as I did on Monday, but decided I couldn't be bothered with the faff of sorting out the route on the eTrex. A simpler route was needed. So I decided to head up over Swarkestone Bridge, then left past Stenson for a few miles, then back the same way.
Swarkestone Bridge is a long, meandering causeway built in the 13th century and with little room for passing. Things there can go one of two ways, as a cyclist, when it's busy: either you're holding the motor vehicle traffic up, which is a bit awkward, or it's holding you up. On the northward crossing, it was a bit of both this time. Turned left at the top and straight into the headwind. But while it slowed me down, it mostly wasn't overly annoying except for a brief period when it picked up a bit and I had to drop a gear. It was actually making the bike feel a bit unstable for half a minute or so.
Anyway no stop at the Bubble Inn for me this evening, I went straight past Stenson and quite a bit further westward than I'd been along that road. Some readers may remember that I cycled down to Stoney Stanton a couple of months ago, a village featured in a piece by the documentary maker Ian Nairn in the early '70s. Well – on the same trip, and the same programme, he paid a visit to Willington Power Station, which I passed a few miles after Stenson. I stopped and took a pic through some railings. It looks pretty ugly to me, but Nairn quite liked it for some reason.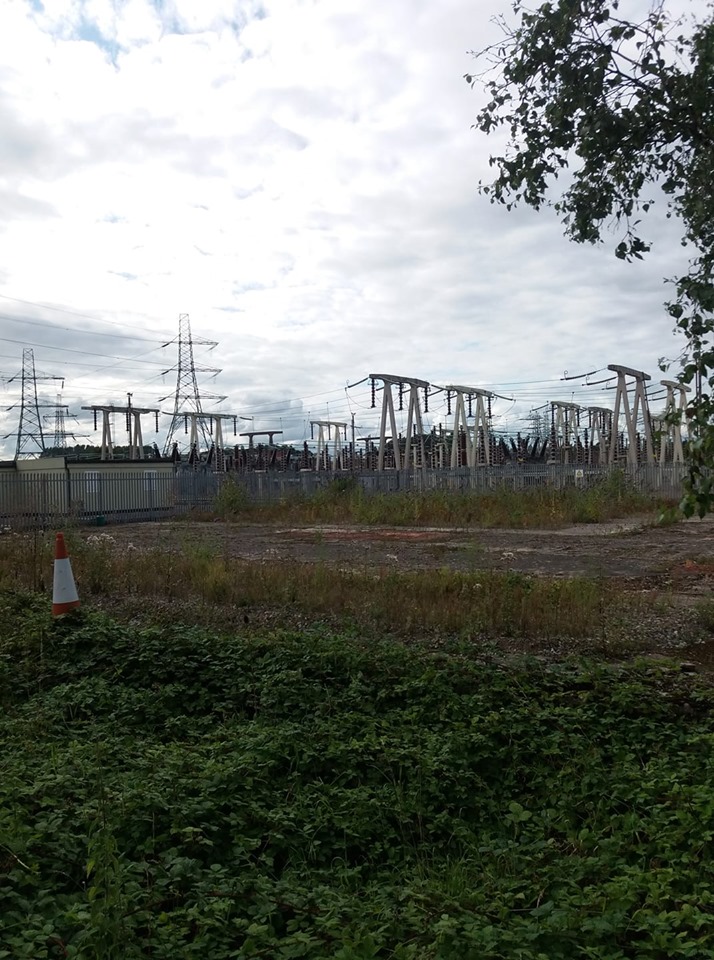 Willington itself is a nice small town from what I saw, not very rural but pleasant. A bit like a more palatable version of Long Eaton. I'd never been through there before. It's about 8 miles from Derby. The traffic at the double roundabout there held me up briefly, but I hoped it would be quieter on the way back. And it was, I sailed through without stopping.
Stopped just short of Hilton having done nearly 19 miles and decided that was enough. Didn't want to stay out too late. I came back the same way and bloody hell, the direction of travel relative to that westerly wind made a big difference. I must have covered the same distance in half the time with it pushing me forward instead of backward.
By the time I got to Melbourne I'd briefly considered coming back via Donington which would have added a couple of miles. I thought it would be quite nice to have done three consecutive 40+ milers, something I doubt I've ever done before. But I didn't, I came back exactly the same way and I ended up on 37.74 miles.
https://www.strava.com/activities/2599478897
Nice run out really despite busier roads than I would normally do. I'll do that one again on a pleasant, quiet Sunday afternoon some time.
That was the second run out for my new cycling shoes and they seem to be bedding in nicely.
On my last ride I noticed a buzzing in my left ear, and fortunately this turned out to be the left earphone rather than the ear itself. So I binned my trusty Sennheisers and have replaced them with a mystery brand from Amazon. They have a nice low profile, ie less of the earphone sticks out of your ear, for reduced wind noise. And they sound pretty good.