Thought I'd do maybe 50 or so, today. Didn't get up particularly early and I was on call. Set off on the S Works at about 10:30 with no particular plan in mind, except that I'd go north, then south so that I wouldn't stray too far from base.
I went up Top Brand in the direction of Donington then turned left for Melbourne at Isley Walton. Thought of going up over Swarkestone Bridge but decided to pedal over to Ticknall instead. I used to do that route quite often but haven't done it more than once or twice in the last couple of years, probably in order to avoid a short but unpleasantly steep climb which I have named Bastard Hill.
Stopped to take the following pic along Heath Lane. As I examined it on the phone I looked up to notice a couple standing on the other side of the gate, a few feet away. I was politely asked if I minded if they came past, which confused me for a moment as there was plenty of space for them to do so. Had I not stepped back a couple of feet they would have passed within 5 feet at least, for a fraction of a second. But of course I smiled pleasantly and complied.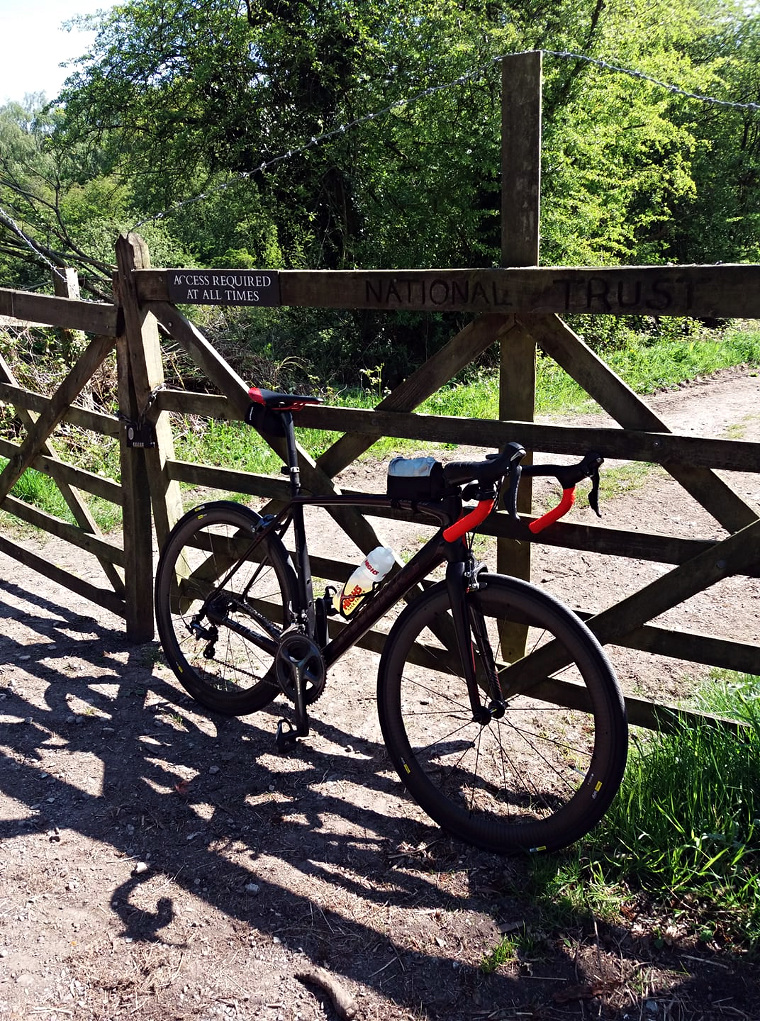 Back down through Ashby, which although most of the shops were closed looked a lot like a typical Saturday; plenty of people walking along the main shopping street. I noticed that I had to wait for a gap in the traffic to cross the A511 this time, as well. All of which reinforces my opinion that the restrictions on movement are only sustainable at their maximum effect for a limited time, and the government was exactly right to introduce them with careful and deliberate timing. I notice in today's news that Philip Hammond is already agitating for an end to the lockdown.
From Packington I decided to tack on a Twycrosser. I stopped at Snarestone where I took advantage of the bench there for a brief lunch. I decided at this point to keep it relatively short. The wind was a lot stronger than I'd been led to expect by the forecast, one of the earplugs connected to my DAB personal had stopped working (don't yet know if it's the earplugs or the DAB) and, after all, I was on call. So I took a left just short of Twycross to come home the picturesque way along Bilstone Road, then Ibstock. Home on 40.11 miles.
https://www.strava.com/activities/3350751137
That's 575 miles this month, 1799 this year.