Better than expected weather, when I checked the forecast this morning. The threat of rain had been removed. Temperatures were forecast to be no higher than 4C though, so I didn't expect to be able to do more than 30-odd.
I wrapped up warm, of course. I've given up on the nylon overtrousers I bought from Amazon. Instead I've bought some common-or-garden jogging pants from Tesco and I put those on over my cycling tights. I secured the ankle ends with elasticated velcro bands (thinking these would be more secure than cycling clips) and put my neoprene overshoes on over them. They were a little bit restricting, but I do think they helped to keep my legs warm. Success.
Left the garage on the Tricross at about midday. I couldn't even remember the wind direction from the forecast, so I just decided to follow my nose. My nose went up through Coleorton, up Top Brand, across to Long Whatton then back down through Belton and Coalville. By this time it was obvious that I wasn't going to be too cold. I was quite comfortable. So from there I went west and did a Twycrosser. I was on call, so yet again taking care not to stay too far from base. And I did get a call actually, but fortunately I was able to palm it off onto our network team.
My employers have provided me with a new phone, and I used it to take this sunset pic near Barton in the Beans. I'm guessing I need to spend a bit of time with the settings, because the foreground was in focus instead of the line of trees in the distance that I was pointing at. Also it displayed a message saying "stand within 1.5 metres of subject". I guess it must have been in some sort of portrait mode.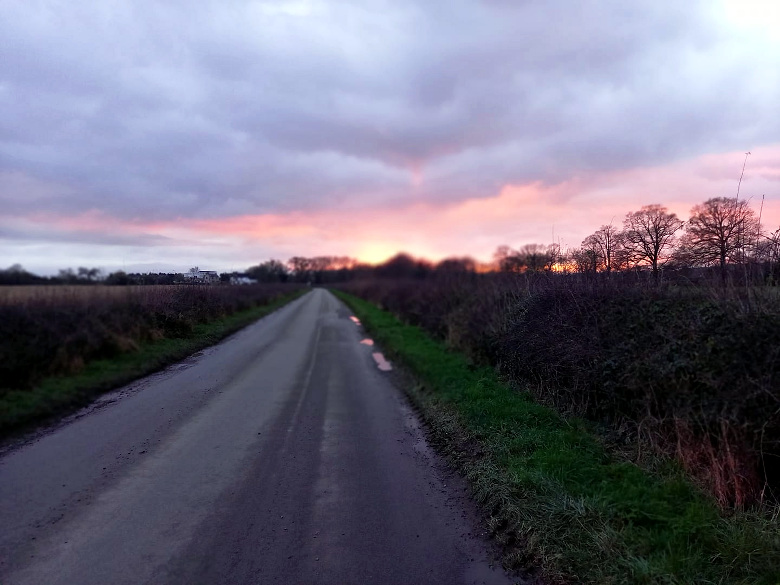 Rain started to come down a few miles from home, as I approached Heather. I came back through Ibstock and was pedalling uphill along a road that had become a shallow stream along Station Road. And yet the roads were dry two miles further north, when I returned home. It hadn't rained here so I suppose the weather forecast, in that respect, was not wrong.
Saw a few pheasants while I was out, including two being carried by the neck, post-mortem, by a cheery group of people in Barbour jackets and flat caps carrying shotguns at Diseworth. They waved pleasantly as I passed, no doubt in good spirits following a successful shooting trip. I returned the favour. I used to disapprove of people killing things for sport, but in this case – where's the harm, really? They don't die for nothing. They leave this world quickly and they get eaten, so their fate is no worse than that of any frozen chicken you'd find at Tesco.
I tried a new LED front blinker, which I bought to save me migrating the one off the Boardman when I use the Tricross. It's rechargeable. It switched itself off without human intervention near Carlton. I switched it back on and it was fine for the rest of the ride. But it came with a matching rear (red) light, and I'd be concerned about that one switching itself off, because I probably wouldn't notice.
Back on 45.93 miles, which takes me to a pleasing 72 this month. A decent knock for 5 days in, considering how poor the weather has been this last week. I only need to do another 256, so I'm ahead of the game. I think should be able to do that before Christmas.
Despite the rain, a nice run out and I'm pleased to have taken a decent bite out of the December distance requirement.