Nature abhors an empty spreadsheet, so with that in mind, I mounted the Tricross at 12:45, to get the 2021 campaign off the ground. I thought I'd do 30 miles or so. I quite like that my average ride distance is 43 miles over 2020, and I'd like to keep that going. But the weather wasn't great (cold and a bit windy) so 30 seemed a decent enough start.
I decided on a Twycrosser, with a slight extension to the west, to take in a bit of Warwickshire. One of my recurring yearly goals is to do all of the neighbouring counties. As it happens I take in Warwickshire dozens of times each year without particularly trying to, but I wanted to tick the box early.
The Warwickshire detour involved me ascending the "ski slope" at Austrey, which I hadn't done before. It looks worse than it is. Slightly more demanding than Alton Hill but nowhere near as bad as Bastard Hill near Ticknall, or Rotter's Rise south of Melbourne. You can just see it on the skyline in the following pic.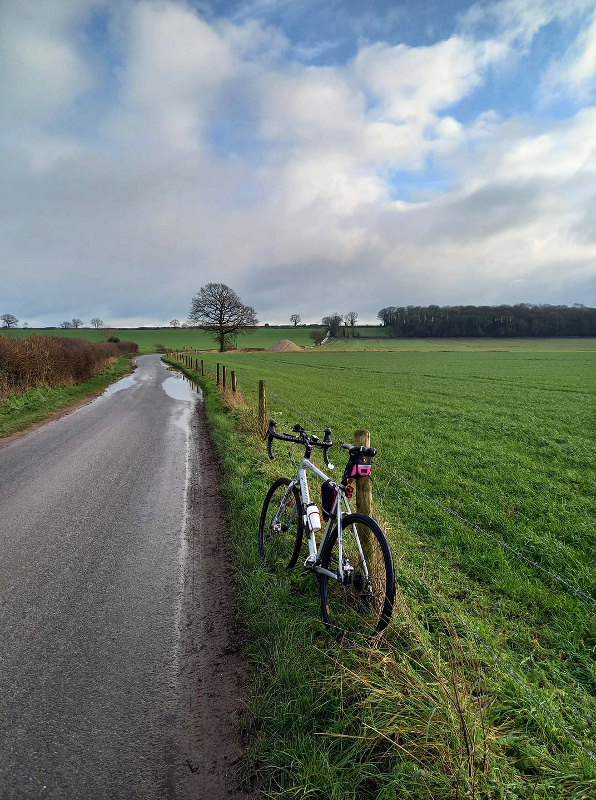 Came back through Shenton and Bosworth, which I haven't done for a while. It was sunny early on, but an unexpected heavy drizzle descended north of Bosworth for about 20 minutes.
Listened to Newcastle vs Leicester on 5 Live.
Gave the bike a bit of a clean and GT85-ed out the chain when I got back. I'll have to lube it tomorrow or on Tuesday. Back at about 4:30, roughly 25 mins after sunset. Considerably lighter at that time than it would have been a couple of weeks ago – the daylight hours have started to stretch out a bit.
Despite the drizzle, an enjoyable run out. 35.54 miles.
https://www.strava.com/activities/4561862077
Just had a thought – could I devise a route that would take in all seven neighbouring counties of Leicestershire in the same ride? I'll have a look.