I wanted to take the Tricross out today – it's become my go-to winter bike, I think because there's something comforting about its robust, tank-like construction in adverse conditions. But I checked the tyres for hardness as usual shortly after opening the garage door, and the rear was completely flat. I hadn't noticed anything amiss on its last run out so I assume it must have picked up a slow puncture.
Annoying, but that's why I've got two winter bikes! And hopefully the Boardman will keep me going until conditions in the garage are a bit more conducive (ie less cold) for inner tube replacing activities.
I set off shortly after 11am. Bloody cold out there but as usual I had wrapped up like an astronaut. I was on call so I did the usual thing of going north, back down close to home, south, back up. Not too far from base. Up through Coleorton to Tonge, a couple of miles from Donington – then back down to Ashby, Packington, down to Twycross and Sheepy, back up along Gibbet Lane, Shackerstone, Heather, Ibstock.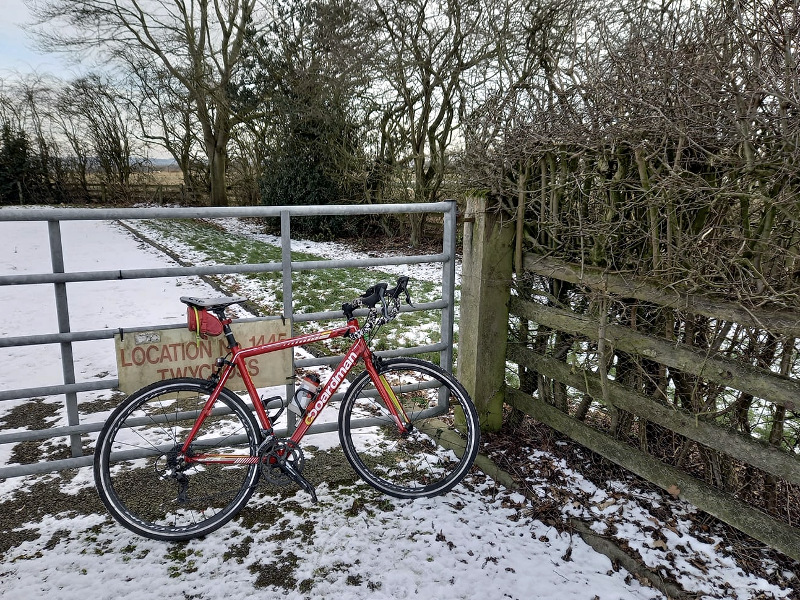 Really very pleasant, especially for the first couple of hours when the sun was out.
It was supposed to be -3C out there but it didn't seem too bad. My feet and fingers were a bit cold but I'm sort of used to that now. I only encountered ice on the road a couple of times and was able to find a strip of exposed road through it each time.
While going up Top Brand I saw a bird of prey hovering about 70ft above the road, perfectly stationary in the wind. It seemed to be focusing on the field to my right. Looking for rodents? A kestrel, I think.
I bought the solar version of the Garmin Instinct just before Christmas and took it for its first run out today. I haven't set up the display to show time of day at the same time as distance yet, but apart from that it was fine. Seems to have a longer battery life than the standard Instinct as well, only partly due to the solar assistance I suspect.
38.15 miles, nice run out.
15 C forecast for next Saturday! And sunset at 5:27pm. More than good enough for the February Fondo if it stays like that, despite an expected 13mph wind. I'm sure the forecast will change anyway.