A cold, cloudy, moderately windy but dry Saturday. I wrapped up quite warm with Long Johns under cycling tights and a few layers on top. The wind was coming from the east for a change so I decided on the classic fondo – Eastwell and back.
I set off at about 09:30 on the Cannondale, a bit later than I'd intended. I hadn't been out on it for months and spent ages looking for the right Allen key to tighten the handlebar mirror, which had come loose somehow.
Quite a pleasant run out east, although the headwind was annoying and I was too cold. Had a pleasant lunch at the bench at Eastwell.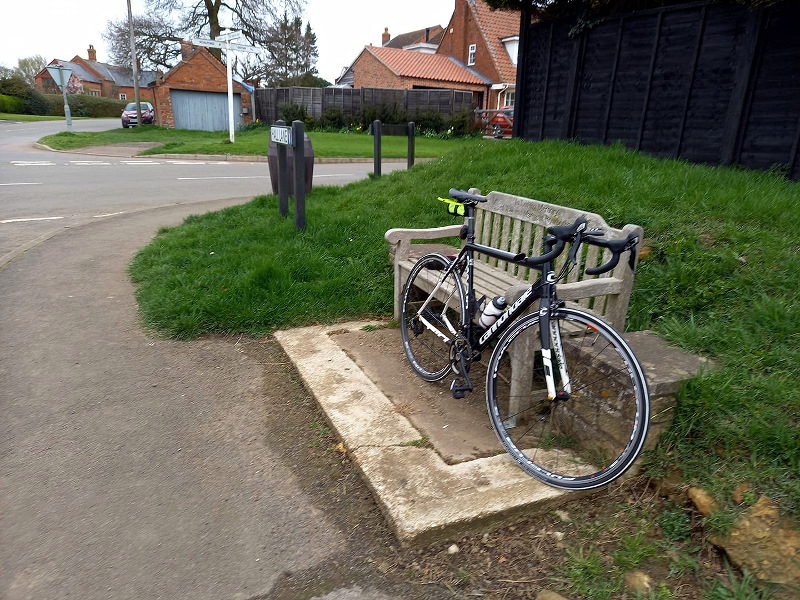 On the way back I managed to annoy myself by missing the Clawson Lane turn; I've done that three times now albeit one of them in a car. So I ended up coming back through Melton Mowbray, rejoining the usual route near Six Hills. Added a few miles, but made a bit of a change I suppose.
I thought I'd end up taking off a couple of layers later on and stuffing them in my backpack, but although I was more comfortable later on, especially when the sun came out for the last 15 miles, I certainly wasn't too warm.
I stopped at another bench at Belton, about seven miles from home, and had a Bounty bar that I'd bought at the garage shop at Burton on the Wolds, and a tinned Starbucks that I'd brought with me. Very pleasant in the warm sunshine.
Back on 67.41 miles. April fondo done; there shall undoubtedly be another one before the end of the month.