Another lovely day but the weather is due for a change later in the week, so I took the afternoon off work to do a Fondo. There are so many days in the year when you have to clad yourself in multiple layers of clothing to go cycling and still end up with freezing fingers and toes, that it seems a rare privilege to be able to go out in short sleeves and shorts on a warm day.
Actually it wasn't that warm when I set off and I wondered if I'd made a mistake on the clothing strategy. But an hour or so later conditions were perfect.
I only settled on a firm plan a mile or two after setting off. I went up through Coalville to Belton and Isley Walton then up over Swarkestone Bridge. By this time the idea was to go west along the time-honoured Flat A Road until I'd done 30-odd miles then come back. The wind was coming from the west.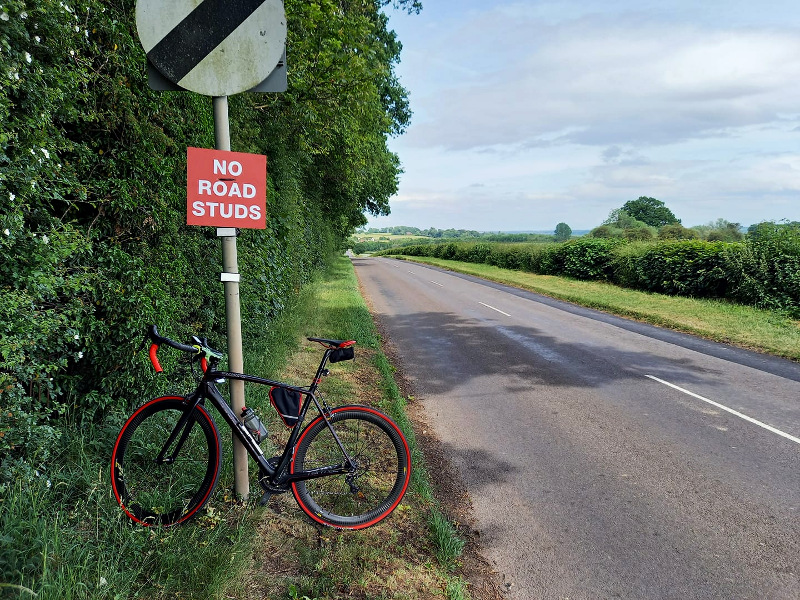 But when I got to Sudbury after 29 miles, I saw a sign to Abbot's Bromley – part of the other (more southerly) westbound route. I didn't know how much this would add to the overall distance and I couldn't afford to stay out too long since I'm on call, but I decided to take it. This took me south along a B road. Really quite a nice stretch, not too busy and with a few pubs, though I didn't stop.
After a few miles, Abbots Bromley was signposted to the west – this seemed a counter-intuitive thing to do given that I needed to be going back east, so I consulted Google Maps at a farm gate off the road. The road I was on would take me to Yoxall, familiar territory. Perfect. So I carried on to Yoxall and through Barton under Needwood, Walton-on-Trent, Rosliston et al. All familiar points on the "lower westbound" route.
I stopped to take the following pic near Measham. I have no idea who the property where these signs are maintained belongs to, but he or she seems to be thoroughly astute.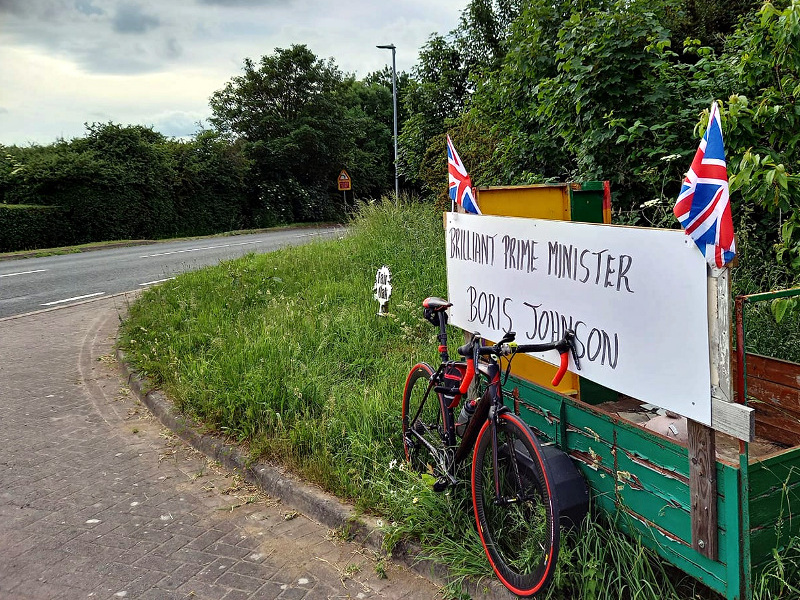 By this time I'd realised that, rather than over-extending my ride, my unplanned impromptu route home would see me back on about 57 miles at most. I extended it to the requisite 100km distance by taking an indirect route back, through Swepstone and Ibstock.
Really a very satisfying ride, much more interesting than a perfunctory run along the A road and back the same way. And very nice to do the older westbound route again for the latter part of the ride, I don't do it that often these days. It's much hillier than the A road but a valued element of my road repertoire nonetheless.
I must compose a proper Fondo route based on this ride, perhaps one that goes all the way to Abbots Bromley.
I listened mainly to Scotland vs Czech Republic on 5 Live. As the game started, I thought of the words of Neil Oliver: "Until the day I die, I will consider myself to be British". And I remembered that those brave Scottish lads, facing a foreign foe on British territory, are after all my countrymen.
And yet – somehow, I couldn't help a cheer and a fist pump when the first goal went in against them, as I pedalled through Scropton. So much so that a gentleman on the pavement nearby withdrew his phone to find out what had happened.
First thing I did when I got home was to sit myself in front of YouTube to check out the second goal they'd conceded, it sounded spectacular. And it was.
62.40, 269 this month, 2206 this year.