Thoroughly decent weather was forecast for today, so I came up with a plan last night to do something a bit different. Attentive readers might recall that on Tuesday, I tried (but failed) to navigate my way to Long Lane, over near the border with Lincolnshire. So I planned a route to do that from Eastwell, then to take a road called Redmile Lane north-east to the the Newark route that I've done a few times and come back that way. I made a slight modification, to come back through Rempstone rather than East Leake.
I loaded the route into a GPX app on my phone, which I mounted on the stem. Worked very well. It's a pretty serviceable alternative to my eTrex I must say. As long as you only flip the screen on for brief periods, it doesn't wear the battery down too much. Might even be adequate for a much longer ride.
Nice to reacquaint myself with Long Lane. I love the view of Belvoir Castle in the distance from there. Great to do the Newark route again on the return part as well, I've only done it a couple of times and not for over a year. The only bummer is that the roads in Nottinghamshire are really rough in parts; scrubby and weather-worn, and patched up with tarmac like big lumps of black chewing gum.
But I was glad to be coming back a different way. Typically on a long ride I come back mostly the same way, and the sense of adventure and fun drains out of the ride on the way back. But today I was looking forward to seeing landmarks on the old Newark route that I hadn't seen for a long time.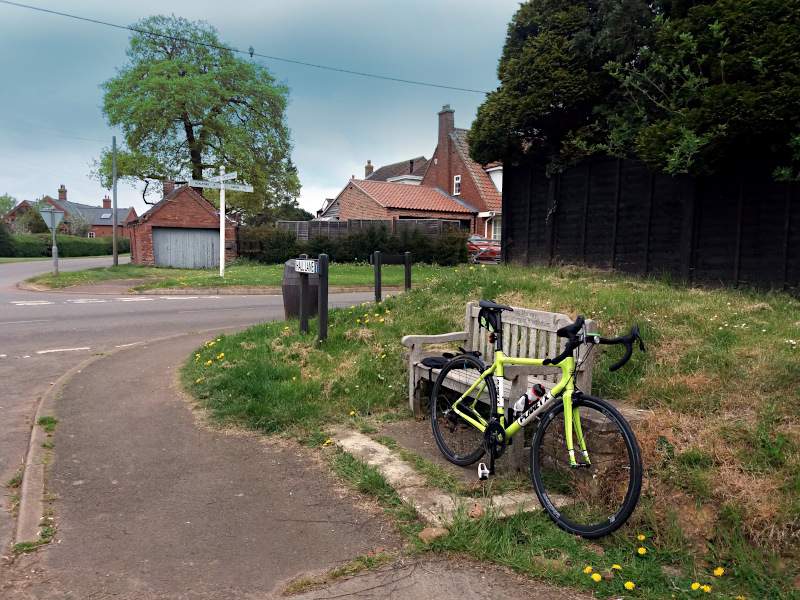 I stopped to buy some food at a village shop at Stathern, on the part of the ride that I hadn't done before. This turned out to be a cyclists' dream village – there was another village shop two minutes further on with benches and tables, and an inviting looking pub with a beer garden. But I was happy enough with the bench I found there. Only 33 miles from home so it would be well worth making it the end point for a Fondo, except that it's at the bottom of a long, steep hill.
I listened to the last half hour of The Three Stigmata of Palmer Eldritch. It has a pretty ambiguous and meaningless ending. It doesn't really conclude, it just dies. It's a phenomenally imaginative work and certainly thought-provoking, but not coherent. After that I listened to the first two instalments of Scorpius, a Big Finish audio production concerning the Cybermen. A bit like a radio play with some thoroughly creditable acting performances and impressive incidental music and sound effects. Brilliant! Very focused and really draws you in. Earth is in a war with a race of human-created androids in the Orion system. The androids are winning.
The Cybermen offer to help. They have the military power to destroy the androids easily. But what do they want? I loved it.
I trialled a backpack that I've had for about three years but never used, my only dedicated cycling backpack. Narrower, with a stiff back and chest and waist straps. Not that voluminous. Quite comfortable though, I don't really see an advantage over a simple generic light backpack but I'm sure I'll use it again.
Anyway – 74.12 miles and that's my 10th Fondo this year.