I wanted to do about 40 miles today, which would see me comfortably over my target for 2022 (the 2021 total, 5040 miles). Mild enough weather, with a light wind coming from the south. But a bit cloudy and damp, with wet roads.
A simple plan: to go about 20 miles down the Fosse Way route, which is exactly the same as the usual southbound route for the first 18 miles. Then come back.
I did that except that after 19 miles, at Sapcote, I turned right instead of going straight over at a crossroads there. Just to explore for a bit. Shortly after this I saw a sign back to Stoney, so I took that. However due to misnavigation induced by entering Stoney from an unusual direction, I took a different road out of the town than I'd intended. I wanted to hook up with my usual road back, but instead I took a nondescript but inoffensive A road leading to Earl Shilton, where I eventually rejoined my intended route.
I started to feel a little drained of energy over the first mile, which is highly unusual for me. Too many late nights recently probably. But I took it easy and I was fine.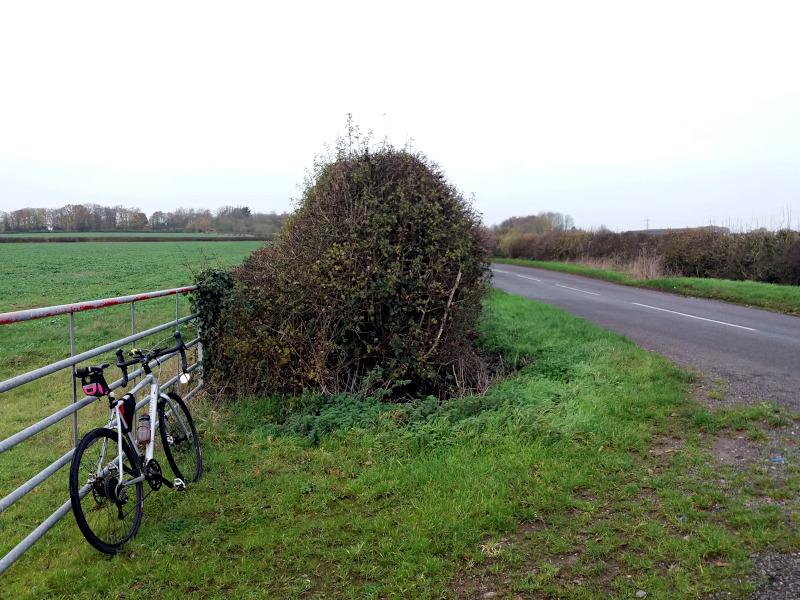 I'd hoped that my adventurous orienteering would add a few miles but no, it was actually a slightly quicker way back to Earl Shilton than if I'd just come back the same way. So I extended the ride a bit by detouring through Battram, and by taking a longer route home through the village over the last couple of miles.
Listened to Japan vs Costa Rica and Belgium vs Morocco on my DAB personal. Unexpected results in both games.
Back on 40.15 miles and that's 365 done this month and 5052 done this year. Interestingly on this day last year I'd done the same number of rides over the year (110).
So: this year is my third-best ever performing cycling year on distance, and even with a month to go it'll stay that way because I'm not going to get the 2022 tally up to 5778 miles (the 2016 total). But I should be able to get it up to 5400 or so.
I was staggered to find, while removing my cycling tights on returning home, that I'd somehow neglected to put cycling shorts on underneath! I'd just pulled them straight on over my undies. However despite the lack of appropriate padding I wasn't uncomfortable at all.