I woke at about 0600 this morning and briefly entertained the idea of getting up and setting off on a bike at about 0700, but fortunately I fell asleep again and didn't get up until 0945.
Didn't seem the best day for a bike ride, really. A bit cold and gloomy. But I wanted to add at least 45 to the October score. I wrapped up warm and set off on the Boardman at about 1130.
Low winds today so I had the unusual luxury of heading off in whatever direction I fancied but in all honest I didn't really fancy any of the usual rides much. I think I've done them too often recently. I decided to pursue the southbound route, maybe as far as Gilmorton (24 miles away) then turn back. But by the time I got to Gilmorton conditions had brightened up nicely and I'd decided to make a Fondo of it. I was somewhat too warm by this point as well. But I stopped for a snack on a bench and stuffed my nylon outer layer into the back pocket of my jersey and was completely comfortable after that (though I suspect that the temperature dropped a bit as well).
I pressed on along the usual route down to the Northamptonshire border, but rather than going down that way I took a left to take me past Husbands Bosworth Airfield. I thought I might see a glider or a light aircraft taking off or landing. Shortly after I took the following pic, a small aircraft came in to land and taxied past the gate. The pilot and a young lad in the back both waved, so I waved back.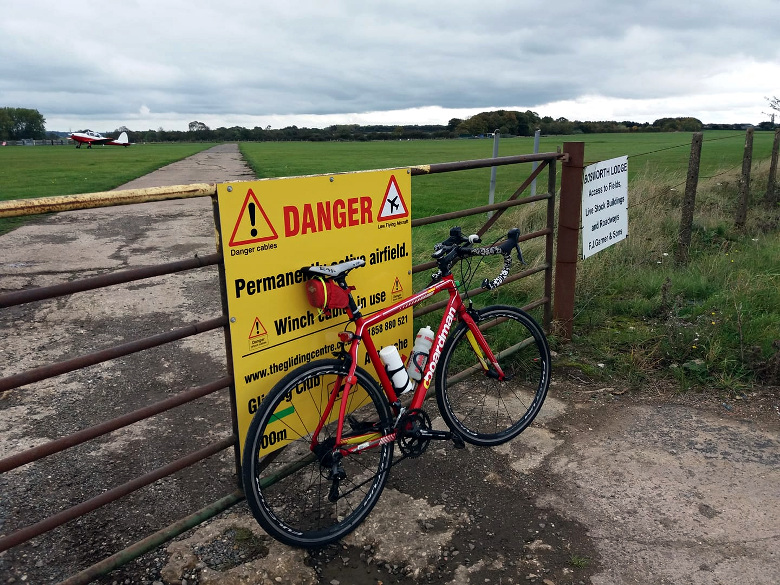 I'd done a bit more than 31 at this point so I turned back. I stopped at Gilmorton again seven miles later, donned a face covering and acquired a sandwich, a pasty and some chocolate from the village store. Annoyingly, their coffee machine wasn't working, so I bought a diet coke instead for my afternoon caffeine shot. Not sure how much of a hit you get from that (actually quite a lot less than coffee, just googled it. Maybe I should take Pro Plus with me for use in similar emergencies). They still haven't redeployed the tables and benches outside, but the bench across the street was very adequate.
I had thought that I knew the route well enough to do it without using the eTrex but nope, I took a wrong turn on the way back, which I realised when I found myself approaching Lutterworth. I stopped on the outskirts and consulted Google Maps, then plotted a new course that would take me up to Ashby Parva and Frolesworth. This turned out to be quite a fortuitous mistake because I really enjoyed exploring the five or six miles of new roads – a really quiet, pleasant diversion. I'll have to fashion a (more coherent) route that comes back that way.
I rejoined the usual route at Stoney Stanton and came back the usual way from there (mostly – I did a deliberate detour around Bagworth incurring an extra mile or so, because coming back along that stretch always seems a bit of a grind).
I hadn't brought a proper front light because I didn't think I'd need one, and I wouldn't have if I hadn't messed up the navigation and added another six miles or so. It was getting quite dark as I got to Battram, where I took this pic, with about five miles to go. But fortunately the whole rest of the route along the B585, Ellistown, Donington le Heath then Standard Hill and home was illuminated by street lighting and the LED blinker on my handlebar was adequate.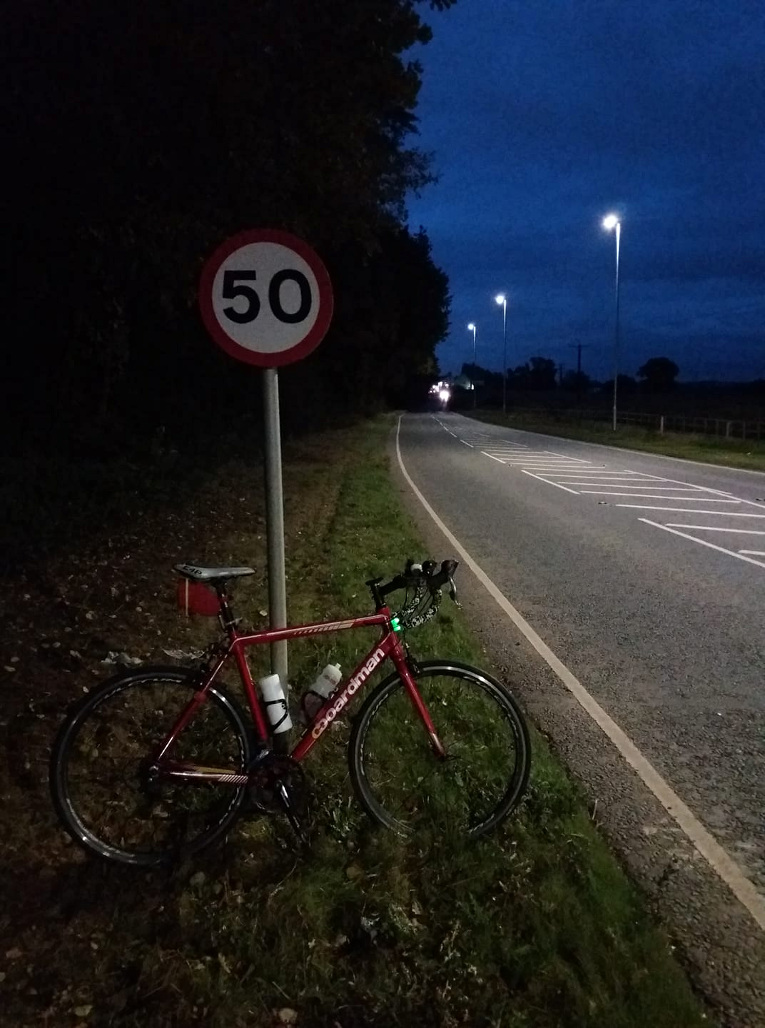 I was quite annoyed by a succession of chavs in oncoming hot hatchbacks doing 70 or so in a 40 zone, through Newbold Verdon. There must be a strong case for bringing back National Service. Apart from that though, and an excess of mud on the roads, really an enjoyable afternoon.
Listened to the footy on 5 Live and Huey on 6 Music, then started the next Reacher audiobook. Different in feel from the first three interestingly and I think a trick has been nicked from Iain Banks' Complicity – the second person narrative describing the villain's thoughts or actions that pops up here and there.
https://www.strava.com/activities/4207916350
Home on 68.09 and that's a pleasing 301 this month.