I'm sorry to say that I got hammered last night on Scotch and ersatz Bailey's, made with Welsh whisky. Not only did this guarantee a hangover, but I collapsed on the way back into bed from a 4AM visit to the loo, and gave my left thigh muscle a nasty bruise.
I got up at about 10:45 with no thought of cycling today, but the forecast was dry and by the afternoon, it was beautifully sunny out there. I also wanted to see if my bruised thigh would prove a hindrance to operating a bicycle. It was certainly giving me a bit of pain climbing stairs.
I left on the Boardman at about 13:40. I didn't think I'd be able to do more than 20 in that state so I didn't take a proper front light. However I ended up doing a reasonable-distance Twycrosser, 32.03 miles.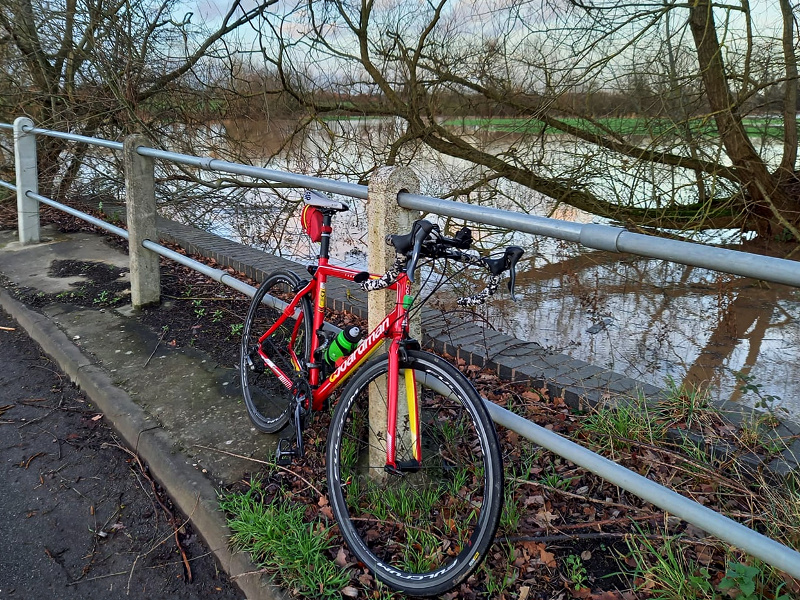 Cold out there but I wrapped up warm. It was supposed to be windy but I didn't really notice that, for some reason.
By the time I was approaching Heather it was getting properly dark and I had a bit of a dilemma. I had decent rear lights but only a flashy LED blinker on the front, not nearly powerful enough to illuminate the road. Should I come home straight down Heather Lane, or detour through Ibstock? Heather Lane had the advantage that I'd get home a bit sooner. But although it would be five minutes later by the time I came to do the last two miles going through Ibstock, and consequently darker, the road surface would be better. And I reasoned that there'd be a bit of traffic going both ways, to illuminate the road in front of me with headlights. So I did that, and I got away with it. I was a bit annoyed with myself because all I had to do was stick a head torch in a pocket.
I could certainly feel my thigh muscle complaining as I pedalled, but it didn't prove a real hindrance. Neither did my hangover really, although it didn't go away. But a chunk of chocolate and a caramel bar at Twycross seemed to improve my condition a bit.
Anyway – that's 402 done this month and 6288 this year.