A dry afternoon, a sunny one, but a cold and windy one. Had the afternoon off. I didn't feel hugely motivated to go out on a bike quite honestly, now that I've hit my yearly target – but somehow I didn't want to waste decent cycling weather, so I set off on the Tricross at about 11:10.
The wind was coming from the north which of course means lower temperatures, but it does give me a decent range of route options. I went up through Coleorton and west along the 'A' road south of Derby, toward Willington.
I'd got up stupidly early this morning and was tired so I stopped after 15 miles and turned back. I intended to come back through Shardlow, Donington and Top Brand which would have seen me home on about 36 miles (at a guess), but instead I decided to come back through Ticknall and Ashby. This meant the double whammy of Bastard Hill followed by Alton Hill, but I hadn't done it for a while.
Very, very light rain coming through Ticknall. It wasn't substantial enough even to leave slight droplets of moisture on the handlebars and I wouldn't have noticed it if the bright sunlight hadn't caught it.
I stopped at the bottom of Alton Hill to take this pic.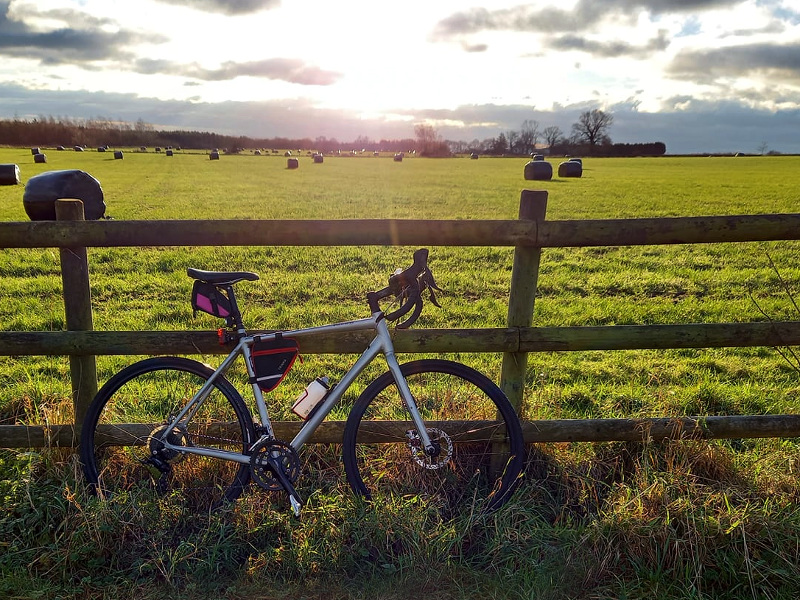 I'm guessing the phone camera has some sort of multiple exposure blending going on, because I aimed the camera right into a sun only slightly obscured by clouds, and the bike and fence should have been a silhouette. Nice!
I digitally removed some litter in the foreground.
I listened to 5 Live, mainly interested in speculation about the imminent trade deal with the EU. As I hosed the bike chain with GT86 after returning to the garage, the historic news came through that the deal was done – and that Boris Johnson had cemented his reputation as one of the two great post-war Prime Ministers. Probably. I certainly won't be scrutinising the small print myself, but will eagerly await the verdict of the ERG Star Chamber.
Back on 31.99 miles (the GPS watch didn't start for the first 0.15 so I've done the maths). And that's 370 this month, 6256 this year. I'll get that up to 6300 before 2020 expires.