Yet another warm day, somehow. I'm almost getting used to riding a bike in shorts!
Took a pair of binoculars with me today because I wanted to examine another object on the horizon, visible from Orton Hill to the right of the Birmingham skyscraper tops, that I'd noticed on a recent ride. So I did a Twycross Bypasser.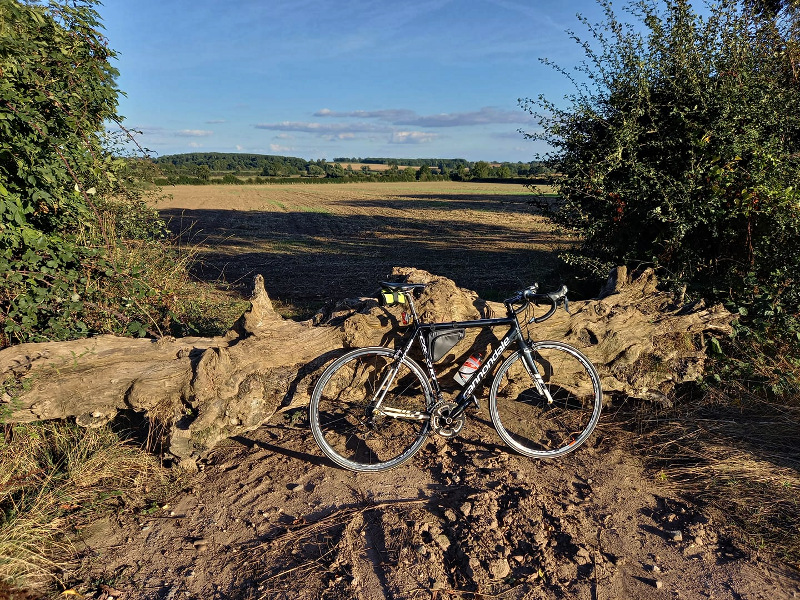 Stopped to have a look near a farm gate and got the binoculars out of the backpack. The tower structure I'd noticed seemed a lot closer than the buildings in Birmingham – probably only five or six miles away, maybe less. I later identified it from Google Maps and Street View as a communications tower of some sort, next to the M42 west of Polesworth. Actually only four miles away from my vantage point.
I listened to 5 Live Drive – Katie Razzall, previously a Newsnight presenter and now the BBC's Culture Editor is co-presenting for a couple of weeks. I must admit she's a natural in that role but – here's the weird thing – I've heard her on the radio a few times and until just now, when I googled a new piece about her being appointed Culture Editor, I've always thought she was black. She's a light-haired white woman. Nothing to do with preconceptions about politics or identity. I'm not saying it's a bad thing, but she sounds exactly like a black woman when she speaks. Like Jeanette Kwakye, if you like. Odd.
Anyway – an enjoyable ride, 33.3 miles. 405 this month and I think I can get that to 500 before October. I may take a day off later this week and do a longish one.