Another warm day. Other commitments prevented me from cycling this morning but I wanted to get a ride in this afternoon, since it will rain tomorrow – and I wanted to achieve a special milestone this weekend.
At the beginning of 2015 my Rush pal Rob started a thread for cyclists on a Rush message board. I'd had my Carrera hybrid for two or three years, but hadn't ridden it for a year or two. I set myself a target of 500 miles that year initially, and started recording my distances on a spreadsheet. That turned out to be a life-changing thread.
I'm oncall today but although I only wanted to do 40 or so anyway I chose a route that would take me north, then back near home, then south and back so that I wouldn't stray too far from base. I went up through Coleorton, up Top Brand, up past Tonge – then back down through Breedon, back down through Coleorton – then west toward Ashby and down through Packington, after which I did a Twycross Bypasser.
I stopped the bike to take this pic near Norton Juxta Twycross, immediately after completing my 30,000th mile since January 2015.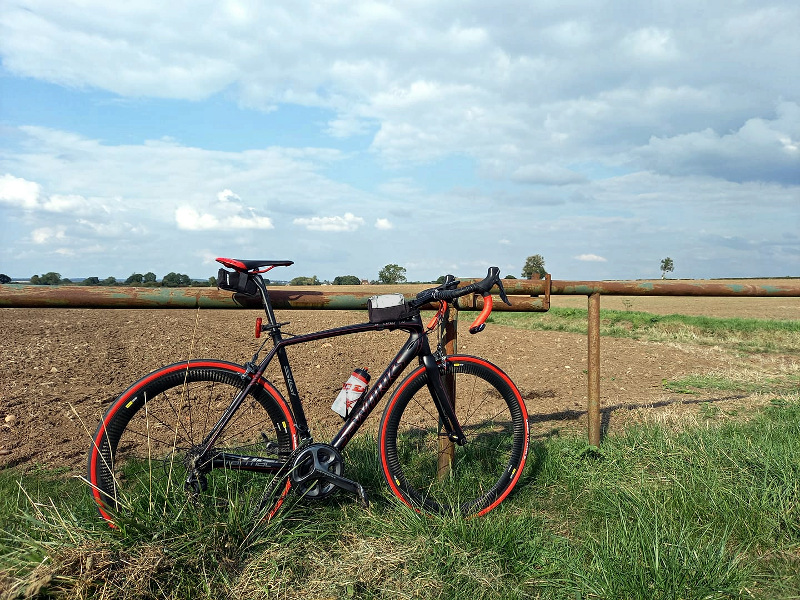 Back on 41.38 miles. 372 done this month, 3787 this year.
Top Brand has been resurfaced which is unfortunate because the surface is rougher than it was before, especially coming southbound where it had been part-repaired a few years ago with lovely smooth tarmac. Now the whole road is covered in coarse, heavy gravel. I suppose it will wear in.
Although I normally have a day off and cycled a hilly route yesterday, my knees seemed fine. There's never any predicting how they'll do. But they're a lot more robust than they were even a year ago so I'm not bothered.
I listened to Burnley vs Arsenal on 5 Live. I started to lose interest after Arsenal scored but I gave Burnley half an hour to equalise. They let me down so I resumed my Reacher audiobook, Without Fail. Wasn't convinced over the first couple of chapters but it's starting to get interesting now.
The sky turned a gloomy shade of grey half an hour after I got home – I was having a well-earned Leffe in the garden – then it started to rain. Good timing.