I was in two minds over what to do today, as I pondered my options last night. I thought I might have a day out in London, before the COVID guidelines tighten up again for the autumn / winter months. Maybe a run down to Northampton in the car. Or perhaps a Fondo out east – the weather seemed to be quite promising; warm with light winds.
I got up a bit too late for London really and I decided I'd make the most of what might be the last opportunity for a Fondo in warm weather this year. I decided on Eastwell and back, pretty much by default. I wanted to do 63 miles, to get this month's total to 500.
On one of the quiet lanes approaching Cotes on the way out, a chap of similar age pulled up alongside for a chat. He looked like he'd just pedalled through a time portal from the 1980s, with an Eddie Mercx style cap, proper old-school leather cycling shoes and a vintage bike with lots of chrome and tube shifters. He told me that he'd had it hand built 35 years ago. Asked me how many miles I did, then he told me that his uncle had been sponsored by Renolds, the chain manufacturers, and used to do 12,000 a year.
I got to the crossroads at Eastwell, took a right toward Waltham then did a U turn just after 31.5 miles. Normally I like to turn round and come home from a definite end point – a village or at least a road junction, but today I wasn't really feeling it and just wanted to get back and finish the job with the minimum of effort.
Stopped at the Greyhound at Burton on the Wolds on the way back. I had the best possible cycling lunch imaginable, with a crusty ham & coleslaw sandwich and beautiful crispy golden big chips. I only wish it was a bit further from home, but it set me up nicely for the last 17 miles.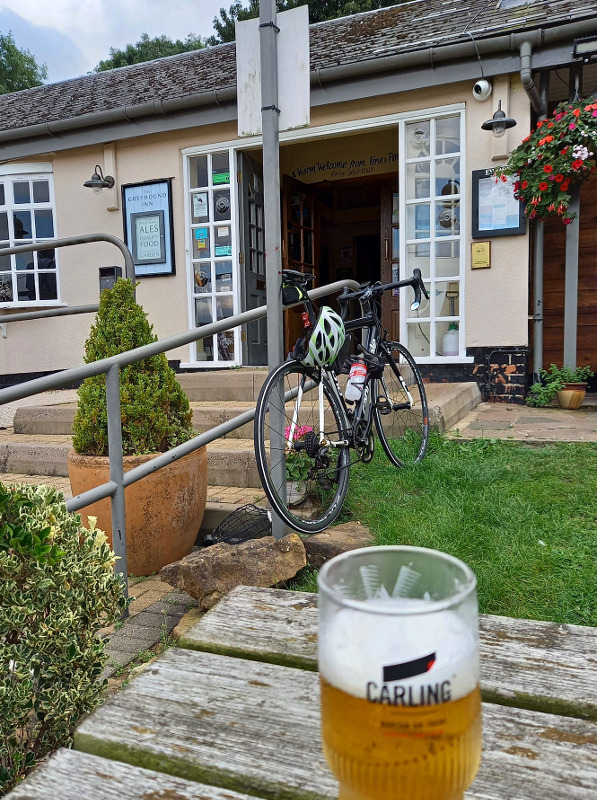 As I sat and washed down lunch with a half lager, I idly watched the queue of cars at the petrol station opposite. Remarkable.
Good run out, a bit perfunctory really. I probably need to find some new routes. But there's something comforting about familiarity, as well.
I listened to 6 Music, then a bit of LBC – I'm always careful when tuning into LBC on a Saturday, because David Lammy has a show on there some time in the afternoon. But fortunately the fat-headed fool wasn't due on for another hour or two, so I listened to Maajid Nawaz. Interesting bloke. He took a call from a woman in Scotland who wanted to have a go at everyone who voted for Brexit for being stupid, gullible and the cause of all the world's problems as she saw it. She repeated the old chestnut that Scotland voted to remain in the EU (nope).
Despite being a remainer himself he took her to task quite forcefully for being arrogant and patronising. To be honest though I think he was mostly just trying to piss her off. A bit of a contrarian.
Mostly cloudy, but the sun came out later on.
63.35 miles, 501 this month.