Fitted a new seat post to the Cannondale yesterday so naturally, with a bit of time for cycling this afternoon, I was keen to try it. Had to make a minor adjustment after setting off (the saddle was a touch too high) but after that, it was very comfy indeed. I fitted a similar carbon seat post to the X and wasn't sure if it made a difference to the ride, but on the X it definitely did feel smoother.
It always amused me that the Cannondale didn't have a stitch of carbon fibre on it despite being my favourite bike, but I guess that's why it makes more of a difference now that it does.
Anyway I wanted to do about 40 miles and I did a longer version of the Twycross Bypasser. Along Fenn Lanes and through Shenton and Bosworth, then up through the villages. Hadn't done that for quite a while, a few months I think. Just checked, not since September according to Strava. Took this pic along Atterton Lane.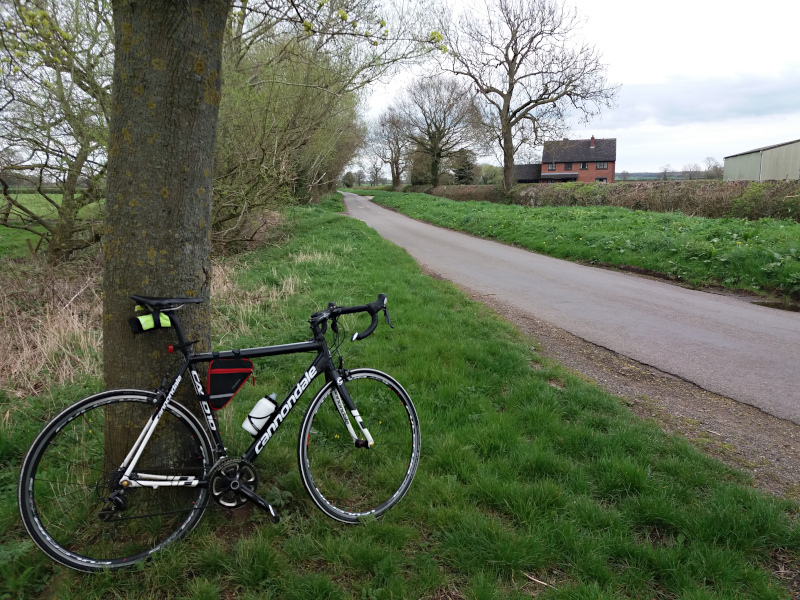 Noticed more small birds around than of late – is that a Spring phenomenon? Curious how they like to fly across the road at an altitude of a few inches, sometimes. Catching insects, perhaps? I wonder if they ever like to see how high they can go? Wouldn't you?
The weather was almost perfect; nearly warm and very dry. A bit windy but not overly bothersome. Really a lovely run out.
39.20 miles.