Other things to do today but I had time for 30-odd miles. Much cooler today but the roads had mostly dried up after yesterday's rain.
My first idea was to go up Top Brand, up to Isley Walton then hook a left to Melbourne then perhaps the Beloved A Road for a bit, but as I was pushing up Top Brand I decided to go right up to Castle Donington, then west to Shardlow. Wasn't sure what I'd do from there – I briefly entertained the idea of going into Derby again – but in the end I came back down through Aston and Weston, to Swarkestone Bridge. Back the usual way from there.
A bit different, don't think I've ever done that stretch between Shardlow and Swarkestone that way round before. Made a nice change.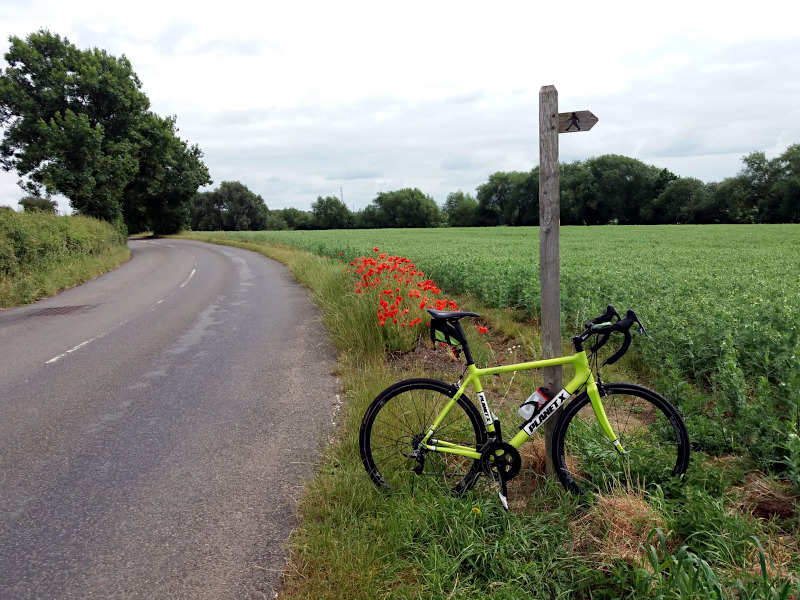 Took the pic near Weston. Lots of poppies out today, and a few fields of lavender. Very pretty.
My nostrils were assaulted by a powerfully pungent smell on Top Brand. I noticed some sort of tanker spreading a noxious liquid on a field about half a mile upwind. I was very glad to get past it. I wonder if our farmers have been buying processed sewage from the Dutch again?
The dead deer I noticed at the side of the road south of Melbourne was a bit whiffy as well.
It was cool at first, and rather cloudy. Regretted coming out in bare legs for the first half hour. But conditions warmed nicely later, and the sun came out.
32.37 miles.