Too hot tomorrow and it's going to rain all weekend apparently, so I booked this afternoon off work. I was going to Bingley Hall and back, but I changed my mind before I set off this morning. The wind was blowing lightly from the south, so I thought I'd do roughly the same distance along the southbound route.
Really warm out there. I had my absolute lightest cycling clothing on, including my lightweight meshy camo top.
I went right down through Welford towards Northampton. I did briefly entertain the idea of going right down there, but decided against it. I'd just about have enough light, but not much time for a couple of beers, a bath and a decent meal when I got back. It is, after all, a school night.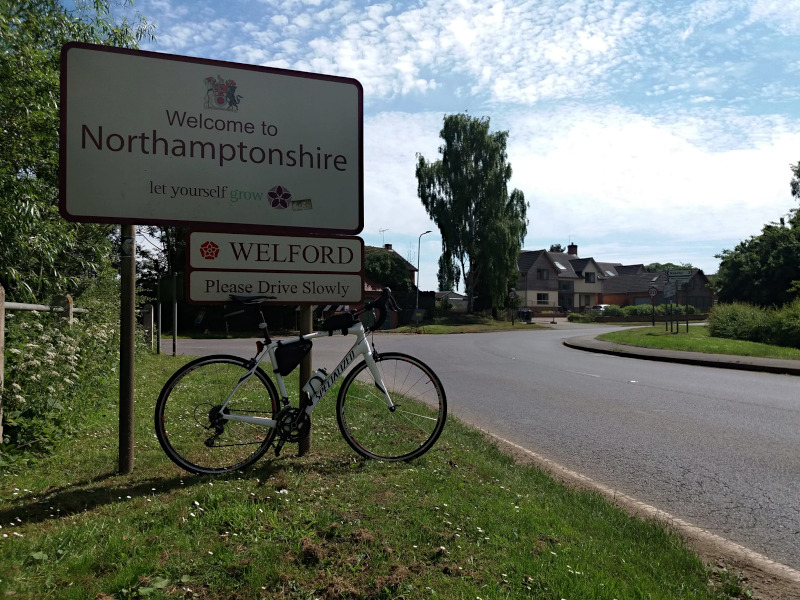 I stopped at the village shop at Gilmorton on the way down – nice to see that the table and chairs have been deployed outside again – and had some sort of bacon and chees pastry object, a coffee and a Magnum ice-cream lolly in the sunshine there. Very civilised. I was joined there by another cyclist whom I took to be roughly the same age as myself – he had a very smart Trek Madone with electronic shifting, and he admired my Roubaix. Told me he had three of them himself! We had a nice old chat about bikes, and long rides. I told him I was 61, and that I never would have thought I'd be doing long rides at my present age. He told me he was 74, and still did 8,000 miles a year. Made my day.
I've caught a bit of sunburn – my legs were pre-tanned so I think they'll be fine, but my arms haven't been exposed much this year and they've gone a bit sore. Ah well.
I stopped at Spratton on 41 miles, then turned back.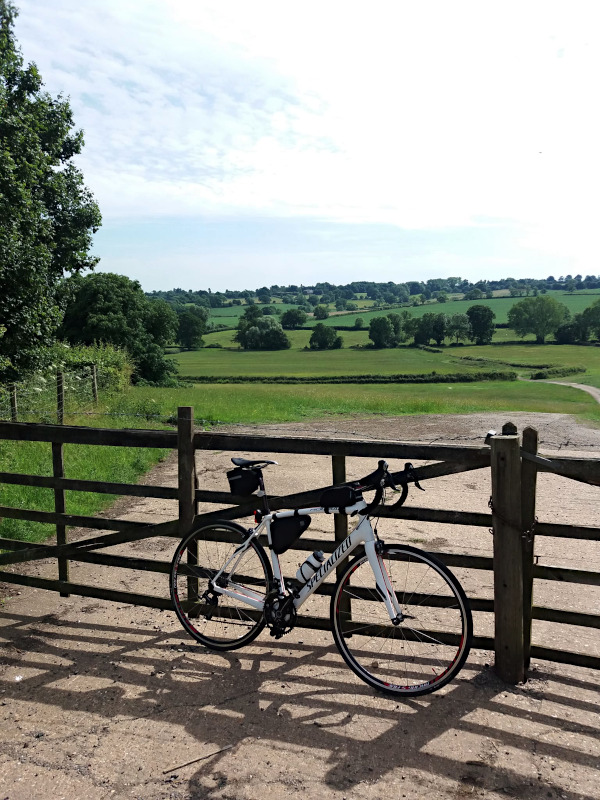 Listened to Colin Murray on 5 Live, sitting in for Naga. Then a few minutes of Nihal Arthanayake's awful programme – he must be the most painfully woke, pitifully one-dimensional broadcaster on Earth. The first item in his show today was about lesbian parenting. I switched him off and listened to the Reacher audiobook for a few hours. It kept my attention but so far isn't drawing me in so much as previous Reacher novels.
A little cooler and more cloudy later on, which was a relief. Stopped at the petrol station at Welford on the way back and gorged myself on a sandwich, a mini pork pie, a flapjack, and more coffee. I never even touched the cheese & onion pasty I took with me out of the fridge.
Anyway – 83.04, 429 this month which is over target.
Nice to go a bit further down to Northampton, I'll go all the way down again one day this year.