The forecast promised a dry, sunny day so I took a day's annual leave to get the November fondo in. Slightly scary single figure temperatures, though. I wrapped up very warm.
The wind was coming from the west, and I thought I'd do the Lower Westbound route, or some variation of it. The rough idea was to do the first 30-odd miles of the route to Wales, then come back. I did that, except that after 24 miles, I took a right turn toward Abbots Bromley at the T junction rather than a left to Rugeley. I only need to do another 7 miles or so and I felt sure it would be a bit more cycling-friendly than pedalling through Rugeley, which is a bit industrial. I also took a wrong turn after 8 miles, but I looped back onto the correct route more or less by chance a mile later.
I had the impression that I hadn't been right up to Abbots Bromley for years, but when I got there I remembered sitting on the bench near the village shop about a year ago. I did the same again today, to refuel with a cheese & onion roll and a sandwich from the shop.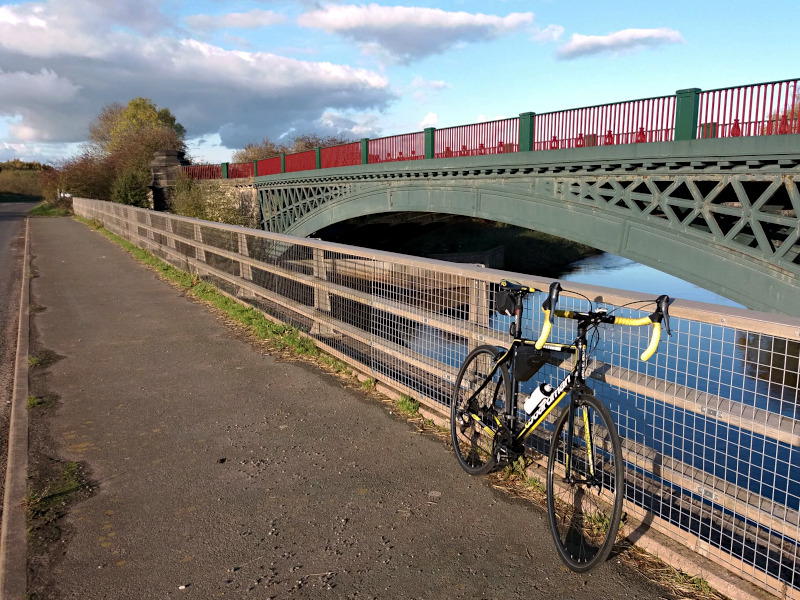 I continued on up the road to Uttoxeter, until after about 33 miles I took a right turn along a small country road named Hobb Lane. This turned out to be a bit bumpy and gritty – one of those one-track roads with passing places, copiously furnished with grit, stones and grass growing in the middle like a sort of central reservation – but I was able to plot a course through the worst of it. I persevered for about a mile before I decided to turn back, and head home.
Interestingly, although I didn't know it at the time, the map tells me that I wasn't too far at this point from the "Upper Westbound" route.
I came back the same way although I did wonder if I'd gone off-piste a couple of times. But I hadn't.
My paranoid fear of the cold had caused me to over-clothe myself. I was far too warm after the first few miles. I stopped at a log and removed my jogging pants (worn as a layer between my cycling tights and overtrousers) and a fleece (worn as a layer between my cycling jacket and compression top). I was fine after that apart from being annoyed that I was carrying them round in my backpack for no sensible reason.
Came back through Packington and Alton Hill over the last few miles, rather than Heather.
Listened to 5 Live, then more of the Reacher novel.
Very good one, nice to go up that way again. Back on 68.58 miles.