A dry day, warm in the afternoon with a light wind from the west was forecast for yesterday. Sunset at 8:44pm. A perfect day really for a Wales trip, especially on the sixth anniversary of my first ride there and back.
I set an alarm on Saturday night for 04:45, but woke at 04:30 and was out of bed a minute later. I set off at 05:48.
This was my third ride to Wales and back. I'd chosen a substantially different route this time. My destination point just to the west of Whitchurch was the same, but the last 30 miles to get there would take me through Eccleshall, Loggerheads and Market Drayton, to the south of the usual route. I'd also planned to go a different way for a short stretch of the route between Handsacre and Colton, to bypass Rugeley.
Cool for the first couple of hours after I set off, but I was wearing adequate clothing and was comfortable. All went very smoothly until I powered up my Garmin eTrex handlebar-mounted navigation unit to guide me through the new stretch past Rugeley.
The first problem was that its batteries were dead. I transferred the AAs from my DAB personal radio. The second problem was that the new route I'd transferred to it wasn't available from the GUI. Even in files of the same protocol there can be minor differences in format and I can only assume that the Garmin didn't like the particular GPX file that I'd generated in a route-planning app.
Of course, I should have checked the eTrex before I set off. Oh well – I only needed the assistance of a mapping tool for a relatively short part of the route and found my way easily enough using Google Maps, but it was a pain to have to stop and consult a phone. I did use the eTrex in its basic mapping mode and that was useful to a degree. So I left the batteries in it and bought some more AAs at a petrol station a few miles further on to power up the DAB again.
To be honest, a decent phone with a GPS navigation app is a much better proposition in most cases than an eTrex. The screen is always bigger and clearer on a modern phone and you can easily buy handlebar mounts for them. However – on a long ride, I like the fact that the eTrex takes conventional batteries, because you can buy them at any petrol station and they hold a longer charge than the rechargeable unit in a phone. But I'm starting to think that taking two phones, or perhaps a power bank might be a better bet.
The road through the village at Eccleshall had been closed for a Coronation street party, but I guided the bike carefully through the barriers and weaved a careful path through the celebrants. At Market Drayton, a road race was taking place and once again the road was closed. Once again I just ignored this, so I had to dodge oncoming athletes before finding a detour. Annoying.
Just outside Market Drayton there's a brand new housing estate, with the front doors of gleaming new properties bearing a sign saying "I could be your new dream home". But directly across the road, there's a site with a huge sign that announces "GYPSY / TRAVELLER SITE COMING SOON, PLANNING PERMISSION APPROVED". New nightmare home, more like. You couldn't pay me to live there.
By 1100 or so the sun was out and the temperature had climbed very nicely, so I removed a layer of clothes and sealed them in a plastic bag. I packed them into a camouflage pattern nylon drawstring bag which I then stashed in a hedge just off the road next to a farm gate. Much better than carrying them around in a backpack for the next 40-odd miles.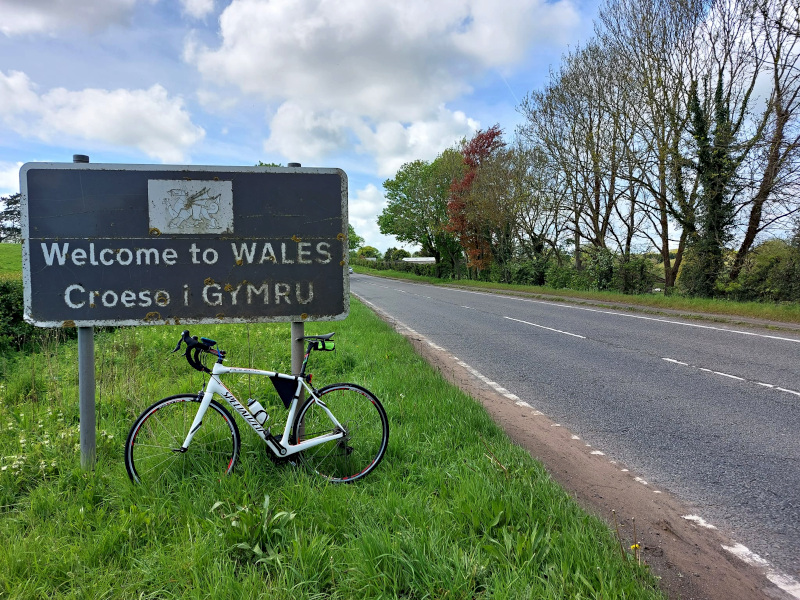 I arrived at my destination, the border between England and Wales, at around 1330. I pedalled across it for about 150 metres then turned back. Interestingly the sign on the other side of the road reads "Welcome to SHROPSHIRE" rather than "Welcome to ENGLAND".
On the whole I wasn't really that impressed with the new route. It was OK, but a little busier and less scenic than my traditional Wales route. I probably would have come back the old way if not for the need to pick up my clothes on the way back. I'd thought the traffic would be quiet on the middle day of a public holiday weekend but no, not really.
By the time I reached Eccleshall again the street party was in full swing, with a band belting out Cranberries covers from the side of a truck. A bit harder to weave through the revellers and I had to resort to riding along the pavement.
I didn't much like the detour I'd taken around Rugeley on the outbound part of the route, so I didn't bother with it on the way back. But I missed a turn for Kings Bromley and gave myself a few more miles to do.
Beautiful out there in the warm sunshine on the way back, especially with a light tailwind. Newcastle vs Arsenal kept me entertained for a couple of hours in the afternoon. I also listened to the Rolling Stones' ludicrous (if interesting) 1967 psychedelic bandwagon-jumping album Their Satanic Majesties Request. There are a couple of good songs on it. I like 2000 Man, which was covered by Kiss on Dynasty. But mostly it's terrible.
Back on 151.27 miles, a few minutes after sunset. 261 done this month.