Too windy to do a particularly long one today. I didn't want to get up early and I had other things to do this afternoon. I thought 40 or so would do.
I set off at about 10:20, on my usual eastbound route. After 23 miles I took a left turn along a road called Lawn Lane to Old Dalby. I thought I'd just explore for a mile or so then come back the same way, but it was a nice quiet road so I kept going. I came to a T junction with a sign to Wymeswold, so I took that. From this point I was on a road that runs parallel and to the north of the usual eastbound route. I have taken it a few times, but not for a couple of years. Must do it again some time soon. The only downer really is that the road surface is mostly poor.
Back the usual way from Wymeswold, except that I elongated the ride a bit by coming home through Griffydam and Coleorton.
I wore minimal clothing, shorts and a light short-sleeve top. Nice on the way back when conditions had warmed up a bit and I had a tailwind, but I was a bit too cool for the first hour or two, except when the sun came out.
Still – an enjoyable run out, particularly nice to do something a bit different. Will see if I can incorporate Lawn Lane into a new route.
I listened to Beggar's Banquet by the Rolling Stones, then my MP3 player app cued up the next album by alphabetical order. Beings by Lanterns on the Lake. I didn't recognise it at first, thought it might be some obscure Sinead O'Connor record I'd forgotten about. What a brilliant, intense record.
I used my Casio GPS watch to track the ride, something I don't do that often because although I really like the watch, the app it connects to and the Casio online service are crap. And although the app managed to register the activity, it hasn't uploaded it to Strava.
Would be nice if the Casio site offered the facility to export tracks to files, but it doesn't. So at the moment this is all I have to show for it: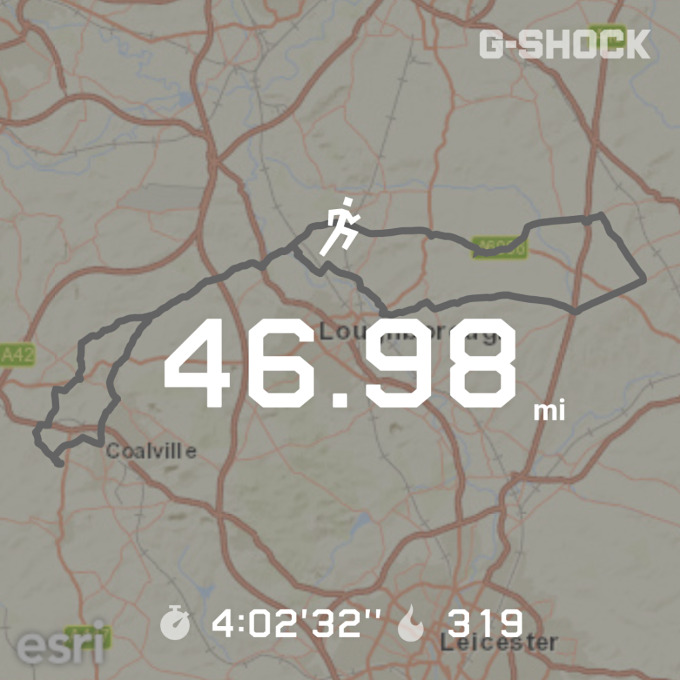 I didn't get the watch synced to the satellites until 0.39 miles into the ride so that's 47.37 miles, 565 this month.