Late on Friday night, a photo that I'd posted from my most recent Norfolk-and-back ride, exactly a year previously came up in my Facebook memories. My first thought was – how is that a year ago already? It was the Platinum Jubilee weekend, as it happens.
But my second thought was that I haven't taken full advantage of the longer days now that they're finally here. Perhaps I should have planned Norfolk and back this weekend. I have done Wales and back this year to be fair, but I want to do a longer one than that this summer.
And for a moment I did contemplate getting up very early to do a 180 mile ride out east. It wouldn't take much preparation. That was my third thought. My fourth thought was that having had a couple of generously strong vodka martinis, I didn't fancy my chances of getting out of bed at four in the morning.
But my fifth thought was that I could at least get up at 0830 and do at least 80 miles. So that's what I did.
I set off at about 0930. I'd put on a fleece to wear under my cycling tunic for the first 20 miles or so but as soon as I opened the back door I realised I wouldn't need it. So I removed it and left it at home.
The idea was a very simple one, just to do my usual eastbound route for 40 miles and come back. But I went east via an older version of the route through Rempstone and Wymeswold. I got as far as Colsterworth. I'd done 42 miles at that point. Came back through Burton on the Wolds and Stanford as usual.
I stopped at the Deli at Waltham after 33 miles. The lady behind the counter wanted to know how many miles I was doing and how often I did long rides. Always nice to have a bit of a chat with a stranger on a cycling day out. I bought a cornish pasty and a coffee. I asked for a strong one, but it wasn't.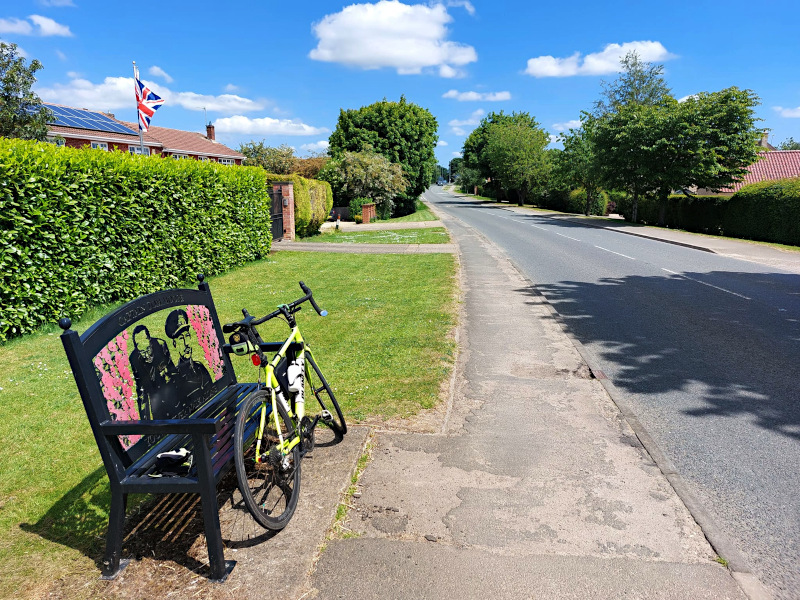 I stopped and had a sandwich and a mint Magnum ice cream on a stick at the village shop at Buckminster on the way back. A bit of an indulgence but they definitely keep you going.
The headwind was annoying on the way out but I felt like I was being towed on the way back – really glorious to be gliding along in the warm sunshine coming south-west from Eastwell.
Listened to a few hours of the eleventh Reacher novel, Bad Luck and Trouble. I tuned into the FA Cup final ten minutes late, hoping that nothing important had happened. But in fact if I'd tuned in fifteen seconds late I would have missed a goal.
I trialled a new invention on this ride – DIY wind noise reducers.
It's possible to buy a pair of furry sleeves to attach to the strap of your cycling helmet, one on each side in front of your ears. These intercept and absorb the onrush of air to stop it interfering with your earbuds when you're trying to listen to an audiobook, or a radio broadcast or whatever.
However they cost more than £20, so I had the idea of making some myself. I bought a pair of thick, fluffy sweatbands – the sort intended to go round your wrist – for £3.59. I folded the wristbands in half and secured them round the strap of my helmet on each side using rubber cable ties. They work brilliantly – you can tell how much they mute the oncoming wind by pulling one of them away from your head for a moment – the difference is dramatic.
I did catch a glimpse of my reflection in the window of the Deli at Waltham just before I removed my helmet to go inside and they looked ridiculous, but I don't particularly care about that.
Back on 85.31 miles. Very enjoyable day out on the bike. However it's time to start thinking about a 170+ mile ride.