Nice day. Dry, much cooler. When I stepped out of the front door I was convinced I'd need tights and a fleece. However when I actually went to get the bike out, I realised I wouldn't need the tights so I removed them there and then. I put them in my backpack, think I might need them later. But I left the fleece on.
The intention was to perform a fondo based on the Southbound route. I set off a bit before 3pm. But when I got to the crossroads at Stoney Stanton, I decided to go straight on instead of left, to do the Fosse Way version of the route. I confess that this was mainly because I could see a cutie with a colourful pair of jogging pants receding into the distance, and I wanted to get a better look.
Well – I wasn't sure I'd remember the way. Superficially it's a straight line on the map thanks to the Romans, but when you zoom in there are some tricky turns and manouevres through villages.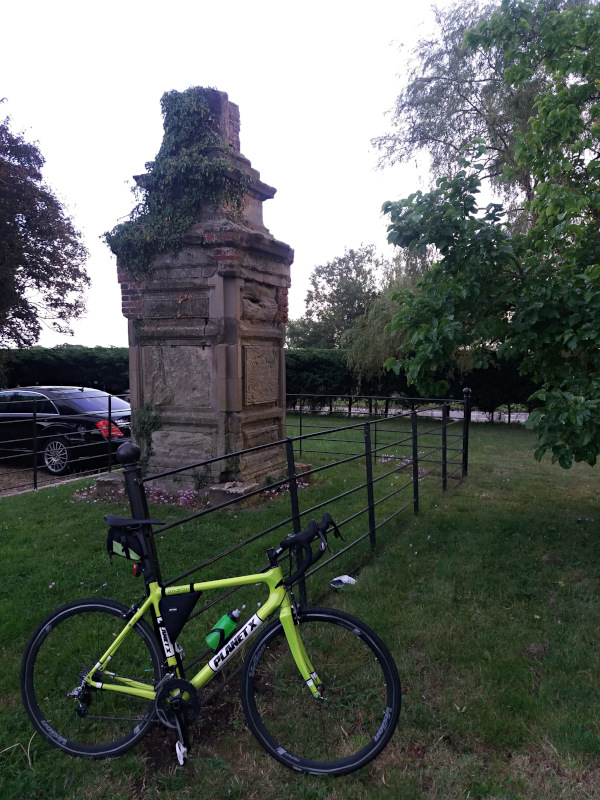 But I only needed to do another 14 miles or so, and I did. I thoroughly enjoyed doing that one again, actually. I think I've done it six or seven times at the most. I really should do it more often; even at teatime on a weekday the Fosse Way part of the route is strangely quiet, despite being a wide, very well surfaced straight road. I stopped at Brinklow to get a very nice sausage and chutney sandwich on the way back. The last time I went through there was about three Reacher novels ago; I recall that I'd just started The Enemy. Just checked and it was October last year, thought it was longer ago than that.
Took a pic of the bike at the High Cross monument, built to mark the centre of Roman Britain at the intersection of two great Roman roads.
Sorry to objectify women twice in the same post but my God there was a fit but well built young lady strolling along the pavement at Kirkby Mallory wearing tiny – I mean tiny – pink running shorts that looked like they'd been applied from an aerosol.
Oh yes, haven't seen any discarded knickers recently but there was a discarded black stocking along Bumblebee Lane.
I listened to the Rolling Stones' Voodoo Lounge (not too bad, surprisingly) and 5 Live. The comically bad radio presenter Nihal Arthanayake had Clive Myrie on his show. It's hard not to like Clive, and I find him relatable as a well-spoken articulate Northerner of a similar age myself. Sadly, but perhaps predictably, Clive's interview consisted of non-stop race-baiting and wallowing in victimhood.
Back on 62.78 miles. Third fondo this month, 24th this year.