I had the day off work today, booked so that I could stay up until the early hours this morning to watch coverage of the US election. I stayed up until 03:20, then got up again about three hours later. Then I went to bed again at about 06:45. Got up again at about 10:30.
A pleasantly sunny, dry day so I mounted the Tricross at 11:20 and set off with the idea of going up through Melbourne, over Swarkestone Bridge and west along the A road that runs by the river. Given my general condition – slightly debilitated from lack of sleep and consumption of Jim Beam while following events on the other side of the Atlantic – I thought that thirty miles or so would do.
However, I perked up quite nicely in the sunshine, so I decided to attempt a route that I devised a few days ago – the 'Western Grand Tour'.
Broadly speaking, I have two westward cycling routes. One takes me north first to Swarkestone Bridge, then west to Hilton or beyond, and back. The other takes me south-west to Measham then west through Coton in the Elms, Walton on Trent, Barton under Needwood and sometimes further, then back.
The idea of the Western Grand Tour is to combine them, by going outward along the former route and homeward along the latter, joining them up with a new stretch running north to south from Hilton (roughly) to Barton under Needwood (approximately). This comes in at a bit under 50 miles so I had plenty of time to be back before sunset.
The new stretch is quite pleasant, taking me through a few villages I'd never heard of. Quiet, but not particularly scenic. A bit hilly. But it was really nice especially to be coming back the "old" way through Barton under Needwood, Walton and Coton in the Elms as I hadn't done that for a long time, over a year I think. One reason I wanted to do that was that I had a sort of flashback of a little village that I remember riding through, and I wondered where it was. I assumed it was on this route, but it wasn't. So that remains a mystery. I'll have a hunt around on Google Street View if I get time.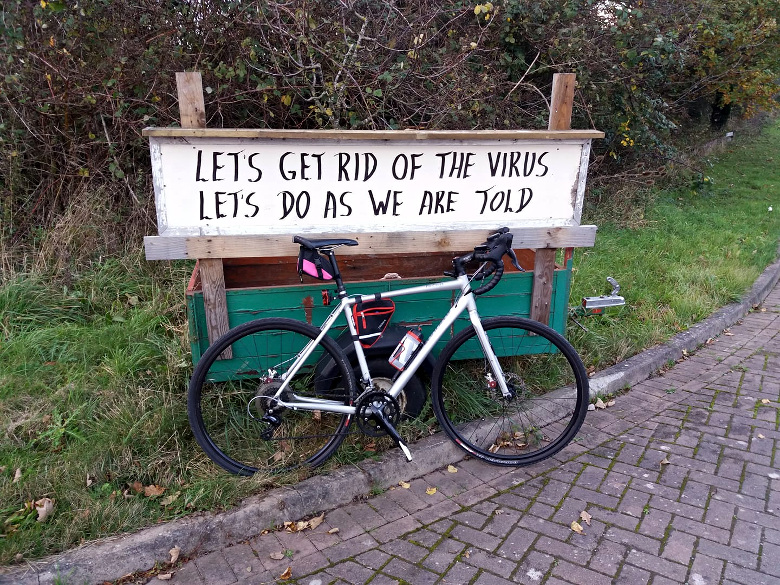 Back a minute after sunset, nice timing.
I listened to more coverage of the US election on my DAB personal. Then an entertaining PMQs – I particularly enjoyed the PM's tribute to the Commons Speaker Lindsay Hoyle, on the first anniversary of his election to the role, for "Making the Speakership Great Again".
Then more Reacher audiobook action on my MP3 player, then back to the DAB for more US election news. By this time it seemed that Joe Biden was more likely to win, though that's still not certain as I type.
Really nice run out. It didn't stay sunny for long but it wasn't too cold, and it didn't rain.
https://www.strava.com/activities/4285648887
48.90 miles and that leaves 767 to go.