Another day off work today. The forecast was for dry weather, and I decided I'd give the Planet X a run out, for the first time since August. Wanted to do the November Fondo, and I chose to do what's pretty much the default Fondo route, wind direction permitting – the eastbound route to Eastwell and back.
I set off at about 10:10. The X felt extremely agile after weeks of only using the Boardman and Tricross, I must say. Very zippy. Conditions were bright, but a couple of minutes after setting off I glanced across the fields to the rest of the village and was surprised to see a light fog obscuring the view. As I made it through Coalville and up to Belton it became highly noticeable in the view of the road in front of me; proper foggy conditions. Not really the best weather for a Fondo but I assumed it would lift, ignored the thin frost of moisture building up on my clothes, and pressed on.
It had lifted a bit by the time I stopped to take this pic, near Cotes. Disappointingly, just out of shot there was a small pile of beer cans, firework packaging and spent fireworks. Do people imagine that these things will just dissolve in the rain, or not give a toss that other people have to clear up after them?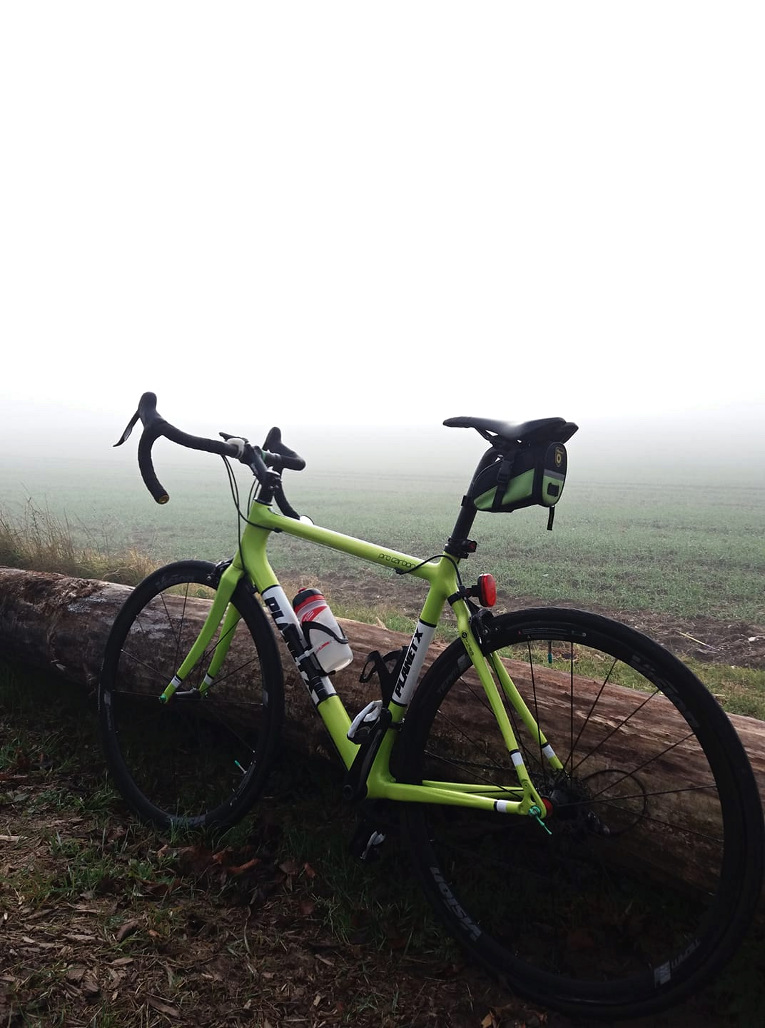 By the time I hit Burton on the Wolds it had lifted nicely and the sun was out, but I had a different problem – my intended route was closed off by a large set of roadworks. I managed to find a detour on my own initiative, although this involved pedalling along a footpath by a stream that was about a foot wide, if that.
I kept on keepin' on to Eastwell, where I'd intended to turn for home. But I took a turn at the crossroads there to go exploring for a bit. I hadn't gone far before I started to descend the slope that runs downward, to the north, for miles north of my route. I didn't really want to climb back up it so I turned, for the bench at Eastwell. Ate a pleasant lunch there that I'd brought in my backpack. Then homeward.
From Six Hills I decided to take the old route back through Wymeswold and Rempstone, rather than detour the road works at Burton again.
Cloudy and cooler later, and misty nearer home. Just before sunset I had a glorious view, just back in Leicestershire, of bright sunshine lighting up the mist on the hills and slopes in the distance. Incredibly picturesque. I tried to capture it with my phone but didn't do it justice. I wish I'd had a decent camera with me. Here it is anyway: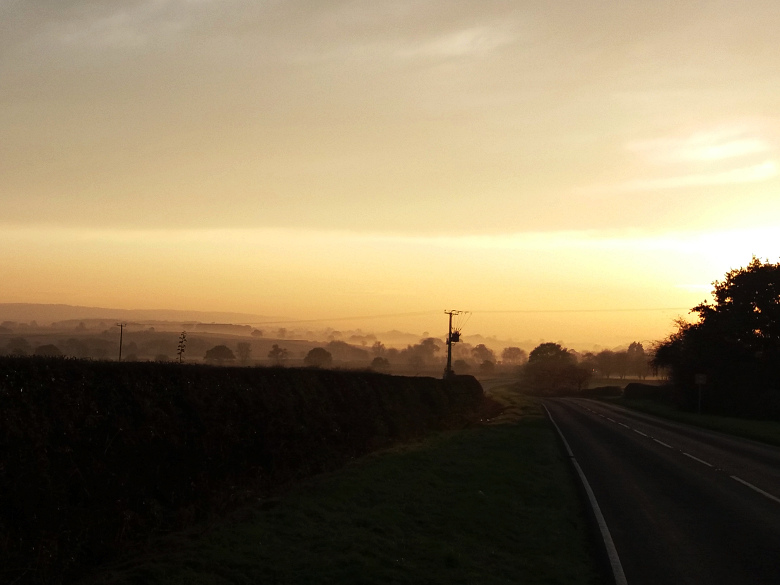 Home on 64.08 miles; that was the 27th Fondo of the year. 156 miles this month, 703 to go.
Listened to the US election coverage where I could find it, and more of the Reacher audiobook. Nice run out and especially nice to be out on the X again.