A rain-free day, not too cold. I took the afternoon off to do the December Fondo. A moderate wind was blowing from the south, which made the choice of route difficult – the usual eastbound and westbound routes both involve coming south-ish over the last few miles, and I didn't fancy a headwind after 50-odd.
So I did the usual southbound route, all the way down to Welford. The wind wasn't too annoying on the way down although that route actually goes more south-east than directly south, so it wasn't a full-on headwind.
Took this pic at Welford: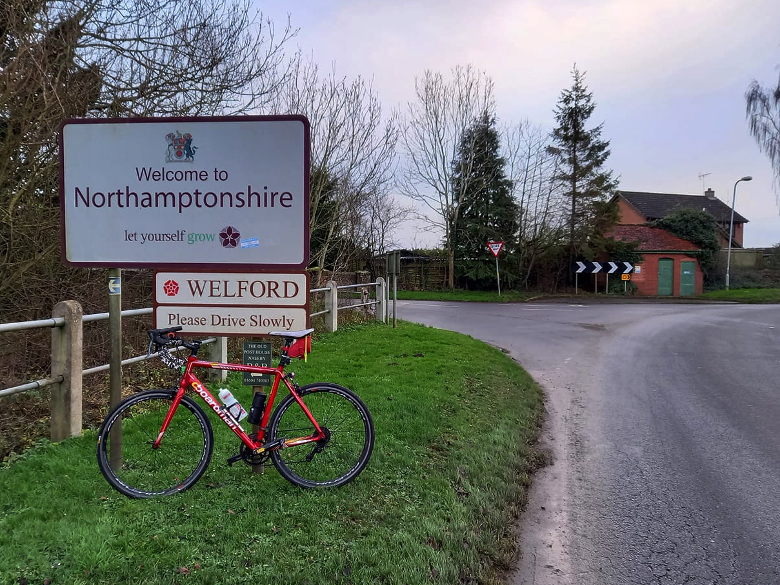 then I pedalled a few hundred metres into the village and turned back for home.
As I left the village I noticed that the Wharf Inn pub had a sign outside saying "CLOSED – see border sign across the road". Apart from Welford Marina, it is the only part of the village currently in Tier 3, and literally opposite a "Welcome to Leicestershire" sign. Very unfortunate for the proprietors of that place, because I would guess that the majority of their clientele are from Welford on the other side of the border in Tier 2, presently able to eat Scotch Eggs and drink to their heart's content in Welford's other pub.
But you've got to draw the line somewhere.
I fuelled up at Gilmorton Village Store on the way back. A couple of sandwiches, a chocolate orange bar, a bag of crisps and insipid coffee, all consumed on the bench on the other side of the road. By the time I'd finished, it was dark and a bit colder. But I wasn't uncomfortable.
Encouraged by the success of my Tesco joggers, I bought some proper cycling pants and wore them over my tights. Much lighter material, and more water-resistant I'm sure. But not actually quite as warm. Also, they have zip side pockets that aren't much more than the zips – I couldn't even fit a debit card in there. Just for show I assume. Weird.
I made the mistake of coming back through Donington le Heath a few miles from home. I always forget how wet the roads can be along there. Having done my best to avoid puddles the whole ride, I managed to fling up obscene quantities of muddy water on the downhill part, and ended up having to wipe and GT85 the bike back at the garage.
Very nice run out though. Nice to go down that way again, hadn't done it since October.
I listened to Talk Sport and 5 Live. Saddened to hear of the death of Gerard Houllier, and disconcerted to hear Matt Hancock refer to a new variant of the virus at the press briefing. Quite nice that we won't see Beth Rigby at one of those again, though.
Back on 65.52 miles, and that's 259 done this month – not bad for half a December – and 69 to do.